Create a wild work-of-art
For thousands of years, nature and wildlife have been the focus of art. Look at cave paintings; there are drawings of animals and people alike. Use the beautiful bits of nature that you can find around you and make your own wild work of art.
Wildlife Watch has some amazing activities that the whole family can enjoy! Have a go at plaster casting a footprint to take home. It's really easy and looks great.
You can have a go at making a salt dough creature. You can make wild animals, or go wild and make up your own.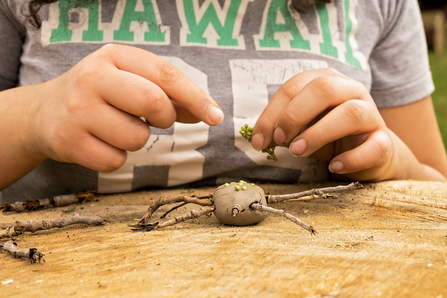 Why not make a Guardian of the Forest to protect nature? Make your salt dough into a grotesque face, stick leaves and twigs for hair (but not if you bake it dry!), paint it and hang it up like a gargoyle to protect the trees.
Create artwork in the wild using leaves, pine cones, twigs, feathers – whatever is to hand. Leave it somewhere – on a branch, by a path, by a bench – and it will make a lovely surprise for someone else to enjoy.
Take a look at our Pinterest board of wild nature art for some inspiration!