The natterjack toad
The aptly named natterjack toad is the UK's loudest amphibian, but also one of our rarest. Now mainly found in sand dunes and saltmarshes around the coasts of north-west England and the Solway Firth in Scotland, they breed in shallow, usually temporary pools of water. Elsewhere, they cling on at just a handful of sand dunes in East Anglia and on heathlands in Surrey and Hampshire. Smaller than the common toad, they also carry a yellow strip down the centre of their back, but their real standout feature is their voice.
The call of the male natterjack has been described as 'phenomenal', and 'tropical', and on a warm spring night, as the males inflate their vocal pouches and the chorus strikes up from the pools amongst the dunes on the Wirral coast, you can certainly hear why!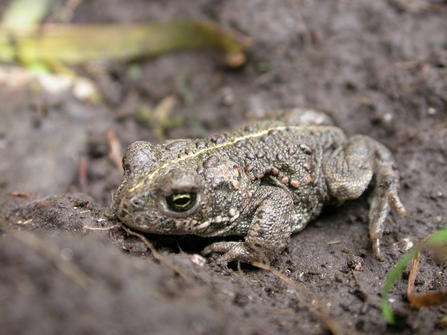 Find a natterjack
Pop in for a natter on the Wirral, at one of the few remaining refuges for the natterjack toad, Red Rocks Marsh in Cheshire between West Kirby and Hoylake. Brand new breeding pools have been created on the seaward side of Royal Liverpool Golf Club and are already attracting a spring symphony of male natterjacks. You don't need to go up close - enjoy the concert from the beach!  Cheshire Wildlife Trust runs guided walks and surveys.
How to do it
Natterjack toads are a protected species, and it is against the law to disturb them or their habitat.  Stick to the footpath, stay behind the fences and watch where you tread.  Rather than risk harming one, keep your distance and stay downwind half a mile or so - there's no need to worry about not hearing them because you will! Choose a warm, cloudy and damp day and arrive before darkness falls and find yourself a comfortable spot to take in the show.
If you can't get there
There is some wonderful footage of a singing natterjack toad from Latvia here:
More wildlife experiences
From seeing colourful wildflowers to spotting magnificent birds of prey, we can help you get closer to wildlife across the UK.