Where to see wildflower meadows
Where to see wildflower meadows
Britain's meadows hum with life - from the first flowers of spring to misty autumn days when birds flock to berry-laden hedges. 
Whether it is a blaze of yellow from meadow buttercups, the whirr of grasshoppers and crickets or the nodding, papery petals of the rare snake's head fritillary – colours and sound fill the senses. Tragically, nearly all our of wildflower meadows have disappeared as farming practices have changed and towns  and villages have expanded to swallow up flower-rich fields. Luckily some farmers and conservation charities work hard to maintain these precious species-rich habitats. The Wildlife Trusts look after hundreds of ancient meadows as nature reserves and often these are the best and last remaining examples in a county. They are usually free to visit and in the summer we ask that people keep to paths at the edges of fields to avoid trampling wildlife. The view is just as good from there!
How does the Meadow flower its bloom unfold? Because the lovely little flower is free down to its root, and in that freedom bold.
Find a wildflower meadow
Here's our list of 50 of the finest wildflower meadows in the UK, cared for by Wildlife Trusts:
What to look for
Summer is the peak time for wild flower meadows, when whole hillsides are alight with colour and thrumming with insects. While the flowers may be the stars of the show, don't forget the insects; butterflies, like the dark green fritillary, the day-flying burnet moth, bumblebees laden with pollen. If there is water nearby, it's possible that dragonflies and damselflies will also be zipping through the meadow. Old meadows are sometimes enclosed with hedges consisting of trees and shrubs, including field maple, hazel, hawthorn and spindle, providing a home for even more wildlife.
If you can't get to these places
If you're not lucky enough to live close to one of these special meadows, it's still possible to find wildflowers everywhere. Poppies still turn many field margins red, while species such as the beautiful bee orchid, whose flower famously mimics a furry-bodied bee to fool its pollinator, can be found on road verges and open ground around gravel pits. For those really hankering for a splash of summer colour that also benefits wildlife, why not have a go at planting your own wild flower meadow?
Make your own mini meadow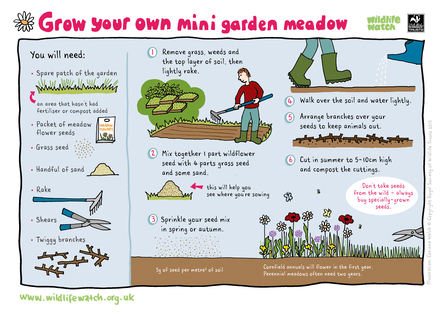 Find out more about meadows