Roosting gulls
Gulls are an acquired taste. Often difficult to identify, sometimes dismissed as dull and occasionally even feared for their chip-stealing exploits, they tend to be overlooked by many wildlife enthusiasts. But gulls are brilliant birds. In winter, they gather in large numbers to roost communally on lakes and reservoirs. It's a fantastic spectacle as thousands of birds drop onto the water, and there's always the chance that a rarer species will be hiding in the crowd.
The air fills with birds, a blizzard of beating wings as gulls stream in through a rapidly darkening sky.
Find a gull roost
Gulls tend to have favoured sites for roosting, with birds sometimes travelling long distances from their feeding grounds each evening. Do a bit of research to find the nearest one to you. Here's a selection of Wildlife Trust nature reserves with winter gull roosts:
Cumbria Wildlife Trust 
South Walney - This shingle island reserve hosts a winter gull roost of around a thousand birds, often visible from one of the hides. It's mainly herring gulls, but occasional rarities such as Iceland gull sometimes show up.
Herts and Middlesex Wildlife Trust
Amwell - The gull roost at these former gravel pits can hold yellow-legged and Caspian gulls. In 2016, it attracted a Franklin's gull, which are normally found in the Americas.
Nottinghamshire Wildlife Trust
Idle Valley - Large numbers of roosting black-headed, common and lesser black-backed gulls are often joined by herring gulls and rarer species such as Caspian and yellow-legged gulls. 
Suffolk Wildlife Trust
Lackford Lakes - Thousands of gulls fly in to roost at Lackford Lakes on winter evenings, where they may share the air with an impressive murmuration of starlings.
Sussex Wildlife Trust
Rye Harbour - This coastal reserve can have tens of thousands of gulls roosting on the shore or the saline lagoons. Look out for gulls with colour rings on their legs and report them to help discover more about their movements.
Yorkshire Wildlife Trust
Wheldrake Ings - The evening roost at Wheldrake can be spectacular, with thousands of common and black-headed gulls joined by smaller numbers of larger species. Look out for scarcities such as Mediterranean, yellow-legged and glaucous gulls.
How to do it
Large gull roosts can form from mid-summer, though numbers tend to build through early winter. Once you've identified your nearest roost site, wrap up warm and take a flask - the temperature drops quickly as the sun sets, and gull watching isn't the most energetic activity! If you're hoping to hunt for rarities, a spotting scope is advisable, otherwise you can just stand back and admire the spectacle as gulls flood in to roost.
If you can't get to these places
It's not the most glamorous form of birdwatching, but gulls are often attracted to rubbish tips and surrounding fields, which are sometimes viewable from public footpaths. These can be great places to find rarer species like Iceland, glaucous and Caspian gulls.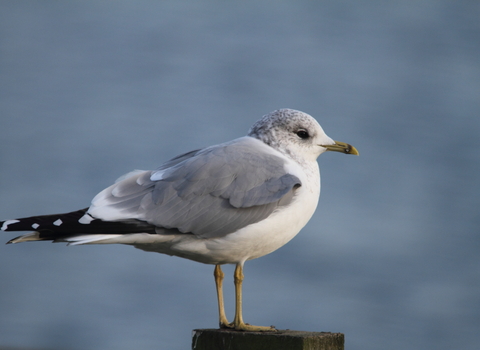 How to identify gulls
Don't know your black-heads from your black-backs? Check out our guide to basic gull identification and learn about some of the gulls you could spot around the UK.
Get to grip with gulls
More wildlife experiences
From drumming woodpeckers to swirling clouds of starlings, we can help you get closer to wildlife across the UK.