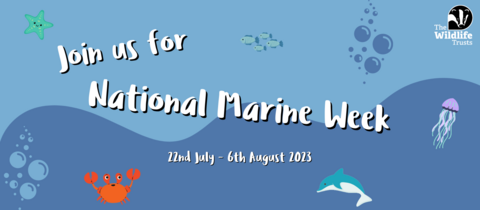 National Marine Week
Dive into our mysterious underwater world with The Wildlife Trusts' annual celebration of all things marine! National Marine Week is now over for 2023, but don't worry, we'll be back next year! You can still find out about our magnificent seas below as well as some of the mysterious creatures that live there.
We owe so much to our seas. Our marine areas are key to tackling climate change and have also had an enormous cultural impact on society. Our rocky coastlines, sandy beaches and sublime seas are wonderful places to explore. It's no surprise that throughout history this fascinating habitat has inspired many a storyteller, artist and poet, making our lives all the richer.
You may have spotted that National Marine Week actually lasts longer than a week. This is so we can make the most of the different tide times around the country.
For 2023, we focused on the unsung heroes of the marine world. These are species you might not have known we get in the UK, some you might not have ever heard of before. Scroll down to learn about them!
Meet our mysterious marine life
Meet Generation Sea
For 2023, we celebrated the work of our young marine conservationists. We teamed up with Generation Sea who are a group of like-minded young people across The Wildlife Trusts who are passionate about protecting and restoring the marine environment. Find out more about how Generation Sea are working to make sure the marine environment is a healthy and productive environment.
Hotspots for some of our favourite marine species
Explore the map below to see what species you can spot at out coastal Wildlife Trusts.
Key

Marine sighting
Take action at home to help marine wildlife!