The Badgeworth buttercup
Otherwise known as adder's-tongue spearwort or Ranunculus ophioglossifolius, the Badgeworth buttercup is extremely rare and fully protected by Schedule 8 of the Wildlife and Countryside Act, 1981. It is found in just two spots in Gloucestershire one of which is carefully managed Wildlife Trusts nature reserve. Only growing in wet conditions, the reserve is specially managed for the buttercups: bare patches are made each year to allow the species to germinate, and livestock grazing is restricted to keep competing species at bay.
Once a year, people travel from across the country to see this special plant.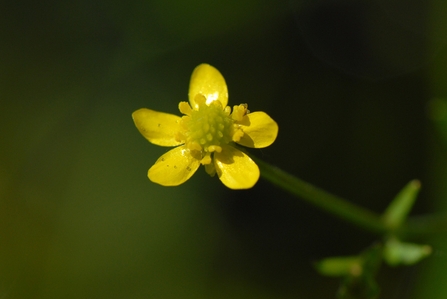 Where and when to see them
The only place to see this rare flower is Gloucestershire. Find it at The Wildlife Trusts' Badgeworth Nature Reserve, which once had the honour of holding the Guinness World Record for being the smallest nature reserve in the world. It was Gloucestershire's first nature reserve, and is only open to the public once a year for a special event in mid-June, to coincide with the Badgeworth buttercup at its best. Take a look at their website to join in!
If you can't get there
Badgeworth nature reserve may be small, but it's not the smallest Wildlife Trust reserve.  That honour goes to Hethel Old Thorn in Norfolk, which consists of just a single hawthorn bush!
More wildlife experiences
From seeing colourful wildflowers to spotting magnificent birds of prey, we can help you get closer to wildlife across the UK.