Great places to see ancient and unusual trees
Veteran trees are steeped in history and folklore, and ancient coppices give us clues about the way our ancestors used the land. Mature woodland is home to a wealth of wildlife, including rare native trees and iconic woodland flowers. Even damaged, dead and fallen trees are invaluable for the deadwood and habitats they provide for birds, beetles and fungi. Whether it's a gnarled oak, ancient ash stool or veteran holly, The Wildlife Trust's reserves offer a chance to experience the magic and wonder of trees whose roots are deeply entwined with human history.
It's not often that we can go in search of wildlife that is guaranteed to show up, be spectacular at all times of the year and be impossible to frighten away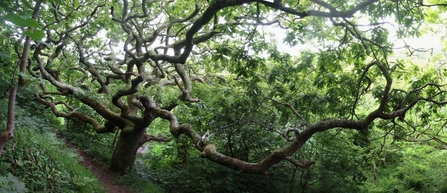 Find ancient and unusual trees near you
Do a little research in advance and find out some of the best Wildlife Trust reserves to see ancient and awe-inspiring trees.
What to look for
While walking under the boughs of a gnarled oak is impressive enough, but make sure you see the wood for the trees. Whether it's a treecreeper heading up a trunk, fungi, or nuts gnawed by squirrels and dormice, there is always plenty to see and hear in the woods. After all, to walk amongst trees is to be immersed in the landscape, where even within quite small pockets of woodland, the clamour of urban neighbourhoods or the creep of intensive farming vanish. In woodlands we can slow down and let the rich sights, sounds, smells and feel of trees and the wildlife they contain wash over us, reconnecting us with nature.
If you can't get there
Trees have deep roots in many communities and even if you can't get to one of the special sites listed above, the chances are that there is a special tree close to you. Search parks, roadsides, village greens and local woodlands to find a tree whose boughs span the ages of mankind.
More wildlife experiences
From seeing colourful wildflowers to spotting magnificent birds of prey, we can help you get closer to wildlife across the UK.