500,000 attend Wildlife Trust events every year
45,000 volunteers across the UK
175,000 people engaged through outreach visits
Our vision
We believe that everyone deserves to live in a healthy, wildlife-rich natural world and experience the joy of wildlife every day: for the wellbeing of people and wildlife.
Why does this matter?
More and more people are living their lives indoors. We do not get to spend enough time in nature because often, there is nowhere nearby that is easily accessible. Those that have the least access to nature also have the worst levels of physical health and mental wellbeing.
Seeing birds near our homes, walking through green spaces filled with wild flowers, and along rivers that are clean and clear reduces stress, fatigue, anxiety and depression.  
Decision-makers are not making the link between nature's recovery, and our health, wellbeing & prosperity.
The Wildlife Trusts offer a different way of living. One which leads to happier, healthier lives and thriving wildlife. 
Those that have the least access to nature also have the worst levels of physical health and mental wellbeing.
What The Wildlife Trusts are doing
We want to make socialising, volunteering, exercise and play in wildlife-rich natural places central to everyone's daily life.
"Volunteering at the reserve helps me keep fit and meet new people and it's also great to see so much wildlife."
Wild wellbeing on your local patch
The Wildlife Trusts run a huge range of activities – from weekly volunteering groups, to informative talks; and formal courses to family fun-days.  What unites them is that they are great ways to mix with people from all backgrounds and ages.
We offer a variety of volunteering opportunities and roles  and there is strong evidence that volunteering with your local Wildlife Trust has a positive impact on mental wellbeing:
95% of Wildlife Trust volunteers with low wellbeing reported an improvement in 6 weeks, which continued over the following 6 weeks – (Volunteering - a natural health service (University of Essex – The Health and Wellbeing Impacts of Volunteering with The Wildlife Trusts – 2017)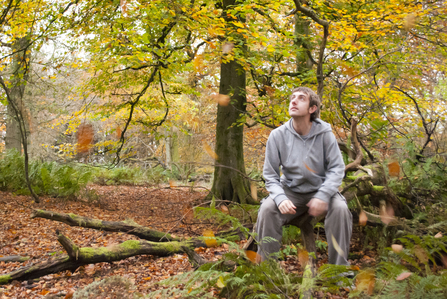 Turning lives around with Green Care
Daily contact with nature is linked to better health, reduced levels of chronic stress, reductions in obesity and improved concentration.
Engaging with the natural environment is also a great leveller. The Wildlife Trusts are rooted in their local communities and neighbourhoods, so we can help more people access local nature spots, reaching out to the full breadth of the people in the communities where we work.
Wildlife Trusts work in partnership with health and social care organisations, to increase their reach, and better help the people they work with.
Warwickshire Wildlife Trust's The Environment and Me

The Environment and Me is a 'wild wellbeing' partnership between Warwickshire Wildlife Trust, Coventry and Warwickshire Mind, Coventry City Council and Whitefriars Housing. They work across Coventry at various sites including allotments, rivers, woodlands, parks and green spaces, all of which are easily accessible by public transport. They help enhance mental health and wellbeing through outdoor activities which include:

- Planting, growing and harvesting food and flowers

- Learning about nature and wildlife

- Seasonal crafts and woodwork

- Walks, talks and visits

- Socialising with other people on the project

The film below, featuring Jon, is incredibly moving and shows how engaging with nature turned his life around.

The Environment & Me, Warwickshire Wildlife Trust
Hampshire & Isle of Wight Wildlife Trust's Woodland Therapy

"Walking into the woods, my head was quiet for the 1st time in 10 years"

The Woodland Therapy project uses the natural environment to promote mental health and wellbeing using the Forest School approach. It complements mainstream mental health provision by building self-esteem, self-confidence and independence in adults struggling with mental health illnesses. Read more here Woodland Therapy
Wiltshire Wildlife Trust's Wellbeing Programme

The Wellbeing Programme offers weekly nature-based activities – like conservation tasks, nature crafts and walks at Wiltshire Wildlife Trust's nature reserves or other local green spaces.  Owen joined in November 2015 following after suffering from post-traumatic stress disorder. He completed the programme and since finishing has become a Volunteer Support Assistant on one of the groups, helping the team deliver the activities that will benefit others who are struggling with mental health issues; just like they benefited him.

Through the programme, I have gained a lot more confidence in myself and in my abilities. It's also helping me with building relationships; joining the programme has been the best experience of my life.
Further reading
Want to delve a little deeper?
From 2015-17 the School of Biological Sciences at the University of Essex carried out research on behalf of The Wildlife Trusts, to:
■ Study the mental wellbeing of volunteers on Wildlife Trust projects.
■ Collect information from projects across The Wildlife Trusts to evaluate their impact on people's health and wellbeing.
■ Review the scientific literature, to investigate whether nature-rich environments had any specific impacts on people's health and wellbeing.
The findings are particularly important for people who live with a mental health condition. The research showed that nature volunteering had the most significant impact on those with low levels of mental wellbeing at the start of the project. Download and read these reports below.