Protect the wildlife you love, for future generations
Leaving a gift in your Will to The Wildlife Trusts, no matter the size, makes a difference and helps protect wildlife for the future. Thanks to our members and supporters, The Wildlife Trusts are at the forefront of wildlife conservation. We believe that everyone deserves to live in a healthy, wildlife-rich natural world and have the opportunity to experience the joy of wildlife and wild places in their daily lives. 
You might want to include a gift in your Will to The Wildlife Trusts on a UK level so that the money goes into the movement as a whole. Alternatively you may want your money to go to a local Wildlife Trust or specific project. 
How gifts can help...
Gifts in wills made to the UK-wide movement help to fund innovative conservation projects across the Wildlife Trusts. For over 100 years our supporters have helped us to buy and look after special places, protect species and habitats under threat, inspire adults and children alike and re-connect people with nature. 
The story of Stirley Community Farm

Kate Thorneberry

Once an intensive upland dairy farm, Stirley Community Farm in West Yorkshire is now a thriving wildlife haven. With the support of legacies, Yorkshire Wildlife Trust were able to purchase and renovate the farm buildings into an award winning education centre and revitalise the 240 acres of farmland.The farm was transformed for the local community and there are many opportunities for people from around Huddersfield to get involved. Rachel Preston previously worked as a school learning mentor and, despite loving her job, had to resign due to depression and anxiety and she became isolated from her local community. Volunteering at Stirley Community Farm has had a big impact on Rachel:

"It's changed my life, my personal confidence. It's given me that oomph…It's shown me that at some point I will get back to work…it has helped me on the journey to recovery."
The story of Devon's beavers

Mike Symes

Thanks to legacies given to The Wildlife Trusts, wild beavers are successfully breeding in the English landscape after an absence of 400 years. Beavers are a great addition to our landscape because they are brilliant at creating wetland habitats which can prevent flooding further downstream. In 2016, Devon Wildlife Trust were delighted to announce the birth of the first wild baby beavers in England for centuries. Tom Buckley captured the fabulous footage of the beaver and her kits. He said:

"When I saw these new born baby beavers I was totally overwhelmed and thought it must be a miracle. My first sighting of this year's new born kits was when I saw their mother swimming with one of them in her mouth to an area nearby where their father was waiting to greet them".
Find your local Trust and support places that are special to you
Our promise to you
We recognise your loved ones come first in your will.
We will treat you fairly and we won't intrude on your privacy.
We will never ask you the size or type of your legacy, because every gift makes a difference.
We understand that circumstances change and there may be a time where you need to take the Wildlife Trusts out of your will.
We promise to use your gift wisely, in line with your wishes.
Get in touch
To talk to someone about leaving a gift in your Will, and to find out more information about the difference your gift can make, fill in your details below. Our Individual Giving Manager, Ruth Grice will be in touch shortly. She can also be contacted on 01636 670094.
Remember a Charity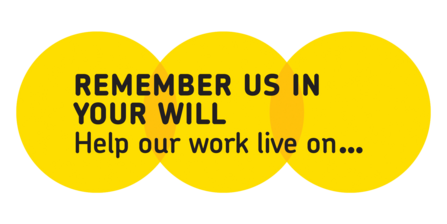 We are part of Remember A Charity, a consortium of over 200 charities all working together to raise awareness of the importance of having a Will and encouraging more people to consider leaving a gift in their Will to charity. In 2017 Remember A Charity Week, from 11-17 September, called on the public to 'Have Your Say on the World You Want to Pass On', inspiring people to leave a gift in their Will. Find out more here. Remember A Charity Week will be running again in 2018. You can visit the Remember A Charity website to find local solicitors, who will be able to advise you on leaving gifts to charities when making a Will.