What is citizen science?
It's very hard to protect wildlife if you don't know much about it. To understand what a species needs, we have to gather a lot of information about things such as its population, habitat choices and behaviour. Even more importantly, we have to monitor how these things change over time, in order to spot worrying trends and identify issues. The more information we have, the better.
But that's a lot of data to gather and scientists alone would struggle to collect as much as they need. That's where citizen science projects come in. By working together with volunteers, scientists and conservationists can collect much more information about the species they are studying. Sometimes specialist knowledge is required, but often a basic grasp of wildlife is all you need to get involved - some projects offer training or identification guides to help you, too.
Citizen science projects are a great way to learn more about our wonderful wildlife, at the same time as helping to protect it. Here are some of the citizen science projects you could get involved in with The Wildlife Trusts.
National projects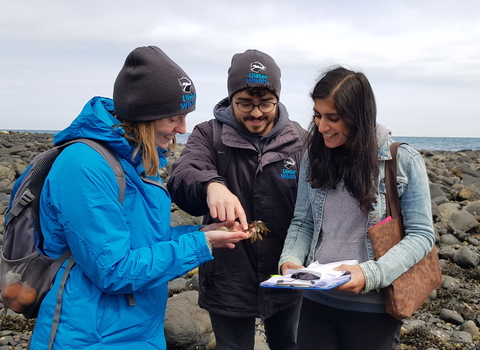 Shoresearch
Become an amateur marine biologist by joining Shoresearch, our national citizen science survey of the intertidal shore. Learn to identify shoreline plants and wildlife and help us monitor this special habitat. 
Get involved
Regional projects