The impact of development on wildlife
Building homes, business premises and transport links could and should have an overall positive impact on nature. Wildlife Trusts work with planners, developers and construction firms to make space for wildlife and habitats in new housing and development.
Planning for development and nature
The Government is undertaking the biggest drive for housebuilding in 70 years, with the infrastructure needed to support this. This could cause huge damage to wildlife and wild places. We are seeing the loss of irreplaceable ancient woodlands, wildflower meadows, wetlands and other rare habitats due to development happening in the wrong place. Schemes to protect rare species are often ineffective and wildlife becomes restricted to increasingly fragmented areas. At the same time, people living in urban areas are increasingly cut off from the natural world, to the detriment of their health and wellbeing. But this does not need to happen. We need to plan for nature in the same way that we plan for built development.
What The Wildlife Trusts are doing
The Wildlife Trusts work with national and local government, businesses and local communities to influence planning and development to achieve better outcomes for wildlife. The Wildlife Trusts respond to around 6,500 planning applications per year, and tens of thousands more are vetted and checked for impacts on wildlife.
Housing
Nature-rich housing developments, designed with environmental sensitivity and green infrastructure at their heart, can provide people with easy access to nature where they live and work and deliver multiple social, environmental and economic benefits. 
Time spent in nature is good for you, there are many studies that show the links between access to nature and better health. Research also shows that urban living with little or no contact with nature can increase physical and mental health problems. Nature too is suffering; urban development is a significant factor in the continuing loss of wildlife and wild spaces.
The Wildlife Trusts believe that that nature should be integrated into development, so that people have nature on their doorstep and building for people helps to build nature back up again.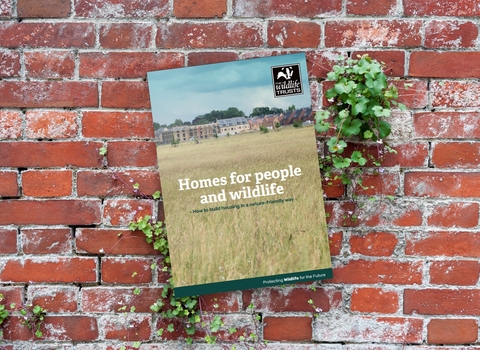 How to build nature-friendly housing
Read our report  Homes for people and wildlife into building nature-friendly housing..
Download
National infrastructure, including transport
The infrastructure that supports society: transport, communications, energy and green infrastructure, should be delivered and maintained in a sustainable way that minimises the contribution to climate change and delivers a net gain for wildlife.
Climate change is probably the greatest long-term threat to biodiversity, and the majority of Britain's greenhouse gas emissions now come from transport, according to government figures. Transport now accounts for 26% of the UK's greenhouse gas emissions, with an additional 25% coming from energy supplies.
We need to move towards sustainable transport solutions and renewable energy supplies, but it is essential that these do not increase negative impacts on the environment. Natural habitats exist in increasingly fragmented locations. Road and rail routes create barriers that can prevent wildlife moving freely between woods, meadows, marshes and streams or colonising new areas. But with good design and management they can also provide corridors through areas that are less hospitable to wildlife, such as urban development or intensively farmed land.
The Wildlife Trusts support sustainable transport solutions and renewable energy, provided that schemes are delivered in a way that avoids damage to wildlife and provides a net gain for biodiversity.  We have been working to influence the outcomes of the High Speed Rail 2 network for wildlife. We are also working with Network Rail to provide advice on the management of their track-side land, to increase its wildlife value.
Many Wildlife Trusts work with their local Highways teams, or with Highways England, on Roadside Nature Reserve schemes which identify rare habitats along road verges and support conservation management of these areas.
A Nature Recovery Network
We work to influence the policy that sets the rules which govern where and how development happens. This means providing advice to government on how to ensure local planning authorities have the right tools available to set strong policies to protect, restore and enhance wildlife. Then working at a local level to provide advice that helps this to happen.
We are promoting the planning of a Nature Recovery Network, which will allow development to be located in areas which are less important for nature. It can be used to target activity that will contribute to enhancing biodiversity.
Alongside this we are working to influence government strategies currently being produced that should ensure that development delivers an overall improvement in biodiversity (net biodiversity gain), and protect and enhances populations of highly threatened species (District Licencing).