Trumpington Meadows
Trumpington Meadows is a meadow nature reserve that is part of a large housing development on the southern fringe of Cambridge.  When the land was allocated for development, the local council required the provision of large green corridors to connect the centre of Cambridge through the new development to the countryside beyond. 
Trumpington Meadows Land Company wanted to create a high-quality development and viewed a new country park as integral to this. The Wildlife Trust for Bedfordshire, Cambridgeshire & Northamptonshire helped to design and create the development's green spaces and now manage the country park.
Local play areas, swales and tree avenues are included throughout the development. The 58-hectare country park is designed to be both a space for people and a 'nature reserve'. The creation of over 40 hectares of new species-rich meadows, hedgerows, woodlands and restored floodplain meadows began before the first houses were built to allow the landscaping and habitats time to mature.
The country park sits beside the River Cam. The river habitat has been restored and the river re-connected with its floodplain meadows, reducing flood-risk downstream. A new pond with overflow area and open ditch features, slows rainwater runoff to the River Cam whilst providing additional habitat for wildlife.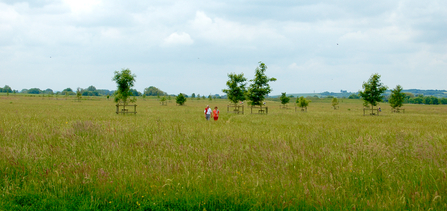 Kidbrooke Village, London
A development making space for nature among 4,800 new homes!
Kidbrooke Village is a visionary new housing development in London. It will provide more than 4,800 new homes and 35 hectares of varied, semi-natural open space for the people who will live in them. 
It's the result of a partnership between London Wildlife Trust and Berkeley Homes. The centre of the site is Kidbrooke Park, which will be designed to be a green corridor for people and wildlife - a natural area weaving between the new houses. 
There will be play areas bordered by species-rich grassland, heather and copses of trees, a chalk stream meandering beside open lawns, and a reed-fringed wetland nestled between high-rise buildings. These green spaces will provide habitat for birds, bees and other wildlife, as well as helping with local flood mitigation and water management, and providing places for the local community to spend outside. These new habitats will also connect to a wider network of green infrastructure beyond the site.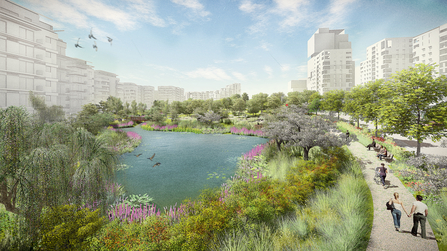 Gaydon Lighthorne, Warwickshire 
Gaydon Lighthorne is a planned 3,000 home development in Stratford-upon-Avon.  Warwickshire Wildlife Trust has worked closely with local interest groups, the local authority planning officer and the developers' consultant ecologists to address concerns and maximise gains for nature, particularly in relation to the Lighthorne Heath Quarry Local Wildlife Site and adjacent Ancient Woodlands. The Local Wildlife Site is recognised as one of the most unique wildlife sites in the county, with a huge diversity of species in rare habitat.
Early engagement by the Trust has helped to shape the proposals to secure an overall net gain in biodiversity, which has been objectively measured using a Biodiversity Impact Assessment. This assigns numerical values to different kinds of biodiversity so that 'credits' gained from improving wildlife in one part of the site can be balanced against development of another.
Important benefits for nature will include the long term-management of the Local Wildlife Site as a new Local Nature Reserve; green areas which buffer the ancient woodlands from the impacts of development and new habitat to link the ancient woodland with the proposed nature reserve as well as nature friendly features throughout the development.
At present, the planning applications are awaiting determination.