Ecosystems permanently damaged. Irreplaceable habitats destroyed. Taxpayer's money spent on habitat restoration wasted. Wildlife extinctions at a local level.
This will be nature's fate if the Government doesn't rethink HS2.
A high-speed rail line connecting London to Manchester could, and should, have been a way to revolutionize green transport across England. The Government's HS2 scheme received cross-party support and had the potential to help deliver on commitments to reverse the decline of wildlife and bring about nature's recovery.
But HS2 is failing nature.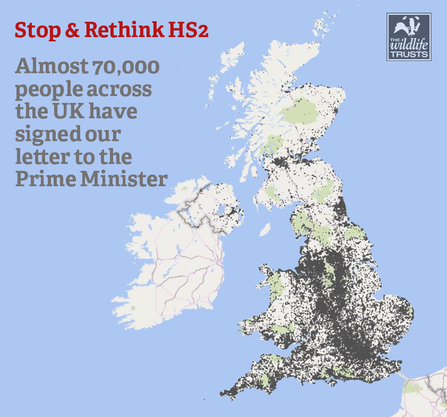 In early 2019, we published 'What's the Damage', an evidence-based report which set out clearly the deep scar HS2 will leave across the landscape, stopping nature's recovery in its tracks. Rather than heeding our warnings and rethinking the plans, the Government has pushed the scheme forward and the company responsible, HS2 Ltd, continues to demonstrate poor practice along the route.
Construction works to enable Phase One of the line has caused irreparable damage to precious wildlife sites already. With no evident  plans in place to achieve the very best outcomes for nature, HS2 Ltd must take the worsening impacts seriously, before it is too late.
We continue to call on HS2 Ltd and the Government to properly reflect on the scheme's failings so far, listen to the warnings and advice from experts including Wildlife Trusts, and carefully rethink how to deliver the remaining works in order to ensure further catastrophic failings can be avoided.
It is critical that HS2 Ltd delivers – and improves on – its environmental mitigation and compensation commitments. It must embed the lessons learned from works so far, and go further to leave nature in a better state than before. 
Only then can there be any hope of HS2 becoming a genuinely 'green' infrastructure project, that can support nature's recovery instead of exacerbating nature loss.  
Read the latest on HS2
What can you do?
Wildlife Trusts along the route continue to monitor progress as best they can with limited resources, and under the current public health restrictions. We are recording known breaches of licence conditions and impacts to species, sites and habitats as a result of the works and sharing these with the Government, the regulator, Natural England, and with HS2 Ltd. 
If you live close to the route and are concerned about any of the current works, complaints can be lodged directly with HS2 Ltd. Making complaints through the formal process will ensure public concerns and issues are properly recorded, helping to ensure HS2 Ltd can be held to account.
HS2 and the environment
Hundreds of important habitats and special wild places are under threat from HS2. Ancient woodland, lakes, meadows, wildlife reserves, chalk streams and other important habitats are at risk. Yet, there has not been a Strategic Environmental Assessment and the compensation plans being put forward are not good enough.
The Government and HS2 Ltd acknowledge that the route can't be delivered without extreme harm to the natural environment. Furthermore, the deep cut and divisive scar the route will cause along the length of England's habitats pose a genuine barrier to the urgent action required to recover nature and restore landscapes. The current approach to HS2 means that a Nature Recovery Network would be impossible.
The real and potential damage is too great - especially while we are facing an ecological and climate emergency. We need HS2 Ltd to stop and rethink. 
We have discussed our concerns around the impacts on nature directly with HS2 Ltd, urging them to publish clear and detailed plans on how the scheme will meet HS2 Ltd's obligations to achieve a 'no net loss' of biodiversity along the whole route, and further, a net gain in biodiversity.
Our history and action on HS2
Since the route was first announced in 2010, Wildlife Trusts have campaigned to defend wildlife and wild places at risk, trying to secure the best possible outcome for wildlife. The Wildlife Trusts in principle support sustainable transport solutions but current proposals for HS2 come at an unacceptable cost for our natural world, putting the homes of wildlife including barn owls and otters at risk.
Wildlife Trusts have actively engaged in the consultation stages of each phase to date, submitting both a collective response as a movement, and detailed responses from individual Wildlife Trusts with specifics about wildlife impacted in their area.
We cannot support the current flawed proposals for HS2, but as each Phase receives formal permission and specific legislation and special licensing continues to be approved, it should be designed to secure England's biggest nature restoration project too. In 2014, we set out an alternative proposal in a visionary report: 'A Greener Vision for HS2'.
Our reports
We published our second report, 'What's the Damage' in 2020, working with partners in the Woodland Trust, National Trust and the Chilterns Conservation Board as well as using HS2 Ltd's own data, providing for the first time comprehensive route-wide evidence of the risks. Our report shows clearly how the deep scar HS2 will leave across the landscape could stop nature's recovery in its tracks.
We urged the Prime Minister, Boris Johnson, to use his power to stop and rethink the project. More than 66,800 people added their names to our open letter, which we delivered in person to Downing Street on Tuesday 4th February 2020. We were dismayed to hear the Prime Minister announce the Government's decision, less than a week later, to give HS2 in its current iteration the 'green signal' , ignoring the evidence and our stark warnings.
A Greener Vision for HS2

Early on in the planning stages of HS2, The Wildlife Trusts developed A Greener Vision for HS2. This report provides the large-scale thinking lacking from current HS2 Ltd plans and if considered would provide the net gain for wildlife so vital for allowing our natural world to recover, at a fraction of the total cost of the scheme.

HS2 Ltd has proposed a Green Corridor along the route, which we welcome. But this is far from adequate and can only be seen as a start to delivering the more ambitious vision we have set out. 

Greener Vision for HS2 - Summary Report

Greener Vision for HS2 - Full Report
HS2 Consultations

The Wildlife Trusts have responded to various consultations released on each of the planned phases of the HS2 route. Please contact your local Trust to request a copy of their consultation response.
What's the Damage?
Keep up to speed with our mailing list
Sign up and you'll be the first to find out about how you can support our work on HS2.