The impact of HS2 on wildlife
High Speed 2 (HS2) is the proposed High Speed Rail network for the UK. It will connect London to Manchester and Leeds via Birmingham. The Wildlife Trusts are generally supportive of sustainable transport but we believe this must not be at the expense of wildlife. We are worried about the impact of HS2 on wildlife and habitats along the route.
What we're saying
We have developed our own Greener Vision for HS2. Our suggestion is to create natural areas, wild havens, green bridges and cycle ways along the route of HS2. Excitingly, HS2 Ltd has now committed to creating a 'green corridor' alongside the HS2 route (Feb 2018). We will continue to ask them to ensure this happens in the best way for people and wildlife!
There are 14 Wildlife Trusts along the route of HS2:
Phase 1: London; Herts & Middlesex; Berks, Bucks and Oxon; Beds, Cambs and Northants; Warwickshire; Birmingham and Black Country; Staffordshire
Phase 2: Staffordshire (Phase 2a); Cheshire (Phase 2a and 2b); Lancashire, Manchester and North Merseyside; Leicestershire and Rutland; Derbyshire; Nottinghamshire; Sheffield and Rotherham; Yorkshire.
Sustainable transport must not be at the expense of wildlife.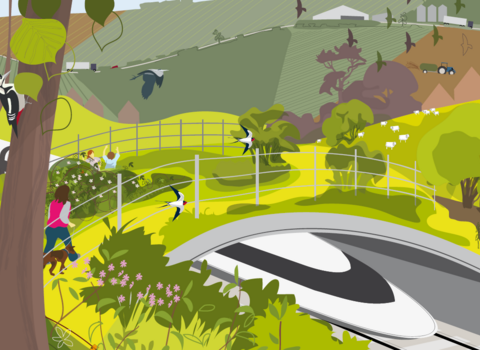 Our vision for HS2
Natural areas, wild havens, green bridges and cycle ways could be created along the route of HS2
Read more