Treat yourself to a wild weekend
Treat yourself to a wild weekend away! Bring the whole family, or escape from the kids. Go gannet-watching in Alderney, to Skomer for manxies, Handa for nature volunteering, and loads more!
If you head to the coast, you can visit a seabird city! The cliffs and rocky islands of our coastline are home to some of the most important seabird colonies in Europe. Join the Wildlife Trusts and encounter one of our Top UK Wildlife Experiences. Our seabirds spend the winter feeding far out to sea, but as the warmth of the summer arrives they all make a beeline for the nesting cliffs. With thousands of birds in one place, the air is full of whirring wings as adults go back and forth, bringing food to their sitting partner or growing chicks. And round it all off with fish and chips. Yum - though watch out for thieving gulls!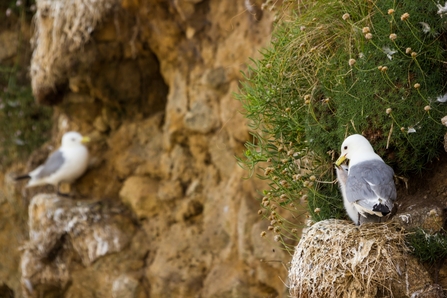 You can even stay on a Wildlife Trust reserve!
Check out The Wildlife Trust of South & West Wales' beautiful Oak Tree Cottage on their Teifi Marshes reserve where you can stay, and Gwent Wildlife Trust own Pentwyn Farm Cottage, a lovely, traditional Welsh stone cottage.