On 30 June we are coming together for a virtual lobby, inviting you, and thousands of others to ask MPs to put people, climate and nature at the heart of our nation's recovery. 
The UK is at a turning point. As we build back from the current health crisis, we have the opportunity to rebuild a resilient economy that benefits everyone in society and tackle climate change and nature's decline, creating jobs and protecting the most vulnerable in the UK and around the world. Or we can let the moment for change pass us by, go back to old ways and wait for new crises to hit. 
Using our voices to call for action is more important than ever. Have a virtual cup of tea with your MP on Tuesday 30 June and tell them that #TheTimeIsNow to put a healthy, greener, fairer future at the heart of plans to rebuild from the Coronavirus crisis.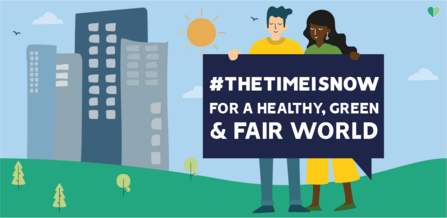 Information about the day
What is a virtual lobby?

On 30 June, we're inviting thousands of people across the country to meet their MPs online to talk about how the UK's recovery from Coronavirus can, and must, help to tackle climate change and nature's decline, creating jobs and protecting the most vulnerable in the UK and around the world.
How will the MP meetings be set up?

When you sign up to the lobby, we will ask you to email your MP to let them know you are attending, and then they will send through the meeting details to you. At the same time The Climate Coalition and our partner organisations will contact all MPs to let them know the virtual lobby is happening, and ask them to fix a time on the 30 June to meet constituents, and set up an online call.
What should we talk about?

We want MPs to hear from you about why, as their constituent, you care about a green and fair economic recovery, so exactly what you say is up to you. We will provide an optional ice breaker quiz connected to the key things we're asking for to get things going and a briefing that can help you go into a deeper conversation with your MP on these key asks. We'd like you to ask your MP to show their support for a healthier, greener, fairer economic recovery from Covid-19. This is just the start - there are more suggestions for how MPs can champion a healthy, green and fair recovery over the coming months.
What else is happening?

On the day: you'll be able to check in with others who are about to meet, or have already met their MP at an all day zoom call. The call will feature training and tips for your meeting plus talks and Q&As. To help you connect and share plans with others in your area - including people in your constituency who will join your meeting, The Climate Coalition set up regional Facebook groups. Find yours!