How we raise funds for our work
Each Wildlife Trust in our movement is an independent charity. People bring their funds together through their Wildlife Trust to save wildlife and wild places and bring people closer to nature. Our members and donors provide the majority of the funds we spend. We are grateful to every one of you for supporting your Wildlife Trust. Thank you.
To help us make an even bigger impact, we also receive funding from grants and from corporate partners.
Grants are usually awarded for specific projects. Some of our main sources of support include: the players of the National Lottery through the National Lottery Heritage Fund and the National Lottery Community Fund; players of People's Postcode Lottery; and the Landfill Tax Community Fund. Some Local Authorities and Government Agencies and Departments also support some Trusts, usually for specific projects. 
Where we spend our money
98% of our funds are spent by individual Wildlife Trusts in their area with the remainder invested in collective activity at an all Wales, England or UK level. By supporting your Wildlife Trust you really are helping to support the wildlife and wild places in your area. On this page you will find information about the collective finances of The Wildlife Trusts.
Collective income and expenditure
The charts below show the collective income and expenditure for all Wildlife Trusts and the central charity.
The central charity, RSWT, operates a Grants Unit. This distributes around £7m a year from grant givers such as Big Lottery Fund and Biffa to other charities outside The Wildlife Trusts to deliver work that falls within our charitable remit – hence the discrepancy of the figures below.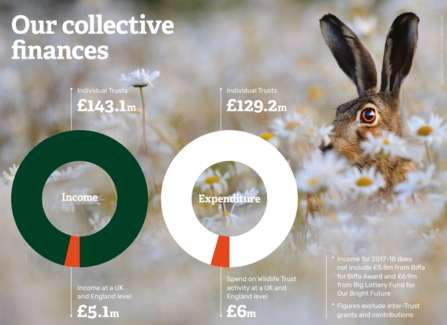 Thank you
Every single one of The Wildlife Trust's supporters are at the heart of what we do. You make our work possible – from protecting threatened wildlife like bats, dormice and bees to saving some of the UK's last wild places and inspiring the next generation of children to love nature. Every donation we receive makes a difference. Thank you.
"Because its a local charity you can see where the money goes, and appreciate the hard work that goes into it."
The Royal Society of Wildlife Trusts Annual Report & Accounts