12,000 kids learning outdoors in 2017
285 amazing wild places protected
4,600 nature tots adventures in 2017
144 teachers learnt how to make their lessons wild
About People's Postcode Lottery
Since 2005, People's Postcode Lottery have been operational in the UK and are managed by Novamedia, similar to sister lotteries in the Netherlands, Sweden and Germany.  Novamedia/Postcode Lotteries are the world's third largest private charity donor and have so far raised over £6.9 billion for good causes.    Since 2005, players in the UK have managed to raise over £300 million for charities across Great Britain and internationally with an at least 32% of ticket prizes going towards funding excellent projects and worthwhile charities.
How PPL supports The Wildlife Trusts
The Wildlife Trusts are fortunate to receive generous support from players of People's Postcode Lottery through our own lottery (find out more details here).  Since 2016, players have raised an amazing £6,708,994 to help 24 Wildlife Trusts bring back wildlife and get people get closer to nature.  This money funds a wide range of projects including outdoor education programmes, osprey protection, beaver reintroduction, ranger funding and a whole host of events.
"touching with bare feet on the ground, smelling the smoke from the fire, seeing all the colours on small animals, tasting blackberries, hearing nature all around… feeling excitement and being a part of it!"
Three schools in Sheffield decided to take their learning outdoors, which is great for boosting children's confidence, concentration and happiness.  These fantastic examples of outdoor learning are being showcased by the Sheffield Teach Wild Network – which is helping schools in the Sheffield area use great outdoor learning to give children the best possible start in life.
Where the funding goes:
A large amount of the funding supports Trusts engaging with local children through Forest School and Nature Tots sessions, supporting our Every Child Wild beliefs, these sessions are set up in major cities across the UK often where children might not ordinarily get the opportunity to engage with nature.  As well as this, the funding also supports our work to protect our Wild spaces, stand up for our seas and inspire people to take action for wildlife.  Thanks to the players the community, wildlife and our wild landscapes have all benefited from the funding across England, Wales and Scotland.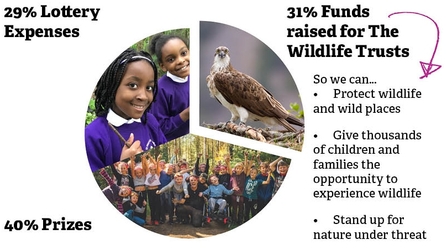 This chart shows how the proceeds from The Wildlife Trusts lottery were spent in 2017.  You can find more information on our 'How it works' page.