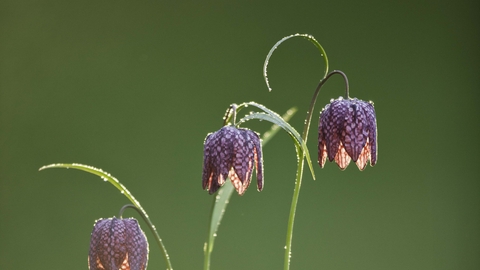 Snake's-head fritillary
Scientific name:
Fritillaria meleagris
The nodding, pink-and-purple-chequered flowers of the snake's-head fritillary are said to resemble a snake, hence the name. Declining with the loss of our meadows, this delicate plant can be seen in spring.
Species information
Category
Statistics
Height: up to 30cm
Conservation status
Classified as Vulnerable on the Vascular Plant Red Data List for Great Britain.
When to see
April to May
About
It was not so long ago that the spring markets of Covent Garden were overflowing with the nodding, pink-and white-chequered blooms of snake's-head fritillaries. Handfuls picked from meadows beside the River Thames were taken to London by local children to be sold for a pretty penny or two. But, today, the carpets of is this flower that once straddled our rivers and adorned our wet meadows have become a rare sight.
How to identify
The snake's-head fritillary is an unmistakeable plant: look for its chequered, purple, pink or even white, bell-like flowers, nodding on thin stems. It has narrow, grey-green leaves that appear at the base of the plant and occasionally up the stem.
Distribution
Mainly found in England.
Habitats
Did you know?
At one nature reserve in the heart of Oxford, the snake's-head fritillary has made a startling comeback. When the Berks, Bucks and Oxon Wildlife Trust took over Iffley Meadows in 1983 there were just 500 plants left, but thanks to careful management, there are now an astounding 42,000 flowers that appear as a pink carpet every April.

The Wildlife Trusts look after many meadow habitats using traditional methods, such as hay-cutting, reseeding and grazing, for the benefit of local wildlife. We are also working closely with farmers and landowners to promote wildlife-friendly practices in these areas.