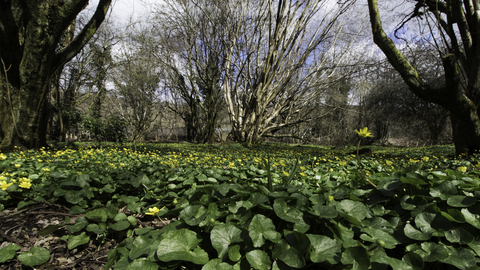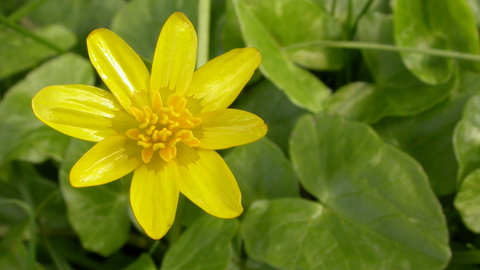 Lesser celandine
Scientific name:
Ranunculus ficaria
Heralding spring, a carpet of sunshine-yellow lesser celandine flowers is a joy to see on a woodland walk. Look out for it along hedgerows, in parks and even in graveyards, too, from March onwards.
Species information
Category
Statistics
Height: up to 25cm
Conservation status
Common.
When to see
March to May
About
Lesser celandine is a characteristic spring flower of woodlands, hedgerows, graveyards and parks where its shiny flowers can carpet area with gold between March and May. As one of the first spring flowers to bloom, it provides a valuable nectar source for early insects. Despite its name, it is not actually a close relative of greater celandine and is a member of the buttercup family instead.
How to identify
Lesser celandine is a low-growing plant with glossy green, heart-shaped leaves and bright yellow, star-like flowers that are about 3cm across. The flowers typically open in the sunlight.
Distribution
Widespread.
Did you know?
Celandines are mentioned in 'The Lion, the Witch and the Wardrobe' when Aslan returns and the wood turns from winter to spring: "Edmund saw the ground covered in all directions with little yellow flowers - celandines".

The Wildlife Trusts manage many woodland nature reserves sympathetically for the benefit of all kinds of wildlife. A mix of coppicing, scrub-cutting, ride maintenance and non-intervention all help woodland wildlife to thrive.