The Wildlife Trusts welcome new Chair, Peta Foxall
Yesterday, Peta Foxall was elected as the seventeenth chair of The Wildlife Trusts. Currently chair of Devon Wildlife Trust, Peta is a passionate conservationist and advocate for the role of nature in education and people's health and wellbeing.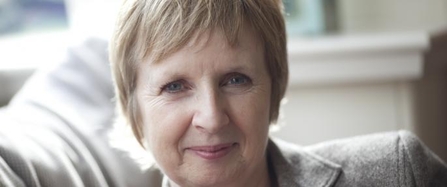 Peta brings extensive leadership experience in a wide range of sectors, including the NHS, higher education institutes and charities. A biomedical scientist by training, with a PhD in biological chemistry, Peta is also lead governor of an NHS Foundation Trust and was Professor and Director of postgraduate programmes at the University of Exeter Medical School, chairing its research ethics committee.
Peta succeeds René Olivieri, whose background was in publishing. His contribution to The Wildlife Trusts over the past five years was celebrated at the organisation's AGM on 22 November. Not least amongst his achievements were his leadership in the run up to the EU Referendum and his commitment to ensuring that our movement communicated more powerfully through better storytelling about how wildlife can change lives.
It is a real privilege to be elected Chair of The Wildlife Trusts
Stephanie Hilborne OBE, Chief Executive of The Wildlife Trusts, said:
"Ours is a grassroots movement and increasingly we champion the interconnection of people and wildlife. We depend on nature and it depends on us, in more ways that we could possibly imagine. Peta embodies everything The Wildlife Trusts believe in and care about, she is courageous, knowledgeable and determined. Her life experience and enthusiasm permeates her every word and she shows deep respect both for other people and the natural world. At a time of such political turmoil our movement has a great responsibility to play its part in securing a positive future for wildlife and society and Peta is the right person to lead us through the next five years. We are all really looking forward to working with her."
Peta is a keen proponent of gardening for wildlife and cares for an ancient woodland on the banks of the River Taw in Devon. Her own wild neighbours include the beaver families of the River Otter where Devon Wildlife Trust are mid-way through a five-year trial reintroduction of beavers. A committed volunteer in her personal life Peta helps out at her local community shop amongst other ventures.
Peta said:
"It is a real privilege to be elected Chair of The Wildlife Trusts. I feel very humble to be recognised in such a way. Nature matters to all of us and in many different ways and to stand up and work for nature is absolutely the right thing to do right now. Bringing together individuals, communities and partners in a positive way and through an overarching wildlife movement across the UK is particularly compelling. I look forward to working with everyone, understanding their challenges and celebrating their successes."