The Wildlife Trusts' marine review 2020
The Wildlife Trusts' Living Seas teams are the eyes and ears of the UK coast and today they reveal their most memorable highlights of 2020 – a marine review of the year.
Sir David Attenborough calls for a halt to activities that damage our seas.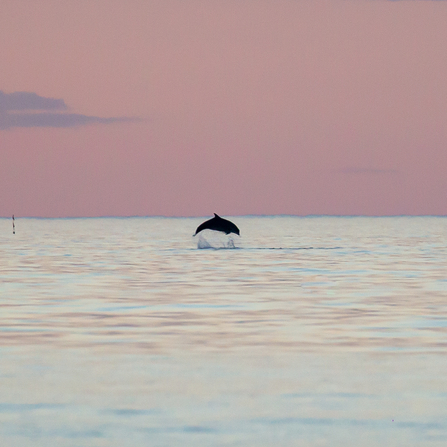 Thousands of people thrilled at the sight of whales and dolphins, a breath-taking 'run' of Atlantic bluefin tuna delighted observers from Cornwall to Kent,  an extremely rare sea slug appeared in UK waters, and rare sand lizards established a new home at their most northerly point in England – these are just a few of the highlights from The Wildlife Trusts' 2020 marine review.
The Wildlife Trusts' Living Seas teams are the eyes and ears of the UK coast and today they reveal their most memorable highlights of 2020 – a marine review of the year. In brief
Good news
Thousands of Atlantic bluefin tuna in rare 'run' up English Channel from Cornwall to Kent
Extremely rare sighting of spectacular sea slug in UK waters 
First orca sighting in Strangford Lough, Ulster since 1962 
Tern explosion at North Wales Wildlife Trust's Cemlyn: Arctic tern pairs up 2,900% and Sandwich tern pairs up 65% 
Grey seals on the increase as another successful year recorded around UK coast 
Guillemot numbers at highest since 2004 on Scottish Wildlife Trust's Handa island
More than 30 bottlenose dolphins seen 'partying' off the Teesside coast 
Rare evidence captured of a baby Risso's dolphin born in Welsh waters 
Minke whale-watching established Yorkshire as marine eco-tourism hotspot 
Action for marine conservation
New home established for England's most northerly sand lizards, at Fylde sand dunes, Lancashire
New marine protection for Scotland could benefit basking sharks
Seagrass success in Ulster, Yorkshire and Alderney – great for wildlife and vital for carbon capture
 
Bad news
Marine wildlife in greater peril than ever from plastic, nurdles, litter, discarded fishing gear and disposable PPE 
Many citizen science opportunities normally provided by Wildlife Trusts were cancelled by Covid-19 – but new opportunities were created online reaching new audiences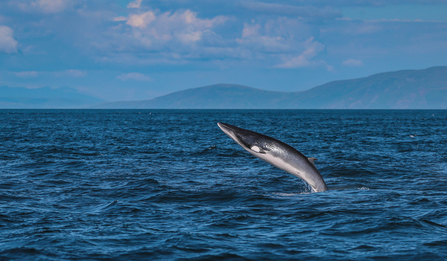 Joan Edwards, The Wildlife Trusts' director of living seas, says: 
"In 2020 people flocked to the sea as soon as lockdown restrictions were lifted – they needed the coast as never before. Wildlife Trusts around the country were reporting a surge of public interest in marine life and coastal species. From the Risso's dolphins in Wales and minke whales off Yorkshire, to the partying bottlenose dolphins off Teesside and the bluefin tuna racing up the south coast – people delighted in seeing marine life and it lifted the hearts of millions in this difficult year. 
"However, we have taken these wonders for granted for too long and it's vital we recognise that the future of life on earth is inseparable from the health of the sea. Our oceans are in trouble and the UK will not achieve its climate and environmental targets without restoring marine habitats. That's why The Wildlife Trusts are appealing for £30m to help put 30% of land and sea into recovery for nature by 2030."
President Emeritus of The Wildlife Trusts, Sir David Attenborough, says:
"The seas around the UK are home to the most extraordinary wildlife. We're fortunate that our seas are protected by a blue belt of marine protected areas but sadly this does not prevent damaging activities still occurring in these special places. Bottom-towed dredging and trawling destroys fragile sea fans and soft corals on the seabed, while dredging to install cables to offshore wind farms changes the seabed and its wildlife forever.
For too long we have taken from the sea with little regard for the consequences. We are all aware of the problems presented by plastic litter, but some pollutants and impacts are hidden from view, beneath the surface of the waves. Our Government needs to tackle these problems but we can all do our bit too."
THE ROUND UP
GOOD NEWS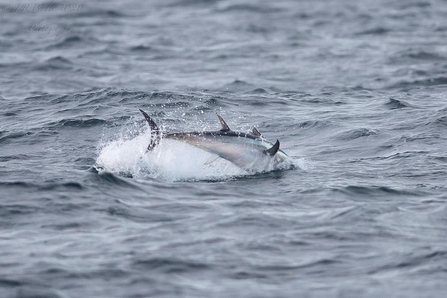 Thousands of Atlantic bluefin tuna in rare 'run' up English Channel from Cornwall to Kent
Extraordinary numbers of Atlantic bluefin tuna hunted along the length of the south coast in a dazzling 'run' up the English Channel over the summer and autumn. Up to 10ft long, these powerful fish can speed over40 mph as they chase shoals of mackerel, sardines and herring. Bluefin tuna can live up to 40 years and weigh more than 250kg – about the same as 3 men – and this year were spotted from Cornwall and Devon in the west, to as far east as Folkestone, Kent. At some points, the bluefin tuna were accompanied by porpoise, minke whale and dolphins, in a huge feeding frenzy.
Abby Crosby, marine conservation officer, Cornwall Wildlife Trust says:
"No one who saw this intense display of the power, aggression and athletic prowess of bluefin tuna says they will ever forget it. People were utterly spellbound in anticipation of the next startling leap of these huge, metallic-silver creatures from beneath the ocean waves, and many simply couldn't believe this was happening just off the English coastline. Moments like these, where precious, unseen marine life just jumps into full view, remind me why my colleagues and I at The Wildlife Trusts continue to work hard for better protection of the marine environment." 
Sarah Ward, Living Seas officer, Sussex Wildlife Trust says:
"Local people witnessed hundreds of bluefin tuna after they made their way up the English Channel to Sussex this autumn. Bluefin tuna are still a fairly rare sighting in UK waters, but sightings have been increasing in recent years. For one of the ocean's most spectacular marine events to happen in the English Channel this year and delight so many people was a wonderful experience in 2020."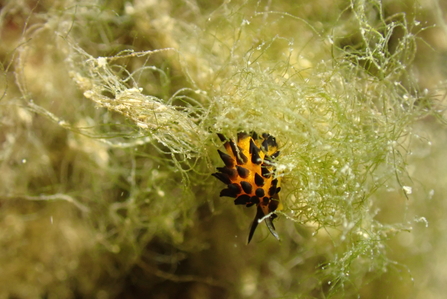 Extremely rare sighting of spectacular sea slug in UK waters 
An extremely rare sighting of a stunning species of sea slug was made this November by a Cornwall Wildlife Trust Seasearch volunteer. The sea slug, Placida cremoniana, is a miniscule orange and black sacoglossan (or a sap sucking) sea slug measuring just millimetres in length. This species resembles a glowing lump of coal – but one covered in spikes – and is more usually found in the Pacific or Mediterranean. Sea slugs are soft-bodied marine animals famous for their often extraordinary bright colours and striking shapes. 
Matt Slater, marine awareness officer, Cornwall Wildlife Trusts, says:
"What a find! Our sharp-eyed volunteer, Shannon Moran, spotted a very unusual, extremely rare sea slug, helping Cornwall Wildlife Trust get a better idea of what's out there in our coastal waters. It's a stunning one too, displaying a firey-orange colour on its body, contrasting with thick black conical spikes all over. Given its tiny size, it's incredible she spotted it at all."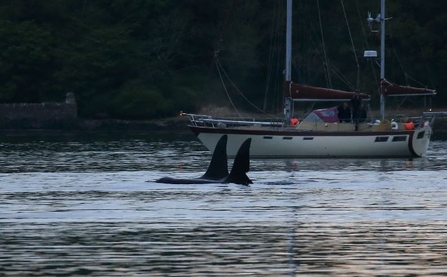 First orcas spotted in Northern Ireland's Strangford Lough since 1962
People watched in awe as two orcas – killer whales – were seen in Strangford Lough for the first time in at least 50 years this May. One of them was recognised as 'John Coe', identified by the notch on his dorsal fin and the fact he is missing a chunk of his fluke. The pair are part of the West Coast Community, the only resident UK population of orcas, made up of 8 whales. The pod can be distinguished from other pods by a sloping patch around their eyes.
Heidi McIlvenny , Living Seas manager, Ulster Wildlife, says:
"This pod of elusive orcas tends to circuit the coast of the Hebrides and around Ireland most years, but rarely do they come close to the coast, which is why they're hardly ever seen. We were so lucky these intelligent mammals decided to take a detour and enter the lough this year. Why they came to us this year, is yet another mystery of the deep."
Tern explosion at North Wales Wildlife Trust's Cemlyn: Arctic tern pairs up 2,900% and Sandwich tern pairs up 65% 
Arctic tern pairs were up by 2900% and Sandwich tern pairs were up by 65% at North Wales Wildlife Trust's fabulous Cemlyn nature reserve in 2020. The reserves team also report sightings of the roseate tern, the rarest breeding seabird in the UK. With an estimate of over 9,000 birds, the two low-lying islands in the Cemlyn lagoon were at full capacity with these wonderfully elegant, noisy seabirds.
Cemlyn has long been home to a small colony of Arctic and common terns, but in 2020 the colony received a massive boost, following the abandonment of the large colony on the Skerries. A migratory species, they travel thousands of miles to and from the southern hemisphere to Wales, in order to breed. Tern species are slender, elegant birds and used to be known as 'sea swallows'. Arctic terns have blood-red bills that can help to distinguish them from common terns. 
Additionally, over 1,984 pairs of Sandwich terns bred with a peak count of 1,000 fledglings.
The birds nest in the open on islands, so they are vulnerable to predators and very sensitive to disturbance, especially from dogs and people. This nature reserve is the only Sandwich tern colony in Wales and one of the most important in the UK, so it receives special protection: Wildlife Trust wardens keep watch to ensure the birds get the best chance possible to breed successfully. They are appealing for future funding for wardens to protect this very important colony.
Chris Wynne, senior reserves manager, North Wales Wildlife Trust, says:
"It was a truly awesome and surprising spectacle for 2020 – a full-on tern metropolis at Cemlyn, with chicks and activity happening at full pelt, constant movement and a wall of noise. The influx of hundreds of additional birds followed the abandonment of the Skerries colony. We believe at least half the birds came over to Cemlyn, borne out by the evidence provided by reading the coloured rings tagged on the legs of some of the Arctic and common terns, and recorded by our wardens. Hopefully next spring these streamlined beauties will make a return – a lot of excited birders will be waiting for them."
Grey seals on the increase as another successful year recorded around UK coast 
Cumbria Wildlife Trust reported 412 grey seals and 5 pups at South Walney nature reserve. The recorded population has increased dramatically, from only a couple of seals seen using the nature reserve in 1980s and the first pups born in 2015. In Alderney, in the Channel Islands, grey seals were up from 22 in the summer count for 2019, to 45 in 2020. Alderney Wildlife Trust surveys grey seals as part of its vital conservation work to manage the special locations on the islands which form part of a highly protected Ramsar site. The surveys are also part of work with the wider Channel Islands and conservation scientists in France. Lincolnshire Wildlife Trust's Donna Nook reserve reports an increase in grey seal pups again for 2020. The pup count to 14 December was 2,204 pups, with more yet to be born. 2019's pup grand total at Donna Nook was 2,187.
The UK is home to one of the largest populations of grey seals in the world – they are now on the increase after years of persecution as they were hunted for their fur, meat and oil. The UK is a critically important location for them – 40% of all grey seals on the planet live here. Most of the UK's grey seals live in Scotland, but their population growth there is limited by the amount of space available for them on the rocky outcrops. As the population increase has plateaued in Scotland, it has continued to rise in England, in both the North and Irish Sea, where grey seals haul out onto vast sandy beaches, notably at South Walney reserve in Cumbria and Donna Nook Lincolnshire.
Dr Emily Baxter, Senior Marine Conservation Officer, North West Wildlife Trusts says:
"If the UK had an animal mascot it should be the seal. The grey seal prefers our coasts to anywhere else on the planet. It's fantastic to see this large marine mammal making a comeback of sorts. It may not be back to its historic population size, but it's a start and it demonstrates what legal protection, education and conservation efforts can achieve.
"However, we have had some horrendous disturbance incidents this year with people innocently kayaking or walking on the beach near the seals and nesting birds causing real alarm – as well as multiple incidents of people flying drones over the seals. People need to realise that this badly upsets and disturbs vulnerable wildlife."
Guillemot numbers at highest since 2004 on Scotland's Handa island
Based on data from 10 plots, sampling guillemots across the island of Handa, this bird species' population has increased for the third consecutive year. 2020 witnessed the highest number of guillemots recorded on Handa since 2004. Guillemots breed on sheer cliff faces but spend most of their time out at sea. Scotland is an important home for these birds, with populations on Handa reaching up to 50,000 in a typical summer.
Three Scottish Wildlife Trust rangers, alone during lockdown on the remote Scottish island of Handa, blogged about their experiences, producing a stunning film of the spectacular spring wildlife during its respite from visitors. The island had its first spring months in more than 50 years, without the typical 1,000s of visitors who would usually make the trip.  A film was lovingly produced showcasing the many wildlife characters on the island in May and June, including puffins, great skuas, gulls, gannets, otters, seals and more.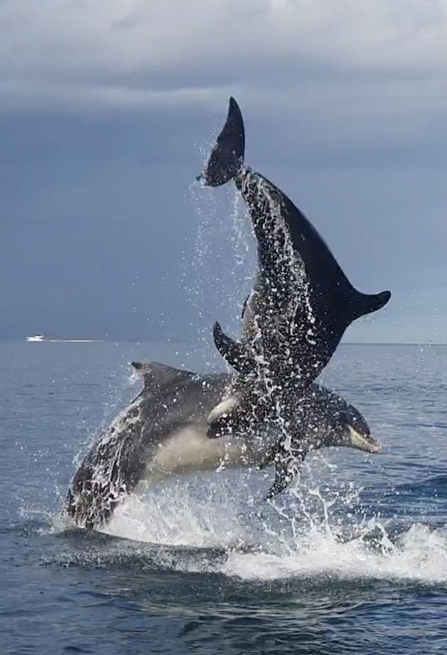 More than 30 bottlenose dolphins seen 'partying' off the Teesside coast 
Bottlenose dolphins were seen in uplifting, playful displays that delighted locals in Teesside for weeks this August. This was the first year that Tees Valley Wildlife Trust took part in the North Sea Cetacean Recording Project and what a year to join! In early August, more than 30 bottlenose dolphins were observed, on just one day, frolicking off Saltburn Pier, metres from captivated bystanders on the shore. The dolphin group was also spotted off Redcar and Hartlepool, again visible from the coastline. The dolphins earned their own Facebook fan club, set up by a Tees Valley Wildlife Trust volunteer, where excited locals exchanged their sightings and the best locations to capture the scene on camera. 
Observers from recording projects up and down the coast have estimated that about 100 bottlenose dolphins now move up and down the north-east coast of England during the summer months, travelling up to 40 miles in a day and moving in pods of about 30. The public were so enthused in 2020 that 40 volunteers came forward to help with the citizen science project in Teesside alone. Some of the world's biggest bottlenose dolphins live in UK waters, reaching up to 4m in length and weighing over 500kg – the same as a grand piano! Bottlenose dolphins are famed for their intelligence and sociable behaviour, which includes playing and babysitting each other's young.
Jacky Watson, wilder coast officer, Tees Valley Wildlife Trust says:
"The sight of dolphins off Teesside was a complete revelation for lots of local people and a gift for photographers. Many people had no idea bottlenose dolphins could be seen in UK waters, let alone here. This partying pod of dolphins were highly visible, playing, breaching vertically, racing along at top speed with fin after fin arcing through the waves. Social media was ablaze with the action, with people keen to find out where and when they could see the dolphins having so much fun! It was a real tonic for the soul following the spring lockdown. Our volunteers are still fired up and will be surveying all winter. There is still so much to learn and there's always a chance of spotting one of the North East's celebrity dolphins, named Runny Paint."
Rare evidence captured of a baby Risso's dolphin born in Welsh waters
A baby Risso's dolphin was captured on camera – a rare piece of evidence – by a wildlife enthusiast, clearly showing the foetal folds on the calf's body, indicating it had only recently been born off the coast of Anglesey, Wales. Infant dolphins are born with folds still visible on their skin, from where they have been curled in the mother's womb. These disappear over time as the dolphin stretches and grows.
The Risso's dolphin is a large, stocky dolphin, without the 'beak' and with a large and upright dorsal fin. They are born a greyish-brown colour and as they age collect white scarring, unique to each individual, which helps them to be identified. They visit the Welsh coast in late summer and autumn to feed off squid and other cephalopods, and have a particular preference for steep underwater drop-offs found at the edges of continental shelves, such as those found off Bardsey Island, where depths may reach over 100m. The Risso's dolphin population is small and therefore vulnerable to disturbance from human activity.
Nia Jones, Living Seas manager, North Wales Wildlife Trust, says:
"We believe the seas around Wales could be an important place for the Risso's dolphin and this year's unusual photograph of a baby Risso's indicates that the Welsh coast may be even more important for the species than we previously thought." 
Minke whale watching established Yorkshire as marine eco-tourism hotspot 
There was a 30% jump in the minke whale and porpoise surveys carried out by members of the public, according to Yorkshire Wildlife Trust. During the summer, 162 surveys were completed, up from 124 in 2019, and these were observed by shore-based onlookers. These whales are typically solitary, but some were seen feeding relatively close together, probably chasing the same shoals of fish. A humpback whale was also captured on film 7km off Flamborough Head by Jono Leadley from Yorkshire Wildlife Trust. The ocean giant was filmed breaching the water, in a video that became popular this year on social media.
Yorkshire Wildlife Trust is partner in a citizen science project recording sightings of whales, dolphins and porpoise off Yorkshire's east coast. A network of 40 volunteers trained by Yorkshire Wildlife Trust and the Sea Watch Foundation spent more than 200 hours surveying from 30 locations up and down the Yorkshire coastline in 2020. 
Northern minke whales can grow up to 10m in length and weigh up to 6 tons. They can dive up to 200m beneath the waves and typically feed on shoals of fish including herring mackerel and krill, devouring hundreds at a time, in large mouthfuls. Public sightings have been increasing since 2015. They are now such regular visitors that a minke whale-watching industry has established in Yorkshire. 
Bex Lynam, North Sea Wildlife Trusts' marine advocacy officer, says:
"The public witnessed spectacular minke marvels, from watching the arc of their dorsal fins slicing through the still ocean waters, to the thrilling experience of standing on dry land and spotting these majestic marine mammals feeding just 100 metres off the Yorkshire coastline. We need to understand why these extraordinary creatures inhabit our waters and investment in research is badly needed if we're to protect whales from the impacts of human activity, such as offshore wind developments or supertrawlers."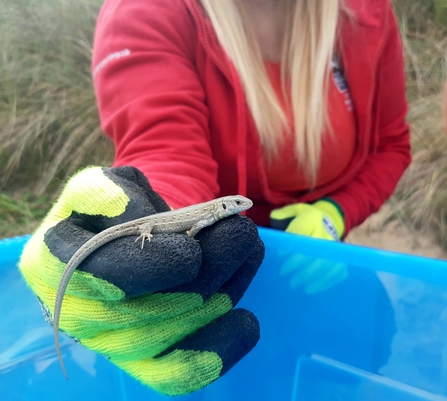 ACTION FOR MARINE CONSERVATION
 
New home established for England's most northerly sand lizards, at Fylde sand dunes, Lancashire
Lancashire Wildlife Trust revealed a 'top secret' sand lizard population in August. The most northerly population of rare sand lizards in England is now officially established and the lizards are breeding – thriving for the first time since the 1960s, thanks to the work of the charity. It is the culmination of three-years' work with partners, in which more 391 sand lizards were released onto the dunes, just south of Blackpool. 
The sand lizards re-introduction is part of an ambitious conservation plan for the Fylde Sand Dunes Project. A 12-year project by conservation charities is working to restore the damaged ecosystem. As a result, the dunes are now better able to support more wildlife, but also to provide protection against coastal flooding, as a 'soft' sea defence. 
The UK's rarest lizard is now a bona fide conservation success story. After enormous declines in population due to habitat loss, urbanisation and coastal squeeze, today there are now successfully re-introduced, small populations in highly protected locations in Wales, Kent, Sussex, Devon, Cornwall and now Lancashire too. 
Jessica Newman, Fylde Sand Dunes Project, Lancashire Wildlife Trust, says:
"England can now boast sand lizard populations from our southern counties all the way up to Fylde Sand Dunes in Lancashire. It may still be our rarest lizard, but this bright green jewel of a creature deserves to be back home in the north."
"This daring dunes project sparks hope for conservation across the country. Their reintroduction goes to show that big conservation ideas work, given enough funding, enthusiasm and expertise on the ground. Get involved with us if you want to see more stories like this!" 
New marine protections for Scotland could benefit basking sharks 
In December 2020, new Marine Protected Areas were announced in Scotland, for species including basking sharks and minke whales, alongside 12 new Special Protection Areas for marine birds. 
Dr Sam Collin, Living Seas Manager, Scottish Wildlife Trust said: 
"This announcement is a welcome step forward for the protection of Scotland's marine environment. We still have a lot to learn about basking sharks but it is increasingly clear that helping them to thrive in Scotland's seas is vital to their survival. The designation of the Sea of Hebrides Marine Protected Area is crucial for ensuring these gentle giants are safe when they gather in these waters during the summer. On behalf of everyone who supported our joint campaign, we are delighted the Scottish Government has now confirmed the designation of this new protected area. It is essential, however, that all of the Marine Protected Areas which have been announced are backed by effective management measures. We look forward to working with Marine Scotland in the near future to help ensure that these areas deliver real conservation benefits."
Seagrass success in Ulster, Yorkshire and Alderney – great for wildlife and vital for carbon capture
Ulster: There may be more vital CO2-storing seagrass beds around Ulster shores than marine scientists had previously thought.  Ulster Wildlife reports the discovery of another previously un-recorded seagrass bed, measuring approximately 20,000 sq m. The seagrass bed was found off the Ards Peninsula on the Irish Sea coast by Christine Picton, Ulster Wildlife's Living Seas Officer, and volunteers from the Trust's ShoreNI survey programme. That brings the total of new seagrass bed discoveries made by the Trust to two, in just three years.
Ulster Wildlife recently received government funding to propose how the waters around the coast could be restored to help store more so-called blue carbon and also to provide a better environment for marine species. Seagrass beds are vital to plans to combat climate heating. They store more carbon in their blades and root systems that trees do on dry land - between 10 and 40 times more per hectare.  By recording where they are located, conservationists can ask for stronger protections for seagrass beds.
Seagrass beds in Ulster are home to a wide range of creatures including pipefish and anemones. Some seagrass beds are also exposed during low tide, providing food for light-bellied brent geese and other birds.  The first seagrass bed discovery made by Ulster Wildlife was in 2018, during a snorkel survey near Glenarm on the Antrim coast.
Yorkshire: Yorkshire Wildlife Trust received £237,400 from the Government's green recovery fund to return 100,000 native oysters and replant dwarf seagrass habitats in the Humber estuary. Human impacts have caused degradation to Yorkshire's seascapes and expanding the projects which are bringing these important species back will help to form habitats which encourage greater biodiversity and long-term sustainability across the estuary.
Alderney: Alderney Wildlife Trust carried out its first scientific survey of the main bay on Alderney to determine the existence and extent of seagrass beds.  One volunteer set out on a kayak on Sundays as part of a year-long project to map the seagrass, using GPS positioning with a tag team of three snorkelers following behind to verify the findings. Seagrass is an important carbon store and habitat for many marine species, including seahorses, and also acts as a nursery for juvenile fish. The roots of the seagrass form unique systems that create air pockets in the sandy substrate which provides more opportunities for many species to thrive, including sea worms. The seagrass grows between 0-5m up from the seabed in shallow waters, which meant a team could locate it with the naked eyed eye and triangulate its position using GPS.
BAD NEWS
 
Marine wildlife in greater peril than ever from plastic, nurdles, litter, discarded fishing gear and disposable PPE.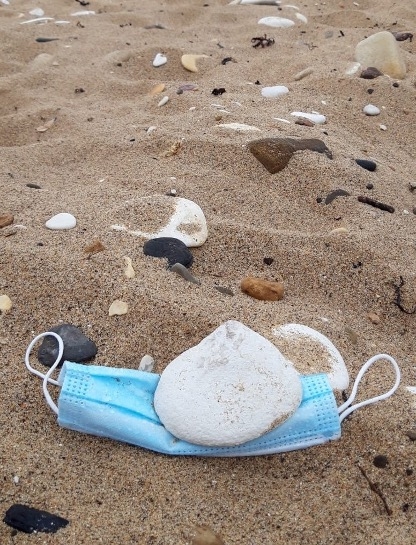 Though many organised beach cleans had to be cancelled due to Covid-19 restrictions, they were superceded by the hugely increased efforts of individuals and smaller groups during 2020. Cornwall Wildlife Trust, for example, reported that those people living within walking distance of beaches still carried on cleaning right through the lockdown. The July-August period was enormously busy and social media posts showed how volunteers were working tirelessly to remove BBQs, picnic mess and human waste. 
Ruth Williams, Marine Conservation Manager, Cornwall Wildlife Trust, says:
"Disposable PPE gloves and face masks were everywhere this summer and our beach cleans find it every time. Many members of the Cornish Plastic Pollution Coalition, a grouping of more than 50 conservation and beach cleaning groups, reported large amounts of discarded PPE appearing along roadside verges and near supermarket car parks all over Cornwall. We'd like to urge everyone to take proper responsibility and to please take it home and dispose of it properly, rather than littering our streets, countryside and beaches. Littered PPE not only looks unsightly. If left lying around it poses a risk as it could injure wildlife too."
Many citizen science opportunities normally provided by Wildlife Trusts were cancelled by Covid-19 – but new opportunities were created online reaching new audiences
More than a hundred Wildlife Trust Shoresearch surveys were cancelled due to lockdown and Covid-19 restrictions. These citizen science surveys included monitoring of marine shoreline species including stalked jellyfish, whelks, anemones and crabs. The data normally collected is invaluable for helping to monitor the state of important intertidal habitats which often give us an early indication of the general health of coastal waters.
But while many public face-to-face events were cancelled by coastal Wildlife Trusts across the country, most Trusts adapted; for example, Cornwall Wildlife Trust ran almost 100 online events, webinars, talks, and Facebook live events, reaching large new audiences. Covid-19 changed our way of working publicly but allowed an opportunity to engage audiences who otherwise may not have taken part.