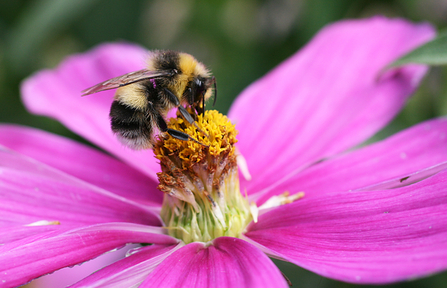 From today, the EU-wide ban on three neonicotinoid pesticides implicated in bee declines comes into force across the EU for multiple uses on plants pollinated by bees.  The moratorium could hugely benefit Europe's declining populations of bees and other insect pollinators, which are essential to our food security and economy.
The UK Government voted against the ban earlier this year, despite growing scientific evidence that 'neonics' harm bee health.  Although the UK has to implement the ban, clarification is lacking on how it will be effectively enforced and monitored.  In addition, there are concerns regarding the safe disposal of unused neonics and treated seeds.
Since March 2013 leading UK environment organisations, Avaaz, Buglife, ClientEarth, Environmental Justice Foundation, Friends of the Earth, Greenpeace, Natural Beekeeping Trust, Pesticide Action Network UK, RSPB, Scottish Wildlife Trust, Soil Association, The Wildlife Trusts and 38 Degrees have continued to work together to express public concerns about the future of pollinators and the vital services they provide, the need for Government action and the safety of products used in farming and growing. 
The Bee Coalition has released the following joint statement:
"Given unprecedented public concern for bees and the risks they face from pesticides, we welcome the imminent implementation of the ban on certain neonicotinoid products, which have been shown to be harmful to bees and pollinators.  The UK Government's opposition to the ban is despite strong scientific evidence about the risks and overwhelming public support for firm action.  We call on the Government to stop bowing to the powerful agrochemical industry and ensure this temporary ban is fully implemented and enforced."