Robin Walker visits Worcestershire Wildlife Trust to see what the future could look like for farming and wildlife
Minister for the Department for Exiting the European Union, Robin Walker, visited a farm near his constituency to meet local and national Wildlife Trusts representatives, including The Wildlife Trusts' England Director Stephen Trotter, on Friday 10 September to discuss the work of the Trusts and the future of the UK's natural environment following the UK's EU exit.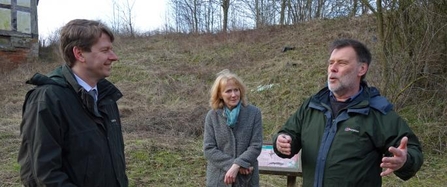 The Minister's visit took place at Lower Smite Farm, a 65-hectare working mixed arable farm and Worcestershire Wildlife Trust's operational base. This land is managed under several agri-environment schemes, which has reaped huge benefits for wildlife, soil health and farm productivity. The farm forms a crucial part of Worcestershire Wildlife Trust's Living Landscapes approach, in which the Trust works with land managers to improve habitat connectivity and quality for wildlife and people.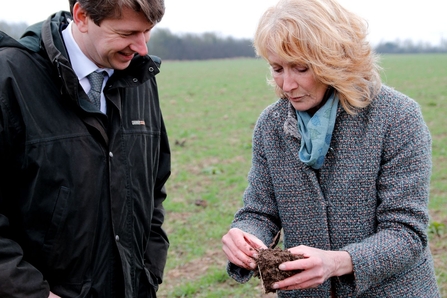 Lower Smite Farm is a demonstration farm and base for an extensive farm advice service, with half of the land managed organically. A wide range of species – including skylark, emperor dragonfly, white-letter hairstreak butterfly, the scarce dotted beefly and lots of earthworms – are supported by the varied farm habitats on Lower Smite, which include a replanted traditional orchard, a wetland, several ponds, arable fields and bird food crops.
The Trust has focussed on restoring soil health as the fundamental cornerstone in halting the decline of both farmland wildlife and crop productivity. Revenue generated from the farm helps to support the Trust's work across the county as well as an education and knowledge-sharing programme that helps to teach children and advise other farmers about wildlife-friendly farming. Through a current project, the Trust is working with 22 farmers to develop Integrated Farm Management plans to help improve their land for beneficial insects.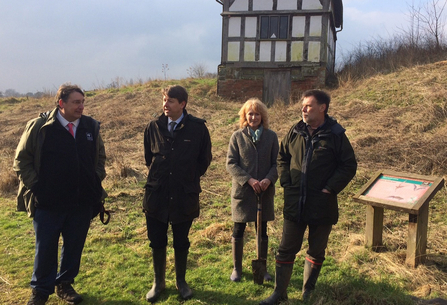 Robin Walker, Minister for the Department for Exiting the European Union, said:
"I was delighted to visit Lower Smite Farm and learn more about the important work The Wildlife Trusts are doing to protect wildlife and natural landscapes both here in Worcestershire and across the country."
"As we negotiate our departure, it is vital that we protect our natural environment and look to the opportunities to design policies which are specifically tailored to benefit British agriculture, wildlife and the countryside."
David Dench, Worcestershire Wildlife Trust's Head of Conservation, said:
"Farms like Lower Smite demonstrate how it is eminently possible to manage land to high environmental standards and deliver wider benefits, including healthy soils, flood mitigation and wildlife-rich landscapes that people can access and enjoy. We were delighted to show the Minister how this works in practice."
Stephen Trotter, The Wildlife Trusts' England Director, said:
"The UK Government has a welcome ambition of leaving the natural environment in a better state than it inherited. Achieving this will require existing environmental and wildlife protections and drivers, shaped by our membership of the European Union, to be maintained and built upon with legislation to ensure long-term environmental protection and nature's recovery. It will also need the Government to use the unique opportunity of defining new domestic agricultural policies and a range of innovative funding mechanisms to support a thriving, healthy countryside that delivers multiple benefits for society."