New housing must respect environmental limits and help bring back wildlife
Today's budget highlights need to adopt a new nature-led approach to housing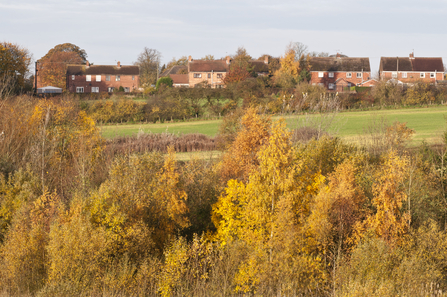 In today's budget, the Chancellor Philip Hammond announced plans for 300,000 new houses to be built every year by mid 2020s.
The Wildlife Trusts believe that today's announcement on house building will put huge pressure on our wildlife and wild places, because it fails to acknowledge our limited environmental resources and catastrophic wildlife declines.
Stephanie Hilborne OBE, Chief Executive, The Wildlife Trusts, says:
"Today's budget fails to acknowledge that the natural world is a limited resource. There is a need for new and affordable housing, but we must prevent an environmental free-for-all where everybody loses. We need more habitats for wildlife (including for pollinators) and natural areas to soak up floodwater. Features like these should be part of every new housing development. If we are going to build 300,000 new homes it will require a new nature-led approach to housing to ensure we don't lose any more wildlife and stand a chance of helping nature to recover from its past losses."
We must prevent an environmental free-for-all where everybody loses
The Government has committed to be the first generation to leave the environment in a better state than we found it. To achieve this, a more strategic approach to land use that focuses new housing in the right places is crucial – so that vital wild places are not damaged any further. We need new housing that contributes positively to climate change mitigation and to nature's recovery as well as being affordable. The Wildlife Trusts have demonstrated how nature can be integrated and built into housing developments – but this thinking is not yet mainstream and will not be unless there is a clear statement of intent issued by the government. We want to see homes built that are energy and water efficient and which also provide a home for birds, wildflowers and bees. Our vision is founded on decades of experience of working with planners and housing developers.
For more details and case studies, see A Vision for Housing and Nature.
The Wildlife Trusts welcome the Chancellor's commitment to investigate a single-use plastic tax.
Joan Edwards, Director of Living Seas at The Wildlife Trusts, said:
"This is welcome news which the Government will need to back up with action. Every year 12.2 million tonnes of plastic enters the marine environment and is doing real damage to our seas and wildlife. As with the plastic bag tax, an ambitious single-use plastic tax could make a major change to our polluting habits."