Farming Minister George Eustice MP visits Hampshire farm to see how wildlife can thrive on a farm growing oats for our breakfast cereals
The Minister of State for Agriculture, Fisheries and Food, George Eustice MP, visited Hampshire on 7 July and met farmer, Nick Rowsell, who grows oats under the Jordans Farm Partnership with The Wildlife Trusts and LEAF. Also present were the CEOs of Jordans and The Wildlife Trusts.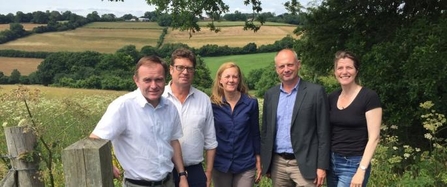 This tranquil landscape of rolling chalk downland is vital for nature's recovery and the farm lies within the Hampshire & Isle of Wight Wildlife Trust's Faccombe Woodland to Kingsclere Downs Living Landscape. Semi-natural lowland grasslands like chalk downland is one of the most threatened habitats in the UK. So much had been ploughed up but this part at least is being returned to its former glory.
Nick produces oats for Jordans on rolling downs and hills alongside providing great food, shelter and breeding sites for rare birds like stone curlew and woodlark. Pollinators also thrive thanks to the seed mixes being used. The Hampshire & Isle of Wight Wildlife Trust has advised Nick how best to manage land for these species and willow tit, Duke of Burgundy butterfly and rare arable flowers, creating bigger, better and more joined-up habitats for wildlife.
The Jordans Farm Partnership is a great example of how wildlife and farming can work together, but to thrive in future will require continuation of government schemes like Countryside Stewardship. The Minister was urged to provide certainty for farmers by opening application windows for Countryside Stewardship before we leave the EU and to retain such schemes post-Brexit.
Farming Minister George Eustice said:
"The work done by the Jordans Farm Partnership shows the potential to do things differently in future. As we leave the EU we can develop policies that support good farm husbandry and environmental improvements. Partnerships like these where farmers work with The Wildlife Trusts have many ideas we can learn from."
Chief Executive of The Wildlife Trusts, Stephanie Hilborne OBE, said:
"Farmers like Nick Roswell can make great things happen for wildlife if they have progressive buyers like Jordans and can secure government support for their work. To make farms like Nick's the norm, the new agricultural policy must make it easy for land managers to help nature. Future agricultural policy must reward investment in the wildlife, soil and water that is fundamental to all our futures. These services are for the public good, and since 70 per cent of our land is farmed, losing this support could have drastic consequences for wildlife."
Jordans Ryvita Company Chief Executive Officer, Paul Murphy, said:
"We are a delighted to be working with the Wildlife Trusts and LEAF in partnership with our farmers. The partnership demonstrates that good farming does not have to be at the expense of wildlife and biodiversity."
Notes:
• The Jordans Farm Partnership is a unique collaboration of Jordans farmers, The Wildlife Trusts, Linking Environment and Farming and the Prince's Countryside Fund. Farmers in the Jordans Farm Partnership develop a Landscape and Nature Conservation Enhancement Plan. These plans are designed to satisfy the requirements of LEAF Marque certification and the additional requirements which will enable the farm to help to achieve the Jordans Farm Partnership vision which is to: secure, enhance and celebrate the wildlife value and wider environmental performance of Jordans farms individually as well as collectively at a landscape scale, and as part of the local community.