Protect the wildlife you love across the UK, for future generations
We believe that everyone deserves to live in a healthy, wildlife-rich natural world and have the opportunity to experience the joy of wildlife and wild places in their daily lives. Including a gift in your Will to The Wildlife Trusts, no matter the size, makes a difference and helps protect wildlife across the UK for future generations.
You can include a gift in your Will to The Wildlife Trusts on a national level, to support innovative conservation projects that benefit wildlife around the UK.  Alternatively, you may wish to include a gift in your Will to one or more individual Wildlife Trusts, to protect wildlife in parts of the UK that are special to you.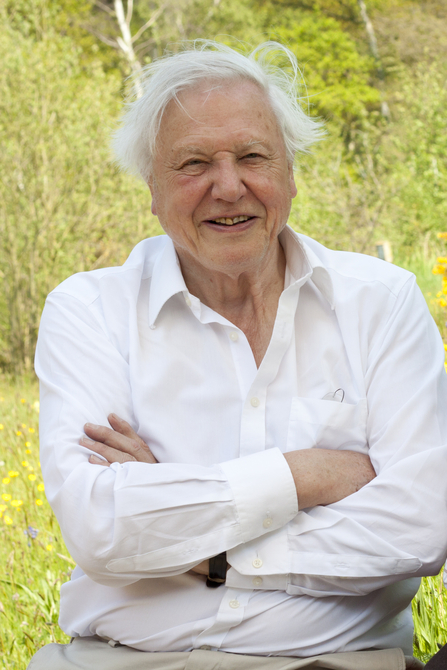 "Anyone who cares about wildlife has a marvellous opportunity to do something quite unique, by remembering their local Wildlife Trust in their will.
This generous act is one of the most important things you can do to make sure the species and habitats we love will be there for future generations to enjoy."
- Sir David Attenborough
Get in touch
To talk to someone about leaving a gift in your Will, and to find out more information about the difference your gift can make, fill in your details below. Our Individual Giving Officer, Sam Gee will be in touch shortly. He can also be contacted on 01636 670082.
How gifts can help...
Gift in Wills have helped us protect wild places, provide a lifeline to species under threat, and give local people opportunities to experience wildlife in their daily lives. Click on the stories below to find out more.
The story of Stirley Community Farm

Kate Thorneberry

Once an intensive upland dairy farm, Stirley Community Farm in West Yorkshire is now a thriving wildlife haven. With the support of legacies, Yorkshire Wildlife Trust were able to purchase and renovate the farm buildings into an award winning education centre and revitalise the 240 acres of farmland. The farm was transformed for the local community and there are many opportunities for people from around Huddersfield to get involved. Rachel Preston previously worked as a school learning mentor and, despite loving her job, had to resign due to depression and anxiety and she became isolated from her local community. Volunteering at Stirley Community Farm has had a big impact on Rachel:

"It's changed my life, my personal confidence. It's given me that oomph…It's shown me that at some point I will get back to work…it has helped me on the journey to recovery."
The story of Devon's beavers

Beaver kits by Mike Symes

Thanks to legacies given to The Wildlife Trusts, wild beavers are successfully breeding in the English landscape after an absence of 400 years. Beavers are a great addition to our landscape because they are brilliant at creating wetland habitats which can prevent flooding further downstream. In 2016, Devon Wildlife Trust were delighted to announce the birth of the first wild baby beavers in England for centuries. Tom Buckley captured the fabulous footage of the beaver and her kits. He said:

"When I saw these new born baby beavers I was totally overwhelmed and thought it must be a miracle. My first sighting of this year's new born kits was when I saw their mother swimming with one of them in her mouth to an area nearby where their father was waiting to greet them".
Philip's story

Cheshire WT

Philip has included a gift to Cheshire Wildlife Trust in his Will so that cherished local wildlife is protected for the future. Phillip said
''I decided to leave a gift to Cheshire Wildife Trust in my Will because wildlife needs all the help it can get and the Trust is the 'go to' organisation for wildlife protection in this area.''

Last year, over 7% of Cheshire Wildlife Trust's income came directly from people like Philip who have chosen to include a gift in their Will for wildlife. These gifts are used in lots of different areas of work, including looking after more than 40 nature reserves, ​​​​​protecting the region's most endangered habitats and species, campaigning for greater protection of local wildlife, inspiring the next generation of wildlife lovers.

Thank you, Philip.
Anne & Lionel's story

In 1985 Anne and Lionel decided they wanted to do something extra special to help wildlife. They bought a four acre field near to their home in Staffordshire and have been working ever since to create rich and diverse habitats to help wildlife thrive. They added a further two acre piece of land in 1990. Thanks to their hard work, the land is now a haven for species such as the protected great crested newts, toads, frogs, badgers, weasels and stoats. Anne and Lionel have now been members of Staffordshire Wildlife Trust for 30 years. Recently, they decided to leave their land to the Trust as a gift in their wills, as well as money to assist with further care for the fields. They said

"By purchasing the land, we made it our aim to provide an oasis for wildlife to enjoy and then hopefully thrive…being members of the Trust has given us a lot of pleasure over the years. We have seen the charity grow from its early roots and when we were writing our Wills and deciding who to leave the land to, we felt the Trust would be the right choice."

Thank you, Anne & Lionel
Kathy & Andrew's story

Matthew Roberts

Andrew started volunteering for Nottinghamshire Wildlife Trust in 2011 and he and his wife Kathy became members shortly afterwards.
"Initially we both enjoyed walking and welcoming wildlife into our garden. Inevitably this lead to us buying a pair of binoculars and making regular trips to Attenborough Nature Reserve. It also made us realise how delicate and in need of protection the Nottinghamshire flora and fauna is." said Kathy.

Realising how much work the Wildlife Trust still needs to do, not only to protect wildlife now, but also in the future inspired Andrew and Kathy to leave a gift in their Wills.

"it would be nice to think that, in making a gift, we will be supporting local wildlife long after we have gone." said Andrew.

Thank you, Kathy & Andrew
Moira's story

"When it came to re-writing our Wills a few years ago we decided we would leave gifts to our favourite charities. When we had our two sons we were living in an area within walking distance of Attenborough Nature Reserve near Nottingham and this became a regular place to visit. We enjoyed walks along the river banks trying to spot and identify the different birds and plants. When I retired it happened to coincide with the opening the new Visitor Centre so I volunteered with the education team. 11 years later I'm still enjoying it!

I have chosen to leave a gift to the Nottinghamshire Wildlife Trust, in particular to Attenborough, as a thank you for all the pleasures it has given me and my family over the years, for the never tiring support the staff offer to visitors and knowing that any legacy left to the Trust will help them to continue with the wonderful work of passing on knowledge and enthusiasm to the next generation. I would encourage anyone to think about leaving a legacy to a charity, to help support the fantastic work they all do." 

Thank you, Moira
Tessa's story

As an amateur botanist with a special interest in wild flower conservation, Tessa realised the importance of Waitby Greenriggs, Cumbria, for rare flowers such as orchids and Grass-of-Parnassus. Thanks to Tessa's discovery, the area is now a nature reserve and thanks to a gift in her will to Cumbria Wildlife Trust, she will continue to support wild flower conservation for years to come. Tessa's kind gift is helping to create a new wild flower meadow at Eyecott Hill Nature Reserve, Cumbria, so every year more and more people will see her passion and generosity in full bloom. 

Thank you, Tessa
George's story

A generous gift in the will of George Wilson was unexpected, but very gratefully received. George lived in Arnside, so his gift is being used to support our work to protect marine life in Morecambe Bay. George's gift has also supported five training placements for young people seeking a career in marine conservation. These trainees will gain the knowledge and skills they need for future employment – which will ensure George's legacy lives on as they embark on a lifetime contribution to conservation. 

Thank you, George
Bill & Margaret's story

For years Bill and Margaret were committed members of North Wales Wildlife Trust and honorary wardens at Cors Goch nature reserve in Anglesey. There, they exercised their shared passions for botany, birds and butterflies. Bill and Margaret kindly left a gift to North Wales Wildlife Trust, so now, thanks to them, the wildlife that they cared for so much will be protected for years to come. 

Thank you, Bill & Margaret
Our promise to you
We recognise your loved ones come first in your Will.
We will treat you fairly and we won't intrude on your privacy.
We will never ask you the size or type of your legacy, because every gift makes a difference.
We understand that circumstances change and there may be a time where you need to take the Wildlife Trusts out of your Will.
We promise to use your gift wisely, in line with your wishes.
Details you might need
Full name: The Royal Society of Wildlife Trusts
Registered Charity No: 207238
Our address: The Kiln, Waterside, Mather Road, Newark, Nottinghamshire, NG24 1WT
Telephone: 01636 677 711
Find your local Trust and support places that are special to you
We are part of Remember A Charity, a consortium of over 200 charities all working together to raise awareness of the importance of having a Will and encouraging more people to consider leaving a gift in their Will to charity. 
You can visit the Remember A Charity website to find local solicitors, who will be able to advise you on leaving gifts to charities when making a Will.