How we are run
There are 46 individual Wildlife Trusts, each of which is a place-based independent charity with its own legal identity, formed by groups of people getting together and working with others to make a positive difference to wildlife and future generations, starting where they live and work.
Every Wildlife Trust is part of The Wildlife Trusts federation and a corporate member of the Royal Society of Wildlife Trusts, a registered charity in its own right founded in 1912 and one of the founding members of IUCN – the International Union for the Conservation of Nature. Taken together this federation of 47 charities is known as The Wildlife Trusts. Each Wildlife Trust is an independent, registered charity but all share a vision of people close to nature, with land and seas rich in wildlife. Because of this each Wildlife Trust has slightly different membership fees when you join - but they're all around £4 a month!
The role of RSWT – the central charity - is to ensure a strong collective voice for wildlife, to help coordinate work between individual Wildlife Trusts, and to lead the development of the movement and federation as a whole. We celebrate the sovereignty of individual Wildlife Trusts and empower each other to make decisions within each Wildlife Trust's jurisdiction, respecting Trusts' independence and right to establish their own policies and approaches in line with The Wildlife Trusts' Strategy.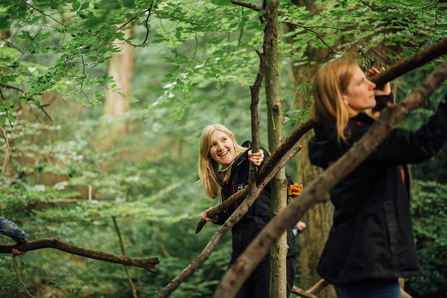 Patron, President and Vice Presidents
Patron
President
Liz Bonnin

Liz Bonnin (C) Andrew Crowley

Broadcaster and biologist, Liz Bonnin was elected as president of The Wildlife Trusts today. The first woman to take the role, Liz joins the movement of 46 Wildlife Trusts at a critical time for nature's recovery in the UK. Liz will be championing The Wildlife Trusts' new 30 by 30 vision to protect 30% of land and sea for nature by 2030 with projects ranging from land acquisition to peatland restoration and species reintroduction.  

Liz is known for her powerful and ground-breaking documentaries including the sensational Drowning in Plastic, Galapagos, Wild Alaska and Blue Planet Live. Liz's career has taken her around the world, studying animal behaviours and shining a spotlight on important environmental issues.

Liz says: "It's a very exciting time to be joining The Wildlife Trusts, and I am incredibly honoured to have been invited to take on this role, following in the footsteps of highly esteemed past presidents who I have looked up to throughout my career. I have long admired The Wildlife Trusts' work and I am looking forward to championing their expertise and vision to restore nature in the UK. It is a critical time for the natural world, and I hope that through lending my voice and support, and by working together, we can help to enforce the changes that must take place in order to secure a brighter future for our wild places. I have been extremely fortunate to work on projects that have explored our planet's wildlife wonders and the many conservation challenges they face – from Nepal and the Galapagos, to the Arctic Circle. Now I want to apply what I have learned to help nature closer to home. The Wildlife Trusts inspire local action to create a national impact, all with a global perspective - I am keen to be a part of that, and passionate about finding novel ways to make a difference, where it matters most."
President Emeritus
David Attenborough

Sir David Attenborough has been involved with The Wildlife Trusts since the 1960s. In 1985 he took on the role as Chair of the British Wildlife Appeal, our first national appeal. With support from HRH The Prince of Wales the appeal raised over £16 million for wildlife. In 1991 Sir David took on the role of President of the Wildlife Trusts. Stepping down in 1995, before becoming the first President Emeritus in 2012 and played a major role in helping us to mark our centenary that year. Most recently, Sir David narrated the Wilder Future Wind in the Willows film, and our Nature Recovery Networks film. Sir David has supported so many Trusts as well as the movement more generally. In 2019 he supported Nottinghamshire Wildlife Trusts appeal for the Attenborough Nature Reserve and his opening of both London Wildlife Trust's Woodberry Wetlands and Essex Wildlife Trust's Thurrock Thameside Nature Park made global media headlines. He was also vocal in Yorkshire Wildlife Trust's campaign against a housing development adjacent to their first nature reserve, Askham Bog, which in May 2020 was rejected by the Secretary of State. 
Simon King

Simon was President of The Wildlife Trusts from 2010-2015 and joined Sir David Attenborough as our second President Emeritus in 2015. He is President of Avon Wildlife Trust and Patron of Somerset Wildlife Trust. Simon's first film, The Willow was broadcast in the BBC Series The World About Us in 1984. This was the beginning of an incredible career producing some of the best known and well-loved nature documentaries for the BBC natural history unit, including many narrated and starring Sir David Attenborough such as Blue Planet, Life of Mammals and Planet Earth. In 2005 Simon joined the Springwatch team and joined Autumnwatch in 2006. 
Tony Juniper

Credit Eleanor Church

Tony has been involved with The Wildlife Trusts for over 35 years, starting his career in wildlife education in the mid-1980s with the Berkshire, Buckinghamshire and Oxfordshire Wildlife Trust, through to his recent position as a Trustee for The Wildlife Trust for Bedfordshire, Cambridgeshire and Northamptonshire.  He was the first recipient of The Wildlife Trusts' prestigious Rothschild Medal, which recognises outstanding achievements in the promotion, study, management or conservation of the natural environment. He was President of The Wildlife Trusts from 2015 – 2019, before taking up the position as Chair of Natural England.  
Vice Presidents
Dr Amir Khan

Dr Amir Khan's enthusiasm captivates you through the screen, and it's no wonder that he's become a firm favourite with the public following his appearance on Channel 5's GPs Behind Closed Doors. He's gone on to cement himself as daytime TV's go-to GP as a regular on Lorraine and Good Morning Britain. His passion for the natural world is infectious. He has been an advocate for green prescribing for a number of years, knowing the benefit the natural world has for people, particularly their mental health and wellbeing. 

Dr Amir Khan says: "The natural world has something for everyone. And it has an incredible effect on us all. We've seen from studies that exposure to green spaces, from vast, undeveloped landscapes to urban parks and street greenery, lowers the body's stress hormone cortisol. We know that children and young people who have access are more creative and imaginative. It has been a pleasure working with The Wildlife Trusts, and I'm so proud to be able to give something back by becoming a Vice President. They have been pioneers in championing nature for health and wellbeing, from nature-friendly schools to the annual nature challenge 30 Days Wild. There really is something for everyone with The Wildlife Trusts!"
Bill Oddie

Bill is a writer, comedian, television presenter and actor most notably known for being one of The Goodies. Bill has had an incredible career as a TV presenter, fronting a number of wildlife programmes for the BBC, including Springwatch/Autumnwatch, How to Watch Wildlife, Wild in Your Garden, Birding with Bill Oddie, Britain Goes Wild with Bill Oddie and Bill Oddie Goes Wild. Bill has been a Vice President of The Wildlife Trusts since 2000.  
Chris Baines

Chris has been a Vice President of The Wildlife Trusts since 1996. Chris has been involved with the wider movement since the 60s being a founding member of the Urban Wildlife Group in Birmingham, which went on to become The Wildlife Trust for Birmingham and the Black Country of which Chris is a Vice President. Chris is a horticulturalist, broadcaster, landscape architect and author. He was an early advocate of wildlife gardening and has published books on the subject; he is also an environmental advisor and advised on the sustainability at the 2012 Olympic Park in East London.  
David Macdonald

David founded the Wildlife Conservation Research Unit at the University of Oxford in 1986, with a research focus on solving problems in wildlife conservation and environment management to better inform policy. David has been a Vice President for The Wildlife Trusts since 1999. 
Gillian Burke

Biologist, Gillian Burke, is known to many as co-host on BBC's Spring, Autumn and WinterWatch. Her engaging style, passion for science and love of the natural world have made her a firm favourite on the show.
Iolo Williams

Iolo and the natural world go hand in hand, you can't have one without the other. His documentaries, in Welsh and English, have been the intrduction for many to the magnificent wildlife of Wales. Iolo is one of BBC's Springwatch, Autumnwatch and Winterwatch presenters. He has been supportive of the Wildlife Trusts for a long time now, and we are excited for him to be taking the position of Vice President. Iolo's sage advice over the years has seen him become a vital partner for the movement. 

Iolo Wiliams says: "I'm very pleased, delighted, in fact, to say that I am a Vice President for The Wildlife Trusts. I've worked with The Wildlife Trusts in Wales for over 40 years. In that time, with this brilliant organisation, I have met and worked with members of staff who are knowledgeable, enthusiastic and always ready to help. If I can play just a small role in championing the work that they do, I'll be a happy man."
Julian Pettifer

Julian is a journalist and presenter, and has worked across the BBC and ITV. His career started as an announcer on Southern Television in 1958, before going on to present Tonight, 24 Hour and Panorama for the BBC. His interest in the natural world led him to go on to write and present a number of environment and wildlife-focused programmes including Naturewatch, Nature and The Living Isles. He became a Vice President in 1992 and is currently our longest serving VP.  
Nick Baker

Naturalist and Presenter Nick Baker will be known to many for his time on the BBC The Really Wild Show but has presented an extraordinary number of shows including, Autumnwatch Unsprung, Springwatch Unsprung, Big Week at the Zoo and Weird Creatures with Nick Baker. He has also authored a number of books including, ReWild – The Art of Returning to Nature, and Nick Baker's Bug Book. Nick has been Vice President of The Wildlife Trusts since 2005. 
Robert Worcester

Sir Robert Worcester is the Founder of MORI, Market & Opinion Research International, and in October 2005, he became chairman of the Ipsos Public Affairs Research Advisory Board and an International Director of the Ipsos Group. He was subsequently appointed by Her Majesty the Queen a Knight Commander of the Most Excellent Order of the British Empire (KBE) in recognition of the outstanding services rendered to political, social and economic research. He has authored, co-authored, co‑edited or edited more than a dozen books and many articles in newspapers, magazines and in peer-reviewed professional journals. More importantly, for us anyway, he has been our loyal and esteemed Vice-President since 1995, making him our 2nd longest serving Vice-President.
Our governance
The Wildlife Trusts' Council is the leadership group for collective strategy in the movement. It has direct governance responsibility for the central charity.
The Wildlife Trusts' Council has a Chair, Honorary Treasurer and Honorary Secretary, eight leaders from within the movement and two other independent Trustees. There are currently twelve trustees as there is one vacancy. You can meet them below.
Trustees are elected at a General Meeting in accordance with our Royal Charter and Bye Laws. As a registered charity, our activities are regulated by the Charity Commission for England and Wales.
Meet the team
Our Council
Duncan Ingram, Chair

Duncan Ingram brings extensive knowledge and experience in federal governance gained through his work for the YMCA and he is passionate about the countryside and nature. As a group director at BT, Duncan was responsible for the programme delivering all the fixed and mobile telecommunications for the London Olympics which was essential for the success of the Games.   

Duncan is now on the board of the World YMCA where he has successfully led agreement across 160 countries to major constitutional changes to modernise and streamline its governance. Duncan understands complex institutions both from a national and international perspective.  

As vice chair of YMCA England & Wales – the umbrella charity for the over 100 local YMCA charities – Duncan led a commission collaboratively developing a new model of respective roles and responsibilities for the federation to work to.  

Duncan is a keen walker and trekker and is passionate about the natural world. He travels long distances to visit ancient trees and enjoys accompanying his wife on fungi expeditions. 
Stewart Goshawk, Honorary Secretary

Stewart has spent his career in the world of charitable grant-making foundations and for the past ten years he has been the CEO of the Wembley National Stadium Trust.  Stewart also has a specialist skill in distributing funds to the victims of terror attacks and other disasters.  Over the years, he has accumulated extensive knowledge of charity governance, finance and organisational issues, having seen the good, the bad and the ugly.  He was previously chair of Essex Wildlife Trust is currently a trustee of two landfill community trusts where he lives in south Essex and has previously been on the board of the End Child Poverty coalition and various local sports clubs and organisations.

Stewart is an avid football fan, being a supporter owner of his local non-league club and for many years played league badminton and village cricket.  He is also a keen wildlife photographer and is happiest out walking on the wild Essex marshes. Stewart was the Green Party parliamentary candidate in his home constituency in the 2019 General Election.

Stewart Goshawk
Steve Garland

Steve began a museum career as a natural sciences curator in Sheffield after securing a Biology degree at York. He retired as Head of Museums & Archives in Bolton in 2007, going on to freelance in the museums and heritage sector across England, mostly in interim management roles. He was active in a number of regional and national museum organisations, including a period as Chair of Museums & Libraries North West and was a member of the North West Heritage Lottery Fund Committee. He joined the Lancashire, Manchester and N Merseyside WT in 1986, became a Trustee and was Chair from 2014 to 2021. He is an enthusiastic general naturalist with specialist knowledge of entomology and bats and has a burning desire to share his knowledge. He is a Fellow of the Royal Entomological Society and of the Museums Association. Other than his passion for wildlife, Steve enjoys hill-climbing (Munros completed in 2019), photography, gardening, cycling, cooking, tennis and rock music.

Steve Garland
Rob Pickford OBE

Rob is committed to the restoration and promotion of wildlife. He is a Trustee and was for six years Chair of the Wildlife Trust of South and West Wales. He is Chair Wildlife Trust Wales. He recently completed an MA in Nature and Travel Writing to enhance his work as a writer about nature and landscape. He held a number of senior managerial and leadership roles in local government and with the Welsh Government. He started out as a social worker in South Wales, completing his career as Director of Social Services and Children for Wales at the Welsh Government. He has an MSc in Public Management, was Visiting Professor at the University of South Wales and an Honorary Research Fellow at Cardiff University. He enjoys walking the coasts and hills of Wales and working on the family organic allotment.

Rob Pickford
Jo Pike

Jo has wide-ranging experience in the NGO sector, including in communications, environmental policy, advocacy, strategy development and stakeholder engagement. She was Project Director for the World Forum on Natural Capital, which ran three times between 2013 and 2017 with the most recent event bringing over 700 delegates from 60 countries to Edinburgh. Jo is on the Steering Group for the Scottish Conservation Finance Project, as well as the Scottish Forum on Natural Capital. She is Chief Executive of the Scottish Wildlife Trust, Scotland's leading nature conservation charity, and a board member at Turning Point Scotland.

Jo Pike
Pete Batchelor, Honorary Treasurer

A Loughborough Graduate in Business, Economics and Finance as well as a qualified chartered accountant with the Institute of Chartered Accountants of Scotland, Pete worked for 11 years at Big 4 Accountancy firm Ernst & Young and British Telecom in senior restructuring and advisory roles. Pete joined Yorkshire Wildlife Trust in 2013 as Director of Finance and Central Services, where he worked for 7 and half years, playing a key role in the Trust's growth and successes during this period. In 2021 Pete become the Chief Financial Officer of Double Two Clothing and William Sugdens Workwear, where he is also currently Interim Chief Executive Officer. Pete has served as a member of The Wildlife Trust Audit and Resources Committee for 3 years now and has a strong understanding of the financial position of TWT and financial and operational matters affecting all Trusts across the movement. Pete's skills includes financial restructuring, turnaround, transactions advisory, process improvement, formal insolvency and pensions advisory. Pete lives in York with his wife Amy and 3 boys who are all fast becoming little adventurous wildlife enthusiasts. He is a keen sportsman, having played football professionally in his youth and also enjoys golf and tennis amongst other sports. His interest in wildlife has led him and his family on various adventures across the UK and internationally to experience and photograph many iconic species in the natural environment. He doesn't go anywhere without his infrared motion cameras, drone or trusty binoculars.
Julian Woolford

Julian is a passionate environmentalist who believes that everyone has a right to a healthy natural environment. His career has spanned a range of communications, external affairs and leadership roles in the private, NGO and public sectors. He has extensive experience in strategy development, advocacy, campaigning, partnerships and change management.

Julian joined the Staffordshire Wildlife Trust as Chief Executive in 2015. Highlights include new multi-million pound landscape-scale conservation partnerships in Stoke on Trent and the Trent Valley, the Trust's first State of Nature Report and an increase in the Trust's profile and membership to more than 17,000.

Before that, Julian was Chief Executive of the Campaign for National Parks, where he successfully campaigned to help stop Government funding cuts to National Park Authorities. Prior to that he was Director of External Affairs and Communications at Natural England, where he led the organisation's communications, stakeholder and public affairs work.

Julian was also Head of Communications for WWF's Arctic Programme, based in Norway, where he led international campaigns to raise awareness of the impacts of climate change and hazardous chemicals on arctic people and wildlife. Prior to joining WWF, he held senior communications roles in Shell.

Julian lives in the Peak District with his family, and is passionate about creating a wilder National Park there.
Nick Parsons

Nick has been a trustee of Nottinghamshire Wildlife Trust for over 20 years and is the current Chair. He has always had a particular interest in urban wildlife. He was born and raised in South Yorkshire before studying History at University in Nottingham.

He is a solicitor and was a partner at a national law firm Browne Jacobson for twenty five years and is now an active consultant for them. Nick specialised in civil litigation, defending claims for clinical negligence and personal injury on behalf of the NHS, local authorities and their insurers. With expertise in large scale group action claims and he has taken a number of cases to the Court of Appeal and the Supreme Court.

For the last few years Nick has been a Director, shareholder and guide in Oriole Birding, a travel company specialising in birdwatching and wildlife holidays in the U.K. and abroad.

Over the years Nick has been a Trustee of several small charities and enjoys trying to give something back. As Chair his efforts are now focussed on helping the Trust to meet the existential threats posed by the ecological and climate crises. 

A longstanding but as yet unfulfilled ambition is to spend more time outdoors than indoors, as his real passion is birdwatching. He became a birder as a young boy on a holiday to Scotland when one morning on a family walk he found a Pied Flycatcher and a Hen Harrier. Nick lives with his partner Jane and their teenage daughter. As a proud Yorkshireman he has a deep love of cricket but enjoys most sports. Nick particularly enjoys history; archaeology and owns an allotment.
Nina Ma

Nina is a Cloud Solution Architect at Microsoft. She focuses on supporting public sector clients with their cloud infrastructure in Azure. Nina is passionate about diversity and inclusion, social mobility, mental health and wellbeing, arts and culture, education, youth services, neurodiversity and environmental conservation.

She is a young trustee at Power2 and Leap Confronting Conflicts, both leading youth development charities, and a Young Trustee Movement Champion. She is the Head of Grants of GirlDreamer, an NGO that supports the personal and professional development of millennial and Gen Z women of colour. Nina is an advocate of gender equality and Women in Tech. She is featured on Yahoo Finance's HERoes 100 Women Future Leaders List 2020 and 2021.

Nina was born and grew up in Beijing, China and has been living in the UK since 2015. Beside English, she speaks native Mandarin, fluent Spanish and basic Modern Standard Arabic.
Ria Shah

Ria is a Change Manager and a specialist in communications and project management. Currently employed at the Natural History Museum, Ria works within a £182m government-funded Programme which involving the movement of over 27 million specimens to a new science and digitisation site in Oxfordshire.

As a young British-Indian woman, equality, diversity and inclusion (EDI) is very important to her. Ria currently sits on the Steering Committee for the Museum Space Invaders, a campaign to claim equal space for women and non-binary people in the museums and heritage sector.
Bob Brown

Dr Bob Brown:  Bob is a marine biologist with an interest in birds, as well as many other aspects of wildlife, and has been involved with research and wildlife conservation for nearly 50 years.  He has worked with the National Trust on Strangford Lough, and as Director of RSPB's Northern Ireland operations.  He previously chaired the Northern Ireland Biodiversity Group (NIBG) and was a member of the Council for Nature Conservation and the Countryside (NI) from 2000 to 2009.  For six years he was a member of the N Ireland Committee of Heritage Lottery Fund.  Bob was also a member of the Biodiversity Working Group of the European Environment and Sustainable Development Advisory Council on behalf of CNCC.  From 2009 – 17 he was an independent member of the UK's Joint Nature Conservation Committee (JNCC) and chaired their Marine Protected Areas sub-group for most of that time, notably during a period of intense MPA designation work in the UK.  From 2016 to 2022 he was Chair of the NI Advisory Board for National Trust.  Bob has previously served terms on Ulster Wildlife's Council and is currently a co-opted member UW's Environment Committee.  When not working on conservation issues at home, Bob gives lectures and wildlife excursions from expedition ships in the Arctic and Antarctic.  In 2004 he was awarded an OBE for services to nature conservation.

Bob Brown
Lara Burch

Lara was appointed as a trustee of the Avon Wildlife Trust in 2022, and is due to take over as Chair of the Board of Trustees in late 2023.  She is also a long-term supporter of a number of other charities that have a focus on protecting the natural environment, including Fauna and Flora International and The Woodland Trust.   

Lara has been a partner at an international law firm since 2001, specialising in commercial law.  She is currently the head of the firm's Bristol office, where her work increasing centres on projects that support biodiversity and decarbonisation.

Her life outside work centres around her family and friends, her wildlife-friendly garden and her very mischievous rescue pets.  She loves taking her teenage children on walks in the countryside around Bristol, but hasn't yet convinced them to join her on any of her wild swimming trips.
Chief Executive
Craig Bennett

Craig Bennett (c) Trai Anfield

Craig is Chief Executive of The Wildlife Trusts. He has been described as "one of the country's top environmental campaigners", by The Guardian as "the very model of a modern eco-general" and, in 2021, was included in The Sunday Times Green Power List of the UK's top 20 environmentalists.

The Wildlife Trusts are one of the largest landowners in the UK with more than 870,000 members and 35,000 volunteers. They are working in the heart of local communities to help nature recover and to ensure that is nature is part of everyone's lives. Since becoming chief executive in 2020, Craig has spearheaded plans to protect 30% of UK land and sea for nature by 2030.

Craig was formerly CEO of Friends of the Earth where he refocussed the organisation to empower communities to take action on the climate and ecological crises, resulting in a step change in the scale and impact of the movement, with over 200 new Friends of the Earth community groups set up during his tenure. He also led the organisation to numerous campaign victories including on bees, fracking and against the expansion of Heathrow Airport.

Earlier in his career, Craig was Deputy Director at The University of Cambridge Institute for Sustainability Leadership (CISL), and Director of The Prince of Wales's Corporate Leaders Group on Climate Change (from 2007 to 2010) which he transformed into one of the most progressive business voices on the international climate change agenda.

Craig has twenty years' experience of designing and contributing to executive education and leadership programmes at numerous universities and business schools around the world including the Judge Business School, London Business School, Duke CE, and many others.

He also has a long history of providing advice and constructive challenge direct to CEOs and company boards. He is currently Chair of the Independent Challenge Group for Anglian Water, and a member of the Innovation Lab for Marks and Spencer plc. He was previously a member of the Net Positive Board for Kingfisher plc.

He is Honorary Professor of Sustainability and Innovation at Alliance Manchester Business School, an Associate Fellow of Homerton College (Cambridge), a Senior Associate of The Cambridge Institute for Sustainability Leadership, and a Policy Fellow of The Centre for Science and Policy at The University of Cambridge. He is also a Fellow of the Royal Geographical Society and a Fellow of the Royal Society of Arts.

He has a BSc (Hons) in Human and Physical Geography from The University of Reading and an MSc in Biodiversity Conservation from University College London, and Honorary Doctoral degrees from University College of Estate Management (UCEM), and Anglian Ruskin University (ARU).

He is also a judge on The Wainwright Book Prize, a Trustee of the think-tank Green Alliance. and an Honorary Fellow of the Chartered Institute of Water and Environmental Management (CIWEM). He regularly appears in the print and broadcast media.

Please note: Craig does not accept speaking invites that would result in an all-male panel.
Individual Trusts' governance
Each Wildlife Trust has its own governance documents and falls within the charity laws of its own jurisdiction.
The running of the day-to-day operations of each charity, including the central charity, is delegated to a Chief Executive, responsible for the employment of staff and oversight of operations and its own board of trustees. Together we have around 650 trustees from a wide range of backgrounds. Learn more about each of the Wildlife Trusts trustee boards below:
Charitable objectives
The movement of Wildlife Trusts grew quickly after World War II and many shared governance documents as they formed. So whilst each Wildlife Trust is an independent charity with its own charitable objects, these are closely aligned. Each has two broad purposes: to protect and restore the natural world; and to help more people to experience, understand and value nature.
Similarly, the charitable aims of the central charity are:
To promote the conservation and study of nature, the promotion of research into conservation and to educate the public in understanding and appreciating nature, in the awareness of its value and in the need for conservation
The Wildlife Trusts' Annual Impact Reports
The Wildlife Trusts' Annual Impact Reports