How we are run
There are 46 individual Wildlife Trusts, each formed by groups of active and motivated people getting together to make a positive difference to wildlife and future generations, starting where they live and work.
Each Wildlife Trust is an independent, registered charity but all share a vision of people close to nature, with land and seas rich in wildlife.
Every Wildlife Trust is a member of the Royal Society of Wildlife Trusts, a registered charity in its own right founded in 1912. This central charity's role is to ensure a strong voice for wildlife at a UK and England level and, internally, to lead the development of the movement. Taken together this movement is known as The Wildlife Trusts.
There are thirty-seven Wildlife Trusts in England, five in Wales, a Wildlife Trust for Scotland and another for Northern Ireland. There are also Wildlife Trusts in Alderney and the Isle of Man.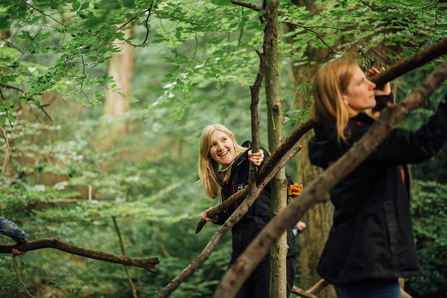 Patron, President and Vice Presidents
Patron
President
Liz Bonnin

Liz Bonnin (C) Andrew Crowley

Broadcaster and biologist, Liz Bonnin was elected as president of The Wildlife Trusts today. The first woman to take the role, Liz joins the movement of 46 Wildlife Trusts at a critical time for nature's recovery in the UK. Liz will be championing The Wildlife Trusts' new 30 by 30 vision to protect 30% of land and sea for nature by 2030 with projects ranging from land acquisition to peatland restoration and species reintroduction.  

Liz is known for her powerful and ground-breaking documentaries including the sensational Drowning in Plastic, Galapagos, Wild Alaska and Blue Planet Live. Liz's career has taken her around the world, studying animal behaviours and shining a spotlight on important environmental issues.

Liz says: "It's a very exciting time to be joining The Wildlife Trusts, and I am incredibly honoured to have been invited to take on this role, following in the footsteps of highly esteemed past presidents who I have looked up to throughout my career. I have long admired The Wildlife Trusts' work and I am looking forward to championing their expertise and vision to restore nature in the UK. It is a critical time for the natural world, and I hope that through lending my voice and support, and by working together, we can help to enforce the changes that must take place in order to secure a brighter future for our wild places. I have been extremely fortunate to work on projects that have explored our planet's wildlife wonders and the many conservation challenges they face – from Nepal and the Galapagos, to the Arctic Circle. Now I want to apply what I have learned to help nature closer to home. The Wildlife Trusts inspire local action to create a national impact, all with a global perspective - I am keen to be a part of that, and passionate about finding novel ways to make a difference, where it matters most."
President Emeritus
David Attenborough

Sir David Attenborough has been involved with The Wildlife Trusts since the 1960s. In 1985 he took on the role as Chair of the British Wildlife Appeal, our first national appeal. With support from HRH The Prince of Wales the appeal raised over £16 million for wildlife. In 1991 Sir David took on the role of President of the Wildlife Trusts. Stepping down in 1995, before becoming the first President Emeritus in 2012 and played a major role in helping us to mark our centenary that year. Most recently, Sir David narrated the Wilder Future Wind in the Willows film, and our Nature Recovery Networks film. Sir David has supported so many Trusts as well as the movement more generally. In 2019 he supported Nottinghamshire Wildlife Trusts appeal for the Attenborough Nature Reserve and his opening of both London Wildlife Trust's Woodberry Wetlands and Essex Wildlife Trust's Thurrock Thameside Nature Park made global media headlines. He was also vocal in Yorkshire Wildlife Trust's campaign against a housing development adjacent to their first nature reserve, Askham Bog, which in May 2020 was rejected by the Secretary of State. 
Simon King

Simon was President of The Wildlife Trusts from 2010-2015 and joined Sir David Attenborough as our second President Emeritus in 2015. He is President of Avon Wildlife Trust and Patron of Somerset Wildlife Trust. Simon's first film, The Willow was broadcast in the BBC Series The World About Us in 1984. This was the beginning of an incredible career producing some of the best known and well-loved nature documentaries for the BBC natural history unit, including many narrated and starring Sir David Attenborough such as Blue Planet, Life of Mammals and Planet Earth. In 2005 Simon joined the Springwatch team and joined Autumnwatch in 2006. 
Tony Juniper

Credit Eleanor Church

Tony has been involved with The Wildlife Trusts for over 35 years, starting his career in wildlife education in the mid-1980s with the Berkshire, Buckinghamshire and Oxfordshire Wildlife Trust, through to his recent position as a Trustee for The Wildlife Trust for Bedfordshire, Cambridgeshire and Northamptonshire.  He was the first recipient of The Wildlife Trusts' prestigious Rothschild Medal, which recognises outstanding achievements in the promotion, study, management or conservation of the natural environment. He was President of The Wildlife Trusts from 2015 – 2019, before taking up the position as Chair of Natural England.  
Vice Presidents
Bill Oddie

Bill is a writer, comedian, television presenter and actor most notably known for being one of The Goodies. Bill has had an incredible career as a TV presenter, fronting a number of wildlife programmes for the BBC, including Springwatch/Autumnwatch, How to Watch Wildlife, Wild in Your Garden, Birding with Bill Oddie, Britain Goes Wild with Bill Oddie and Bill Oddie Goes Wild. Bill has been a Vice President of The Wildlife Trusts since 2000.  
Chris Baines

Chris has been a Vice President of The Wildlife Trusts since 1996. Chris has been involved with the wider movement since the 60s being a founding member of the Urban Wildlife Group in Birmingham, which went on to become The Wildlife Trust for Birmingham and the Black Country of which Chris is a Vice President. Chris is a horticulturalist, broadcaster, landscape architect and author. He was an early advocate of wildlife gardening and has published books on the subject; he is also an environmental advisor and advised on the sustainability at the 2012 Olympic Park in East London.  
David Macdonald

David founded the Wildlife Conservation Research Unit at the University of Oxford in 1986, with a research focus on solving problems in wildlife conservation and environment management to better inform policy. David has been a Vice President for The Wildlife Trusts since 1999. 
Gillian Burke

Biologist, Gillian Burke, is known to many as co-host on BBC's Spring, Autumn and WinterWatch. Her engaging style, passion for science and love of the natural world have made her a firm favourite on the show.
Julian Pettifer

Julian is a journalist and presenter, and has worked across the BBC and ITV. His career started as an announcer on Southern Television in 1958, before going on to present Tonight, 24 Hour and Panorama for the BBC. His interest in the natural world led him to go on to write and present a number of environment and wildlife-focused programmes including Naturewatch, Nature and The Living Isles. He became a Vice President in 1992 and is currently our longest serving VP.  
Nick Baker

Naturalist and Presenter Nick Baker will be known to many for his time on the BBC The Really Wild Show but has presented an extraordinary number of shows including, Autumnwatch Unsprung, Springwatch Unsprung, Big Week at the Zoo and Weird Creatures with Nick Baker. He has also authored a number of books including, ReWild – The Art of Returning to Nature, and Nick Baker's Bug Book. Nick has been Vice President of The Wildlife Trusts since 2005. 
Robert Worcester

Sir Robert Worcester is the Founder of MORI, Market & Opinion Research International, and in October 2005, he became chairman of the Ipsos Public Affairs Research Advisory Board and an International Director of the Ipsos Group. He was subsequently appointed by Her Majesty the Queen a Knight Commander of the Most Excellent Order of the British Empire (KBE) in recognition of the outstanding services rendered to political, social and economic research. He has authored, co-authored, co‑edited or edited more than a dozen books and many articles in newspapers, magazines and in peer-reviewed professional journals. More importantly, for us anyway, he has been our loyal and esteemed Vice-President since 1995, making him our 2nd longest serving Vice-President.
Our governance
The Wildlife Trusts' Council is the leadership group for collective strategy in the movement. It has direct governance responsibility for the central charity.
The Wildlife Trusts' Council has a Chair, Honorary Treasurer and Honorary Secretary, eight leaders from within the movement and two other independent Trustees. There are currently twelve trustees as there is one vacancy. You can meet them below.
Trustees are elected at a General Meeting in accordance with our Royal Charter and Bye Laws. As a registered charity, our activities are regulated by the Charity Commission for England and Wales.
Our Council
Peta Foxall, Chair

Peta Foxall

Peta has extensive experience of leading and working in multi-professional teams, primarily within the NHS and Russell Group Universities. She is a biomedical scientist by professional training and has a PhD in biological chemistry awarded by the University of London. She has been a member of Devon Wildlife Trust since 2003, joined the Board of Trustees in 2010 and became its Chair in December 2016. Peta owns a small ancient woodland in Devon and encourages the development of gardens as natural habitats.
Stewart Goshawk, Honorary Secretary

Stewart has spent his career in the world of charitable grant-making foundations and for the past ten years he has been the CEO of the Wembley National Stadium Trust.  Stewart also has a specialist skill in distributing funds to the victims of terror attacks and other disasters.  Over the years, he has accumulated extensive knowledge of charity governance, finance and organisational issues, having seen the good, the bad and the ugly.  He was previously chair of Essex Wildlife Trust is currently a trustee of two landfill community trusts where he lives in south Essex and has previously been on the board of the End Child Poverty coalition and various local sports clubs and organisations.

Stewart is an avid football fan, being a supporter owner of his local non-league club and for many years played league badminton and village cricket.  He is also a keen wildlife photographer and is happiest out walking on the wild Essex marshes. Stewart was the Green Party parliamentary candidate in his home constituency in the 2019 General Election.

Stewart Goshawk
Steve Garland

Steve began a museum career as a natural sciences curator in Sheffield after securing a Biology degree at York. He retired as Head of Museums & Archives in Bolton in 2007, going on to freelance in the museums and heritage sector across England, mostly in interim management roles. He was active in a number of regional and national museum organisations, including a period as Chair of Museums & Libraries North West and was a member of the North West Heritage Lottery Fund Committee. He joined the Lancashire, Manchester and N Merseyside WT in 1986, became a Trustee and was Chair from 2014 to 2021. He is an enthusiastic general naturalist with specialist knowledge of entomology and bats and has a burning desire to share his knowledge. He is a Fellow of the Royal Entomological Society and of the Museums Association. Other than his passion for wildlife, Steve enjoys hill-climbing (Munros completed in 2019), photography, gardening, cycling, cooking, tennis and rock music.

Steve Garland
David Jordan OBE

David is passionate about wildlife and the environment and was appointed Chair of Hampshire & IoW at the AGM in October 2016. Following a career in the National Rivers Authority and the Environment Agency, David retired from the role of Executive Director of Operations in March 2015. He has a degree in Environmental Biology and a Masters in Freshwater Ecology. David is also the Chair of Excellent Development, a charity which delivers water and soil conservation and sustainable agriculture in Africa. David tries to practice what he preaches. Owning land in Devon and in France, David has developed a wildlife lake, a wildflower meadow (with all of its difficulties!) and a thriving orchid meadow in France with land where barn owls and nightingales currently breed.

David Jordan
Rob Pickford OBE

Rob is committed to the restoration and promotion of wildlife. He is a Trustee and was for six years Chair of the Wildlife Trust of South and West Wales. He is Chair Wildlife Trust Wales. He recently completed an MA in Nature and Travel Writing to enhance his work as a writer about nature and landscape. He held a number of senior managerial and leadership roles in local government and with the Welsh Government. He started out as a social worker in South Wales, completing his career as Director of Social Services and Children for Wales at the Welsh Government. He has an MSc in Public Management, was Visiting Professor at the University of South Wales and an Honorary Research Fellow at Cardiff University. He enjoys walking the coasts and hills of Wales and working on the family organic allotment.

Rob Pickford
Jo Pike

Jo has wide-ranging experience in the NGO sector, including in communications, environmental policy, advocacy, strategy development and stakeholder engagement. She was Project Director for the World Forum on Natural Capital, which ran three times between 2013 and 2017 with the most recent event bringing over 700 delegates from 60 countries to Edinburgh. Jo is on the Steering Group for the Scottish Conservation Finance Project, as well as the Scottish Forum on Natural Capital. She is Chief Executive of the Scottish Wildlife Trust, Scotland's leading nature conservation charity, and a board member at Turning Point Scotland.

Jo Pike
Joanna Davidson CBE

Joanna has a background of senior leadership in the public and voluntary sectors having been chief executive of two local authorities and a national charity. She now mixes consultancy in the voluntary sector with her charitable interests.  Alongside her mainstream career she has held non-executive and chair roles spanning a range of local, regional and national organisations including Oxford Brookes University, Shelter and the former Government Office for the South-East. She currently chairs Experience Oxfordshire, the Destination Management Organisation for the Oxford City region. Her interest in wildlife conservation began as a teenage volunteer with the British Trust for Conservation Volunteers, and in the 1980s she helped to set up the London Wildlife Trust where she was subsequently a council member. Joanna was a trustee, and subsequently Chair of the Berkshire, Buckinghamshire and Oxfordshire Wildlife Trust (BBOWT) from 2016 until October 2021.

Joanna Davidson
Pete Bachelor, Interim Honorary Treasurer

A Loughborough Graduate in Business, Economics and Finance as well as a qualified chartered accountant with the Institute of Chartered Accountants of Scotland, Peter worked for 11 years at Big 4 Accountancy firm Ernst & Young and British Telecom in senior restructuring and advisory roles. Peter joined Yorkshire Wildlife Trust in 2013 as Director of Finance and Central Services, where he worked for 7 and half years, playing a key role in the Trust's growth and successes during this period. In 2021 Peter become the Chief Financial Officer of Double Two Clothing and William Sugdens Workwear, where he is also currently Interim Chief Executive Officer. Peter has served as a member of The Wildlife Trust Audit and Resources Committee for 3 years now and has a strong understanding of the financial position of TWT and financial and operational matters affecting all Trusts across the movement. Peter's skills includes financial restructuring, turnaround, transactions advisory, process improvement, formal insolvency and pensions advisory. Peter lives in York with his wife Amy and 3 boys who are all fast becoming little adventurous wildlife enthusiasts. He is a keen sportsman, having played football professionally in his youth and also enjoys golf and tennis amongst other sports. His interest in wildlife has led him and his family on various adventures across the UK and internationally to experience and photograph many iconic species in the natural environment. He doesn't go anywhere without his infrared motion cameras, drone or trusty binoculars.
Julian Woolford

Julian is a passionate environmentalist who believes that everyone has a right to a healthy natural environment. His career has spanned a range of communications, external affairs and leadership roles in the private, NGO and public sectors. He has extensive experience in strategy development, advocacy, campaigning, partnerships and change management.

Julian joined the Staffordshire Wildlife Trust as Chief Executive in 2015. Highlights include new multi-million pound landscape-scale conservation partnerships in Stoke on Trent and the Trent Valley, the Trust's first State of Nature Report and an increase in the Trust's profile and membership to more than 17,000.

Before that, Julian was Chief Executive of the Campaign for National Parks, where he successfully campaigned to help stop Government funding cuts to National Park Authorities. Prior to that he was Director of External Affairs and Communications at Natural England, where he led the organisation's communications, stakeholder and public affairs work.

Julian was also Head of Communications for WWF's Arctic Programme, based in Norway, where he led international campaigns to raise awareness of the impacts of climate change and hazardous chemicals on arctic people and wildlife. Prior to joining WWF, he held senior communications roles in Shell.

Julian lives in the Peak District with his family, and is passionate about creating a wilder National Park there.
Stephen Aston

Stephen joined the Northern Ireland Civil Service as a senior advisor on environmental matters after completing a commission as a pilot in the Royal Navy and having worked for a number of local authorities as an Environmental Health specialist. He was appointed to establish and lead Land & Resource Management in the Northern Ireland Environment Agency (NIEA) and was subsequently elected as the national president of the Chartered Institution of Wastes Management. He was also nominated as a trustee of CLAIRE - Contaminated Land in Real Environments. He acted as an independent auditor on the DVLA Audit Committee from 2009 – 2015 and was the Director of Strategy & Innovation for the NIEA from 2011- 2015, where he led the review and reform of Regional Operations and produced Northern Ireland's first State of the Environment report. He is now a Director on the Board of Northern Ireland Environment Link.
Nick Parsons

Nick has been a trustee of Nottinghamshire Wildlife Trust for over 20 years and is the current Chair. He has always had a particular interest in urban wildlife. He was born and raised in South Yorkshire before studying History at University in Nottingham.

He is a solicitor and was a partner at a national law firm Browne Jacobson for twenty five years and is now an active consultant for them. Nick specialised in civil litigation, defending claims for clinical negligence and personal injury on behalf of the NHS, local authorities and their insurers. With expertise in large scale group action claims and he has taken a number of cases to the Court of Appeal and the Supreme Court.

For the last few years Nick has been a Director, shareholder and guide in Oriole Birding, a travel company specialising in birdwatching and wildlife holidays in the U.K. and abroad.

Over the years Nick has been a Trustee of several small charities and enjoys trying to give something back. As Chair his efforts are now focussed on helping the Trust to meet the existential threats posed by the ecological and climate crises. 

A longstanding but as yet unfulfilled ambition is to spend more time outdoors than indoors, as his real passion is birdwatching. He became a birder as a young boy on a holiday to Scotland when one morning on a family walk he found a Pied Flycatcher and a Hen Harrier. Nick lives with his partner Jane and their teenage daughter. As a proud Yorkshireman he has a deep love of cricket but enjoys most sports. Nick particularly enjoys history; archaeology and owns an allotment.
Chief Executive
Craig Bennett

Craig Bennett © Richard Jinman

On 6th April 2020 Craig Bennett became the new Chief Executive of The Wildlife Trusts. He brings with him huge knowledge and experience of nature conservation issues, campaigning and leadership within the sector. He has been described as "one of the country's top environmental campaigners" and by The Guardian as "the very model of a modern eco-general". He has been listed as one of the UK's top "social media CEOs" and in June 2019 was identified by Onalytica, the influencer marketing company, as the "top influencer driving the debate around sustainability and financial services".

Craig started as CEO of Friends of the Earth in 2015, following five years as Director of Policy and Campaigns. During Craig's tenure, he refocussed the organisation on its unique role of empowering communities to take action where they live to protect the planet and using that momentum to tackle the climate and ecological crisis. The impact has seen campaign successes to protect nature and the climate - with the banning of bee-harming pesticides, and securing a moratorium on fracking in England - as well as growth in the movement - including over 170 new community groups set up to fight the climate crisis. He led Friends of the Earth in their battle against the expansion of Heathrow Airport – and in February 2020 the government's decision to expand Heathrow Airport was ruled 'unlawful' by the Court of Appeal on climate change grounds. It was one of the most important environmental law cases in this country for over a generation.

Earlier in his career, Craig was Deputy Director at The University of Cambridge Institute for Sustainability Leadership (CISL), and Director of The Prince of Wales's Corporate Leaders Group on Climate Change (from 2007 to 2010), where he built the group into one of the most influential and progressive business voices in the international climate debate. Before that, he campaigned on corporate accountability, trade, and wildlife issues at Friends of the Earth and on international wildlife crime at the Environmental Investigation Agency (EIA).

He maintains his links with The University of Cambridge, as Policy Fellow at the Centre for Science and Policy (CsAP), and as a Senior Associate at the Cambridge Institute for Sustainability Leadership (CISL). He has twenty years' experience of designing and contributing to executive education and leadership programmes at numerous universities and business schools, including the Judge Business School, London Business School, and Duke CE.

Craig is Honorary Professor of Sustainability and Innovation at Alliance Manchester Business School, University of Manchester, Chair of the Sustainability and Resilience customer challenge panel for the Anglian Water region (established as part of the OFWAT price review process) and was formerly a member of the Net Positive Board Advisory Panel for Kingfisher plc. From 2013-2015, he was Chair of the Board of Stakeholder Forum.

He has a BSc (Hons) in Human and Physical Geography from the University of Reading and an MSc in Biodiversity Conservation from University College London, a Honorary Doctoral degrees from the University College of Estate Management (UCEM) and Anglia Ruskin University. He is a Fellow of the Royal Geographical Society (FRGS) and a Fellow of the Royal Society of Arts (FRSA). Craig has a policy of not accepting speaking invitations that would result in an all male panel.
Individual Trusts' governance
Each Wildlife Trust has its own governance documents and falls within the charity laws of its own jurisdiction.
The running of the day-to-day operations of each charity, including the central charity, is delegated to a Chief Executive, responsible for the employment of staff and oversight of operations and its own board of trustees. Together we have around 650 trustees from a wide range of backgrounds. Learn more about each of the Wildlife Trusts trustee boards below:
Charitable objectives
The movement of Wildlife Trusts grew quickly after World War II and many shared governance documents as they formed. So whilst each Wildlife Trust is an independent charity with its own charitable objects, these are closely aligned. Each has two broad purposes: to protect and restore the natural world; and to help more people to experience, understand and value nature.
Similarly, the charitable aims of the central charity are:
To promote the conservation and study of nature, the promotion of research into conservation and to educate the public in understanding and appreciating nature, in the awareness of its value and in the need for conservation
The Wildlife Trusts' Annual Impact Reports