Introducing Mia and Project For Awesome
Find out more about Mia, a member of Nottinghamshire Wildlife Trust's youth group, and how she got involved with one of YouTube's biggest community-driven charitable movements
Say hi to Mia!
Hi, I'm Mia and I've just finished my first year studying Ecology at Bangor University. I really love being outdoors and out and about, but I also grew up in the generation of the internet and I therefore spend a lot of my time in internet communities.
I've been a part of Nottinghamshire Wildlife Trust's youth group, Keeping it Wild, for almost five years now. I've been involved with pretty much everything they do including community engagement events, local campaigning and a few trips further afield. We also manage Woodthorpe Meadow Nature reserve as a group. One of the craziest things I've done was dress up as a giant badger for a local festival!
Keeping it Wild has had a massive impact on my life. If it wasn't for the skills I've learned as part of the group I never would have felt confident enough to choose Ecology as my degree course and so my career would be on a completely different path. My leaders, Laura and Jamie, are the most brilliant people ever and everything they have done for me has undoubtedly changed my life.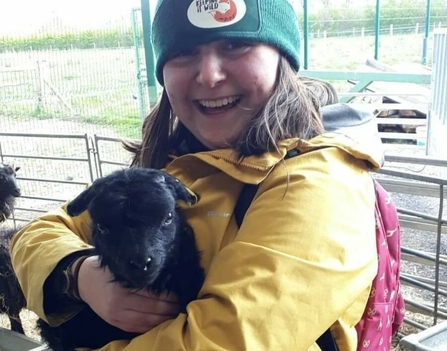 What is Project For Awesome?
It's a little complicated to describe what Project For Awesome is but I think the easiest way to explain it is like an internet charity telethon. A livestream runs for 48 hours on YouTube encouraging people to donate to the project. Then alongside that anyone can upload a video advocating for their charity to receive a portion of the final amount. 
I'd never uploaded a video for the Project For Awesome before, partly because I'd never felt confident enough in my video making skills. But over the last year I'd started making short videos in lockdown to entertain my friends so I felt like I would have more of a chance of it going well this year. Once I'd decided to make the video (only 24 hours before the deadline!) there was no question for me of who I would make it for. The Wildlife Trusts have given me so many opportunities over my lifetime so there was no one else I even considered. I knew the Trusts deserved it and that's who I wanted some of the money to go to.
The importance of nature for young people
I think it's vital for young people to be engaged with their local wildlife because it's a massive part of everyone's lives and if we don't experience and support it now, we may lose it forever. Conservation is such a fun thing to be a part of. I suggest looking online to see if there are any local practical conservation groups or youth nature groups in your area! It's also amazing seeing the range of species that can exist in your local park or greenspace. Once you start noticing nature, it's difficult to not start caring about it and wanting to learn more, which is where the Wildlife Trusts come in!
I don't think most people realise how much of their local green space is likely cared for and managed by their local Wildlife Trust. All of these places are available to walk around and experience for free, but they cost money to keep green and thriving. If you can raise anything at all for your local Trust, I'm sure it would mean the absolute world to them and would be greatly appreciated. It could end up funding new conservation equipment, a species protection scheme or even a youth programme like Keeping it Wild!