Forest School: A teacher's journey
Discover a teacher's forest school journey as Rebecca shares her experience of training with Lancashire Wildlife Trust, from the initial 5-day course and the assessment, right through to leading her own sessions.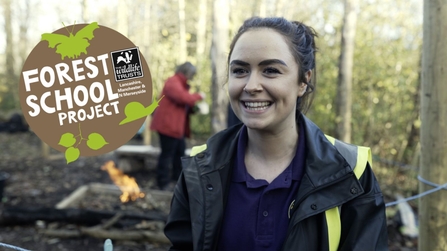 Since 2015, Lancashire Wildlife Trust's Forest School Project has trained fifty teachers to become qualified level 3 Forest School Leaders, thanks to support from players of People's Postcode Lottery. Training to become a Forest School Leader is inspiring, lots of fun and very worthwhile, as one teacher, Rebecca, found when her school became involved with the Project last year.
"It was great to get out of the classroom for a week and just settle into a new environment and meet new people - we were really excited. It was something different," beamed Rebecca. "The knowledge that was passed on was great…being immersed in [Forest School] was the best way to go about [the training]. We really took on the atmosphere, the ethos and learned lots from the leaders."  Forest school enriches children's lives, allowing them to connect with nature, learn new skills and grow in confidence through regular play and exploration in a safe and stimulating woodland environment.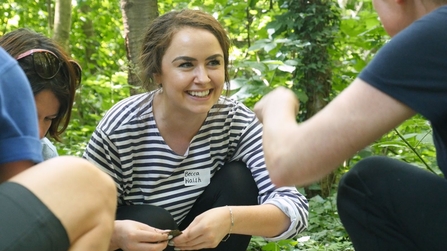 Thanks to support from players of People's Postcode Lottery, our Forest School Project enables us to deliver free forest school sessions to four schools in both Manchester and Liverpool, while also training up to three staff members from each school as level 3 Forest School Leaders. This means that the schools can continue to offer forest school to pupils once we have moved on.
Forest School Level 3 training involves a 5-day course, 2 skills assessment days and the development of a portfolio over a 9-month period. Most trainees are apprehensive about the skills assessment, where they have to show the trainers they can complete certain skills independently, including putting up a tarpaulin shelter and lighting a fire.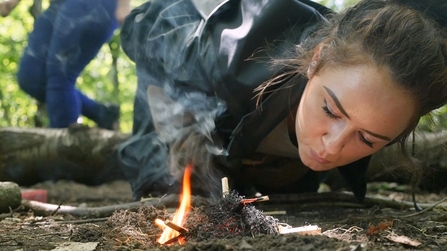 "The assessment was so much more relaxed than we thought it would be," Rebecca smiled. "Everyone got on with their own tasks, and we had quite a lot of time to do it all. You get a sense of achievement ticking all the skills off that you've worked really hard to learn and apply yourself."
Talking about leading her own Forest School sessions, Rebecca said, "Following the training I felt really equipped to take my own class out. Everything to do with safety was covered and we were given lots of activities to do. I was quite excited – it's quite nice to get to plan your own thing and because it's a different setting to being in the indoor classroom, it's nice to try some ideas that I wouldn't necessarily be able to do in the classroom back at school.
"If you've got the opportunity to do forest school I'd say, just do it. Learn lots of new skills, meet lots of different people and it's great for your personal development."