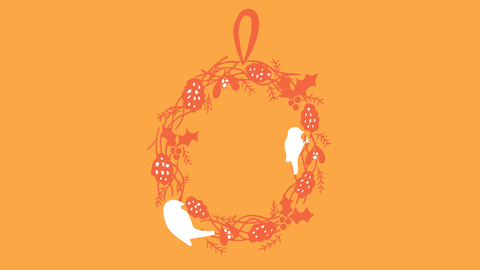 How to have an eco-Christmas
Whether you celebrate a big family Christmas, or you just give out a few cards to your friends and neighbours to wish them a happy time, here are some quick tips for a greener Christmas!
Gifts

Buying gifts can be a challenge at the best of times, but don't panic! Making sure you give planet-friendly presents isn't as tough as you might think – here are some tips to help you along the way:

Look out for gifts that come with as little packaging as possible, or at least some you can recycle.
Why not put together a zero-waste kit? Think about including things like a portable cup, a biodegradable lunchbox, or some wax food wraps! Look for more ideas in our shop.
Make something yourself! You can choose your own packaging, and the personal effort makes a gift priceless!
Tote bags are a fun gift and a great way to avoid plastic bags at the checkout.
Adopt an animal as a gift.
Buy sustainable products. How about a Hebridean wool blanket. Spun in Yorkshire with wool from the local Wildlife Trust's grazing flock of rare breed Hebridean sheep. Hats and shawls available too.
Wrapping it up

Of course, choosing the gift is just the beginning – think before you wrap it up:

Shiny wrapping paper is pretty, but it's not recyclable! The same goes for glittery paper. Use brown paper for a lovely vintage look.
Sellotape is made of plastic, but don't panic! You can get brown paper tape, or get creative with some ribbon or string. Better yet, go for a reusable option like a box, bag, or cloth!
Don't forget your Christmas cards while you're at it – the same rules go for glittery and shiny cards! Watch out for the plastic wrappers too, so try to find ones sold loose or packaged differently, or have a go at making your own! (Bonus points for recycling last year's cards!)
Save any Christmas cards and cut them up to use as tags for next year
Food

We waste a lot of food throughout the year but figures reach a high over Christmas!

Don't buy too much. Plan meals so you know how much food you'll need.
Eat your leftovers. Some of the tastiest meals are made from yesterday's food.
Cut down on meat. Meat has a big carbon footprint so try out some vegetarian or vegan alternatives.
Decoration

Chances are you have a magical cupboard at home full of sparkly Christmas decorations that come out every year. If so, great! Make the most of what you have and don't throw them out unless you have to! BUT, if you want to add something new, make sure you think first!

Avoid tinsel! Those little bits that end up sprinkled all over the house are plastic. So why not have a go at making your own decorations? How about some bunting, origami or pinecone decorations.
Reuse your Christmas tree 🎄
- Buy a pre-loved fake one instead of a new one. Check out Freecycle , eBay  or Gumtree.
- Rent a tree. These trees are grown in special pots that can be dug up and replanted year after year. Check it is grown sustainably first.
- Look after a real tree. Growing trees is always great but transporting and disposing of them isn't good for the environment. So look after your tree and reuse it year on year.
Get creative for nature. You could make your very own wreath that'll feed the birds as well as looking great!
Turn off your Christmas lights overnight and when you are out the house to save energy.
Turn down your heating a notch or two and save money as well as the planet
Avoid buying Christmas crackers which often contain plastic toys. Instead make your own using toilet roll tubes!
Make your own natural table decorations - holly leaves look fantastically festive.
Avoid throwaway plastic, go homemade, and keep wildlife in mind. It'll add a sweet personal touch that'll mean the world to someone this Christmas!