How we are run
The Wildlife Trusts is a movement made up of 46 Wildlife Trusts: independent charities who all share a mission to create living landscapes and living seas and a society where nature matters.
Each Wildlife Trust is a member of the Royal Society of Wildlife Trusts (RSWT) which is a registered charity in its own right, founded in 1912. 
Together the 46 Trusts and RSWT are known as The Wildlife Trusts.
The central charity's role is to ensure a strong voice for wildlife at a UK and England level and to lead the development of the movement.
There are thirty-seven Trusts in England, five in Wales, a Trust for Scotland and a Trust for Northern Ireland. There are also Trusts in Alderney and the Isle of Man. Each of the Wildlife Trusts is a registered charity.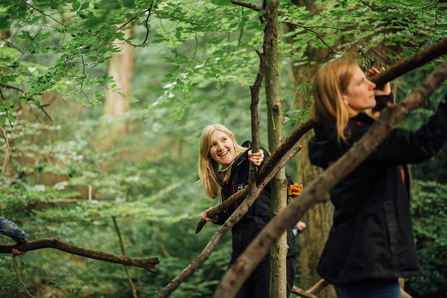 Our Honorary Officers
Patron
President
Tony Juniper CBE
President Emeritus
Sir David Attenborough OM CH CVO CBE FRS
Simon King OBE
Vice Presidents
Prof Chris Baines
Nick Baker
Ellie Harrison
Prof David Macdonald CBE DSc FRS
Bill Oddie OBE
Sir Robert Worcester KBE DL
Chair
Peta Foxall
Chief Executive
Stephanie Hilborne OBE
Our governance
The Wildlife Trusts' Council is the leadership group for collective strategy in the movement.  It has direct governance responsibility for the central charity.
TWT Council has a Chair, Honorary Treasurer and Honorary Secretary, eight leaders from within the movement and two other Trustees. There are currently twelve trustees as there is one vacancy.  You can meet them below.
Trustees are elected at a General Meeting in accordance with our Royal Charter and Bye Laws. As a registered charity, our activities are regulated by the Charity Commission for England and Wales.
Meet the team
Our Council
Peta Foxall, Chair

Peta Foxall

Peta has extensive experience of leading and working in multi-professional teams, primarily within the NHS and Russell Group Universities. She is a biomedical scientist by professional training and has a PhD in biological chemistry awarded by the University of London. She has been a member of Devon Wildlife Trust since 2003, joined the Board of Trustees in 2010 and became its Chair in December 2016. Peta owns a small ancient woodland in Devon and encourages the development of gardens as natural habitats.
Michael Power, Honorary Treasurer

Michael was Finance Partner of Cazenove & Co and subsequently became Finance Director of Cazenove Group plc and from 2005 of JPMorgan Cazenove, the highly successful joint venture with JPMorgan, overseeing financial and most support functions of these financial services regulated businesses. He remains a non executive director of Cazenove Capital Holdings and of the JPMorgan Cazenove Pension Scheme. He is also a trustee of the Cazenove charitable trust and of the Chichester Cathedral Millennium Endowment Trust. Michael has a 220 acre farm in Sussex is a member and supporter of Sussex WT.
Stewart Goshawk, Honorary Secretary

Stewart is Chair of Essex WT, a post he has held since September 2016, having become a trustee in early 2012.  An "Essex boy" born and bred, he brings many years of experience in charity management and governance. His full-time day job is as the Chief Executive of the Wembley National Stadium Trust, a grant-making charity which he helped establish six years ago. Over the years, he built relationships with many of the country's leading environmental organisations and was one of the founder members of the Environmental Funders Network. Stewart is also a trustee of the Landfill Communities Fund distributor in South Essex.
Ruth Sutherland

Ruth took up post as Chief Executive of Samaritans on 3 August 2015.  Ruth began her career as a Registered General Nurse but has spent the majority of her career in public health roles gaining degrees in Social Policy and Health Promotion.  Ruth was the founding Director of the Community Development and Health Network, a charitable membership network committed to addressing inequalities in health and wellbeing, based in Northern Ireland.  Prior to joining Samaritans Ruth was the CEO of Relate and prior to that Ruth held senior executive leadership roles at Rethink, Alzheimer's Society and Scope.
Rod Aspinwall

Rod is a Trustee of Shropshire WT and has had a 40 year career in environmental management consultancy, policy making and teaching. In the 1990's Rod was appointed by Government to the Advisory Council for Science and Technology and the newly formed Advisory Council for Business and the Environment.

His interest in the building of capacity for action on sustainable development developed through his appointment as Professor of Environmental Management in the Department of City and Regional Planning at Cardiff University; his chairmanship of a new ESRC inter-disciplinary, international centre for Business Relationships, Accountability and Society (BRASS); and his membership of the core faculty of the HRH the Prince of Wales's Business and Environment Programme at Cambridge University.

He was appointed to the first UK Sustainable Development Commission becoming the Vice-Chair for Wales at this time. He led the development of a new Welsh Forum for Sustainable Development, now known as Cynnal Cymru. Rod was appointed OBE in 1995 for his services to Environmental Management.
Peter Young

Peter has spent his entire career working on environmental issues since the late 1970s, mainly in multi-disciplinary environmental management consulting.  Until 2015 he was a member of the Green Economy Council, and Defra's Regulatory Challenge Panel and Ecosystems Markets Task Force. Peter is an individual member of Aldersgate Group, having been a Founding Director and Chair from 2007 to 2015. He is a Trustee of the Green Purposes Company, which holds a special share to keep the Green Investment Group true to its green investment purposes.  He is chair of the Business Interest Group for the Valuing Nature Programme, and a member of the Programme Advisory Board. Peter is also on the advisory board for the School of Business and Management at Queen Mary College, London, and the British Standards Institute on sustainability. He is an alumnus of Cranfield and Edinburgh Universities and a member of Montgomeryshire and Cumbria Wildlife Trusts.
Bill Stow

Bill was Chair of Radnorshire WT from March 2012 to December 2015 and is now vice Chair.  He retired as a senior civil servant with the Department for Environment, Food and Rural Affairs at the beginning of 2012.  Bill had been with Defra as a member of the Management Board and successively as Director-General for Environment Policy and DG for Strategy, Evidence and Finance for 10 years.  Before that, Bill specialised particularly in EU and international trade issues with the Department of Trade and Industry and the FCO culminating with four years in Brussels as the UK's Deputy Permanent Representative to the EU.  In that capacity he was closely involved in the negotiation of much environmental regulation including the Water Framework Directive and Climate Change legislation.  Bill now helps his wife run a craft gallery in mid-wales and is halfway round walking the Wales Coast Path.  He is also Chair of Sustrans.
Carole Nicholson

In 2009, Carole became a non-executive director on the Board and Chair of the Audit Committee of the Brighton and Sussex University Hospitals NHS Trust. Carole is probably better known locally for her leading role in the Plumpton Village Action Plan which achieved an 82% response rate in its original questionnaire, and had 80 volunteers helping to make the aspirations of the community become reality. One of the achievements has been the foundation of a thriving Wildlife and Habitat Group in Plumpton. Carole became a Trustee of Action in Rural Sussex in 2010 and soon became Honorary Treasurer through to November 2014. Carole joined Sussex Wildlife Trust as Honorary Treasurer and Trustee in November 2011. She was elected as Chairman of the Trust in November 2015. 
Anne Selby

Anne became Chief Executive of Lancashire, Manchester and North Merseyside WT in 1994, having started as Head of Conservation in 1992.  She grew the Trust from being a tiny, under-performing charity, with c.3,000 members to its current position of 28,000 members.  At the helm of Lancashire, Manchester & N Merseyside WT she has pioneered urban conservation and engagement work and led the creation of a £10m visitor centre at Brockholes. Her previous career includes the City Farm movement, British Waterways and as a Principal Officer in local government in planning and later in tourism. Current appointments include: the Forestry and Wildlife Advisory Committee (Forestry Commission), Chair of the Greater Manchester Natural Capital Group (LNP), Vice Chair of Liverpool Local Nature Partnership, Greater Manchester Low Carbon Hub and the European Structural and Investment Funds Monitoring Committee.
Ian Brown

Ian retired after 30 years as a senior international director in the petroleum industry. His work experiences developed key skills in managing exploration, development and production operations in multicultural and diverse environmental and geographical regions. He has specific expertise in finance, commercial, and health and safety. He has been a member of the Trust for over 10 years, and is a regular speaker on behalf of SWT at various societies, associations and local groups. Ian chairs the Trust's health and safety committee, is chairman of the governing board of a senior state school, chairman of South Suffolk Leisure Trust and chairman of his village meeting.
Jennifer Fulton

Jennifer worked as a consultant on EU interstate projects for several years before joining the voluntary sector as Northern Ireland  Director of Development for Citizens Advice NI & Manager of Lower Bann Partnership.  Prior to joining Ulster Wildlife she worked in local government as a change manager for Ballymena, Carrickfergus and Larne Borough Councils during the reform of public administration to merge the three councils.  Jennifer became Chief Executive of Ulster Wildlife in 2012. In a voluntary capacity, Jennifer is currently Vice Chair of Northern Ireland Environment Link, a Trustee of Chief Officers 3 (CO3) and sits on Lantra's NI Advisory Council.
Jonathan Hughes

Jonathan Hughes became Chief Executive of the Scottish WT in March 2014. He began his career as a field ecologist before moving into nature reserve management and then latterly, policy and public affairs. In 2012 Jonathan was elected to the global Council of the International Union for the Conservation of Nature (IUCN), the world's oldest and largest global conservation organisation. Jonathan Chair's one of the three standing committees of IUCN Council, the Policy and Programmes Committee, which oversees strategic policy and programmatic decisions for the Union.

In 2013, Jonathan co-founded the World Forum on Natural Capital, a global initiative led by the Scottish Wildlife Trust in partnership with United Nations Environment Programme, IUCN, the World Business Council for Sustainable Development and the Natural Capital Coalition. 
Chief Executive
Stephanie Hilborne OBE

Stephanie Hilborne 

Stephanie is Chief Executive with direct responsibility for the central charity and with a wider role to lead the movement where we speak as a collective voice and to support the development of the movement.  Stephanie has worked in the sector throughout her career. She believes passionately that nature is valuable in its own right, that it underpins our society and without daily access for everyone to the joy of wildlife the wellbeing of society as a whole will continue to be compromised.

Stephanie is a leading advocate for the need for society as a whole – government and business - to prioritise nature's recovery and the need to reconnect people to the natural world. She brought the movement together behind the vision of Living Landscapes and went on to argue that new positive ambition was needed in our legislation.  As a result in 2009, the Labour Government established a review of landscape scale conservation: the Lawton Review led to the landmark report "Making Space for Nature" in 2010. The next stage was to win commitment to a White Paper on the Natural Environment.  This was published by the Conservative Government in 2011 and established that Party's manifesto pledge to be "the first generation to leave the environment in a better state than it found it".  A Treasury backlash against the environment lobby from late 2011 meant advocacy was focused on saving our existing laws and communicating the value of nature.  But Stephanie did not drop the dream of an Act that would restore our battered ecosystems and now as part of the coalition Greener UK she continues to champion the need for change. 

Stephanie has served on the Government's Lawton Review, Forestry Panel and Smarter Environmental Regulation Review and was vice chair of the UK Green Building Council until July 2018.

Stephanie previously led Nottinghamshire Wildlife Trust and Wildlife & Countryside Link. She has a degree and Honorary Doctorate from Bristol University, an MSc in Conservation from UCL, and was awarded an OBE in 2010 for Services to Nature Conservation.

Stephanie leads a team of around 50 staff at the centre of the movement, and is supported in this work by a strong team of Directors.
Individual Trusts' governance
Each Wildlife Trust has its own governance documents and falls within the charity laws of its own jurisdiction.
The running of the day-to-day operations of each charity, including the central charity, is delegated to a Chief Executive, responsible for the employment of staff and oversight of operations. Each Wildlife Trust has its own board of trustees. Learn more about them using the links to Trust pages below:
Charitable objectives
The movement of Wildlife Trusts grew quickly after WW2 and many Trusts shared governance documents as they formed. So whilst each Wildlife Trust is an independent charity with its own charitable objects, these are closely aligned. Each has two broad purposes: to promote the conservation and enhancement of wildlife; and to help more people to experience, understand and value the natural world.
Similarly, the charitable aims of the central charity are 'to promote the conservation and study of nature, and to educate the public in understanding and appreciating nature'.
Each of the Wildlife Trusts has its own board of Trustees. You can find out about these trustees through your own Wildlife Trust's website. Together we have around 650 Trustees from a wide range of backgrounds.
to promote the conservation and study of nature, the promotion of research into conservation and to educate the public in understanding and appreciating nature, in the awareness of its value and in the need for conservation
The Wildlife Trusts' Annual Impact Reports