This June, thousands of people are taking part in 30 Days Wild, our month long nature challenge, and this year we want schools involved too!
Spend 30 Days Wild with your class!
It's simple: can you do something wild everyday for 30 days this June? From learning about nature to creating wild spaces, there's something simple that everyone can do to bring nature into their lives. Whether you take your class outdoors or bring the wild into your digital classroom, making nature part of school life can open up new ways of learning and engagement for your pupils. We've got some ideas for how to do this, but don't feel you have to follow them exactly: you can get creative too.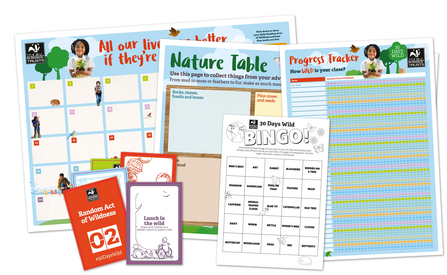 Last year, we teamed up with the University of Derby to look at the impact 30 Days Wild had on health, happiness and behaviours towards nature. And the people who took part told us they felt significantly healthier, happier and more connected to nature for months after the challenge!
This study is part of a growing body of research and evidence that says spending time in nature can have a positive impact on children.
We inspire over 350,000 children every year through our junior membership, our work with schools and our family-friendly events. We give millions of people the opportunity to connect with nature in the communities where they live and work. A key part of this is working with thousands of schools – at our nature reserves and education centres and also outreach visits to schools. Some Wildlife Trusts also run membership packages for schools, too.
We provide regular opportunities for thousands of inner-city children and their families to enjoy the many benefits of wildlife experiences. Working with schools, toddler groups, children and their families, we deliver a broad range of outdoor learning projects which aim to connect local people with nature, where green space may be limited, and who will benefit from regular outdoor opportunities
If you're interested in finding out how to get involved with your Wildlife Trust you can find them on our map. We also have 150,000 members of our junior branch, the Wildlife Watch, and a network of 250 Wildlife Watch groups. Take a look at our Wildlife Watch website. Wherever you are there is a Wildlife Trust caring for wildlife and wild places in your area.
In a recent poll by YouGov, commissioned by The Wildlife Trusts, we found out that:
91% of parents think that having access to nature and wildlife is important for children in general,
27% of children aged 8-15 had never played outside by themselves,beyond their house or garden, and
37% of children had never seen a hedgehog in the UK
Go wild with your Wildlife Trust