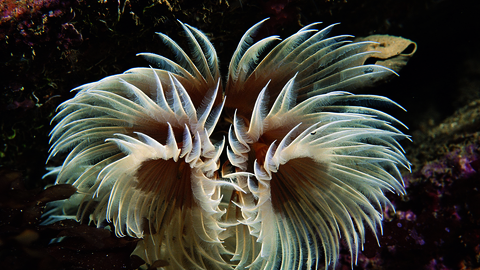 Twin fan worm
Scientific name:
Bispira volutacornis
Worms in the sea are anything but dull and this fan worm, resembling a Catherine wheel, is a perfect example of the intricate beauty these animals possess.
Species information
Category
Statistics
Fans up to 5cm across with tubes reaching 20cm long.
Conservation status
Common.
When to see
April - October.
About
Rarely seen in deep rockpools, the twin fan worm is most commonly found in deeper shaded rocky overhangs down to 30m. The tentacles (fans) help to collect food and extract oxygen from the sea water.
How to identify
All-white or brown and white banded tentacles form a double spiral up to 5cm across. Tube is made from mud and silt, reaching up to 20cm long and 1cm wide.
Distribution
Widespread across south west Britain, with occasional records elsewhere.
Habitats
Did you know?
The tentacles of this fan worm contain sense organs such as eyes and when they sense a shadow overhead, they rapidly draw everything back inside the tube!