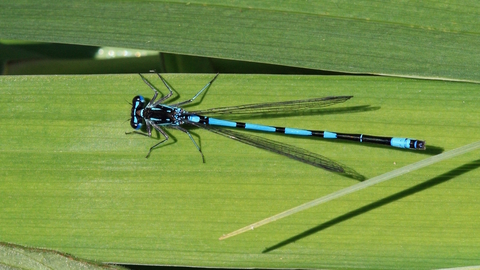 Variable damselfly
Scientific name:
Coenagrion pulchellum
The variable damselfly looks a lot like the azure damselfly, but is much less common throughout most of the UK.
Species information
Category
Statistics
Length: 3.3cm
Conservation status
Uncommon in mainland Britain
When to see
May to August
About
One of several similar blue damselflies found in the UK, this slender insect has a patchy distribution across mainland Britain, but is very common in Ireland. Azure damselflies are most often found among plants on the banks of well-vegetated ditches, canals and ponds. They are rarely found by flowing water.
How to identify
As the name suggests, the appearance of this damselfly can vary between individuals. Males are pale blue, with black streaks on the thorax (the main section of the body) and black bands on the abdomen (the long, slender 'tail' section).

The best way to separate the seven species of blue damselfly in the UK is to look at the markings on the second section of the males' abdomen, just behind the thorax. On a male variable damselfly, the black markings form a goblet - a 'U' shape joined to the black band by a line, like the stem of a wine glass. Another key feature is that the two blue lines on top of the thorax are often broken, resembling exclamation points.

Females can either be in a blue form, similar to the male, or a darker form with black markings over a dark green base. They are difficult to distinguish from the female azure damselfly.
Distribution
Common and widespread in Ireland, but scattered and uncommon in England, Wales and Scotland. However, where populations do occur they can be found in large numbers.
Habitats
Did you know?
The scattered distribution of variable damselflies is a bit of a mystery, as they are often found to be absent from habitat that seems perfect, even when it's right next to an existing population. They are found in similar places to hairy dragonflies, so the presence of this species can be a good indicator that the habitat is suitable for them.
How people can help
The Wildlife Trusts manage many wetland nature reserves for the benefit of the wildlife they support. You can help by supporting your local Trust and becoming a member; you'll find out about exciting wildlife news, events on your doorstep and volunteering opportunities, and will be helping local wildlife along the way.

Encourage dragonflies and damselflies into your garden by having a wildlife-friendly pond. To find out more about gardening for wildlife, visit our Wild About Gardens website: a joint initiative with the RHS, there are plenty of facts and tips to get you started.