The Wildlife Trusts Wild School Award pilot
The Wildlife Trusts are developing a new, UK-wide Wild School Award!
Nature is good for us!1 We feel happier and healthier when we spend time in nature2, and children's learning improves too3. The Wildlife Trusts want more children in more schools to learn about – and love! - the wildlife around them.
We piloted the Award with a small number of primary schools and the pilot has now ended. We are now reviewing all the feedback and considering how we could develop the scheme further.
What will the Wild School Award be like?
The Wild School Award will be designed to help primary schools make nature a part of every child's school time, through completing wildlife-based activities inside and outside the classroom. Schools will be able to deliver National Curriculum outcomes in many subjects while getting children learning about wildlife and connecting with nature.
The Wild School Award will be perfect for schools that want to start making their lessons a bit more 'wild' - you don't need to be a wildlife expert or have large school grounds. Wildlife can be enjoyed by everyone, even in our busy towns and cities! And if your school is already doing regular outdoor learning, working towards the Wild School Award will recognise the fantastic work you are doing and may give you some new ideas for things to do.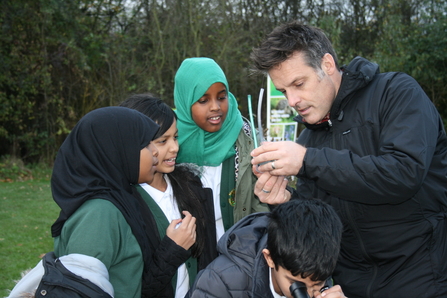 What can schools do now?
The Wild School Award is in development, so it's not open for schools to sign up to at the moment. But there are still plenty of things you can do to make your lessons more 'wild'!
If you would like to get in touch with us about the development of the Wild School Award, please email WildSchoolAward@wildlifetrusts.org
[1] Wellbeing benefits from natural environments rich in wildlife: A literature review for The Wildlife Trusts by the University of Essex
2 Richardson M, Cormack A, McRobert L, Underhill R (2016) 30 Days Wild: Development and Evaluation of a Large-Scale Nature Engagement Campaign to Improve Well-Being. PLoS ONE 11(2): e0149777. https://doi.org/10.1371/journal.pone.0149777
3 Dillon, J. & Dickie, I. 2012. Learning in the Natural Environment: Review of social and economic benefits and barriers. Natural England Commissioned Reports, Number 092