Why do we work with schools?
We are passionate about outdoor education! We know that children that are connected to nature are happier, healthier and more creative. We also know that 92% of people think that access to nature and wildlife is important for children. So we're working with schools across the UK to try to make every child wild.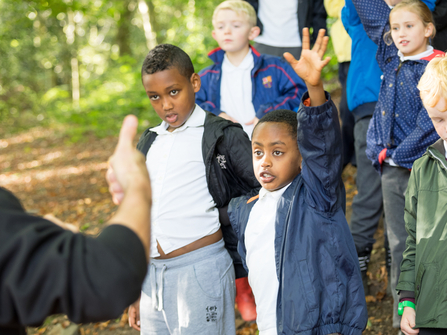 What do we offer schools?
Our excellent track record is one of providing inspirational, effective learning experiences of staff and pupils at every level and across a huge range of subjects. Wildlife Trusts have been welcoming school parties onto our nature reserves for more than 50 years! Below is a breakdown of some of the services we offer to Wildlife Trusts. Find out what your Trust can offer you by finding your Wildlife Trust at the bottom of the page.
Wild School Award

The Wildlife Trusts are developing a new, UK-wide Wild School Award!

Nature is good for us! We feel happier and healthier when we spend time in nature, and children's learning improves too. The Wildlife Trusts want more children in more schools to learn about – and love! - the wildlife around them.

We piloted an award scheme with a small number of primary schools from September 2018 to April 2019. We are now reviewing all the feedback and considering how we could develop the scheme further.
School visits to nature reserves 

School visits to reserves allow children a chance to see the wildlife on their doorstep, learn the curriculum in a new way and have the chance to find their 'Wild Life'.

Wildlife Trusts offer a variety of school visits, from talks, to explorations to educational workshops, all linked to the curriculum. The majority of Trusts will tailor these visits to suit the needs of the school, so the options are endless!
On-site lessons at schools

On-site visits to schools can range from provision of assemblies, to delivery of whole sessions, either in the classroom or within school grounds. 
Forest Schools

A Forest School is a specialised learning process that provides regular opportunities for children to achieve and develop confidence through real life experiences in a natural environment. It does not necessarily have to be in a forest (although a lot are), but should be immersed in any natural environment setting, including beaches. Importantly it includes a series of regular outdoor sessions (usually over a 6-10 week period) that is tailored to the individual needs of the children (usually a max 15 people per session).

Sessions are designed to stimulate imagination, creativity and investigation via activities such as woodwork using tools, shelter building and Natural Art. As weeks progress the children are given more freedom and responsibility to explore their interests and initiate and direct their own learning. This enables participants to connect with nature, experience the seasons and see how the Forest School sites change over time. 
Teacher training

Alongside offering sessions for classes, a range of local Wildlife Trusts also offer training for teachers, to allow them to incorporate wildlife into their lessons.

These training courses vary from forest school training, to CPD training, to whole school INSET, where teachers are trained to recognise habitats within their school grounds and learn techniques that can incorporate this into the curriculum.

The majority of training courses are tailored to meet your school's needs and are very flexible. If you want to incorporate nature into the curriculum but just aren't sure how, this is the perfect option for your school.
Improvement of school grounds

Some Wildlife Trusts offer their services to improve your school grounds for wildlife and pupils. This can take the form of advice, or even implementation. 
Education and learning at your local Wildlife Trust
Discover how your Wildlife Trust can help your school go wild