Outdoor artist ATM paints a pochard to Show The Love
Street artist ATM and London Wildlife Trust are joining people across the country who are making, wearing and sharing green hearts to Show The Love for the places, people and life they cherish and want to protect from climate change.

It is part of a nationwide effort, supported by The Wildlife Trusts, to show how much they care about climate change and want to see a shift to clean, secure energy within a generation.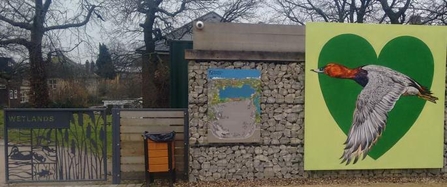 The artist has been at work at Woodberry Wetlands, a free-to-visit nature reserve opened in Manor House last year by Sir David Attenborough. ATM has chosen to paint a pochard flying in front of a green heart to symbolise the effects of climate change. Pochard were red-listed* for the first time in December 2015 due to increasingly marked declines in their wintering populations, and the bird is classified globally as 'vulnerable'.
The green heart has become an iconic symbol of the movement. High profile supporters from Jessie J, Jarvis Cocker and Dermot O'Leary to Emma Thompson, Thandie Newton and Stephen Fry have all donned the hearts to back the campaign.
Visitors to Woodberry Wetlands can see the artwork on display next to the Coal House, an early 19th century building that now features a café overlooking the reserve. Real life pochard may also be spotted on the reservoir, where they can be seen diving below the water to feed on waterweed, snails and aquatic insects. Pochard tend to be winter visitors, escaping the cold of eastern Europe and Russia, to where they will return to breed.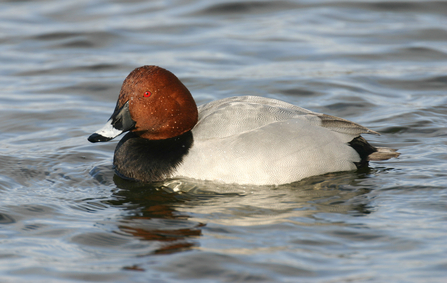 ATM said: "My paintings are a celebration of birds, reminding us of the many species that once thrived in our fields, woodlands and wetlands, as well as our villages, towns and cities, and whose recovery is threatened, like so much of nature, by man-made climate change. We need to clean-up our act before it's too late."
Beth Tegg, Show The Love Project Director, said: "Our changing climate is already making its mark on our landscape and our lives, but it's not too late to protect them. We can have clean and secure energy within a generation if enough of us show we care. We hope people make, wear and share green hearts this February to show their love for the things we could lose and want to protect from climate change for our children and theirs."
To launch the initiative The Climate Coalition has also published 'Weather warning' - a report highlighting how a host of much-loved habitats, iconic landmarks and everyday places in Britain are already being impacted by the effects a changing climate. From gardens to pubs, and from ancient sites to rivers - too many special places are bearing the brunt of extreme weathers scientifically linked to climate change.
Professor Piers Forster, Director of the Priestley International Centre for Climate, said: "In this report we used cutting edge science to understand how climate change is already affecting our weather patterns and indeed our day-to-day lives. We found that there are a host of special places around the UK - from our coastlines, churches, farms, woodlands, village cricket pitches to the local pub, which have already been badly impacted by our changing climate."
For more information, to watch the film and read the report visit: showthelove.org.uk
More information: Contact Ian Tokelove at London Wildlife Trust: 020 7803 4293 or press@wildlondon.org.uk or Robin Clegg, The Climate Coalition, 07765 157136 or cleggrob@gmail.com
Images: All images must be credited to Penny Dixie.
London Wildlife Trust is the only charity dedicated solely to protecting the capital's wildlife and wild spaces, engaging London's diverse communities through access to our nature reserves, campaigning, volunteering and education. Visit www.wildlondon.org.uk
Show The Love is an annual celebration of all that we love but could lose to climate change and the progress we are making towards a clean and secure future.
Show The Love is organised by The Climate Coalition, the UK's largest group of people dedicated to action on climate change and limiting its impact on the people, places and life we love at home in the UK and around the world, including the world's poorest countries. It includes over 130 organisations such as The Wildlife Trusts, WWF-UK, RSPB, National Trust, The Women's Institute and Oxfam.
Together, we want a world powered by clean and secure energy within a generation. The combined supporter base of our 120 member organisations is more than 15 million people across the UK.
Show The Love is supported by a host of sports clubs, bodies and venues, including Manchester United, Southampton FC, The FA Premier League, British Cycling, Principality Stadium, The Ramblers and The British Mountaineering Council as well as M&S, The Body Shop, Aviva, Ikea, Unilever, YHA and the National Farmers Union.
Show The Love to date:
• In 2015 the campaign launched with a short film by Ridley Scott's team A Simple Love Poem featuring Stephen Fry, Dermot O'Leary, Meera Syal, Jarvis Cocker and Raymond Blanc (among others). This reached nearly 1 million people and helped inspire 10,000 supporters to lobby their MPs to take action at Westminster. This campaign helped ensure party leaders made an unprecedented pledge to accelerate transition to a low-carbon economy.
• In 2016, RSA's film I wish for you...was scripted by Michael Morpurgo and starred Jeremy Irons and Maxine Peake. It was viewed more than 5 million times and helped reach over 100 million people. Tim Peake tweeted his support from space.
• Green hearts – Over the last two years, the green heart has become an iconic symbol of the movement. High profile supporters from Jessie J, Jarvis Cocker and Dermot O'Leary to Emma Thompson, Thandie Newton and Stephen Fry have donned them to back the campaign.
* Pochard red-listed: https://www.bto.org/science/monitoring/psob