Creating a new gold standard for the environment – the Secretary of State's keynote speech today
The Secretary of State for the Environment, Michael Gove, promised to deliver a "green Brexit" in a keynote speech today and said that leaving the European Union provides a "once-in-a-lifetime opportunity" to reform farming, fisheries and land management.
There are huge opportunities ahead to improve how we look after our environment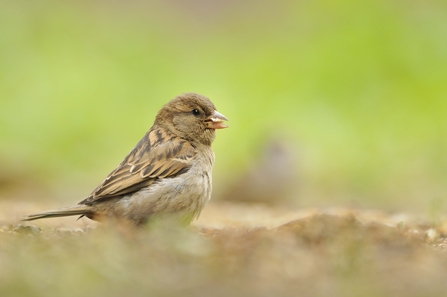 The Wildlife Trusts welcome the passion and commitment in Mr Gove's speech – it's extremely heartening to hear the Secretary of State say that he cares about the environment and wants to make commitments to enhancing it using "gold standard" policies. Particularly welcome are promises to tie future farm support to environmental improvements. Completing the Blue Belt to protect seas around the UK as a first step and then abroad is also a welcome announcement. 
Over the last 40 years,  56% of species across the UK have declined. Fifteen percent of species are in danger of disappearing altogether. The need for change is pressing.
The Wildlife Trusts believe that people are part of nature; everything we value ultimately comes from it and everything we do has an impact on it. If Mr Gove is to ensure that we are to be the first generation to leave our environment in a better state than we found it, we need to:
Provide robust funding for farmers and land managers to help nature to thrive once more in the countryside. Tying future land management payments to environmental improvements is a welcome announcement.
 
Complete the 'Blue Belt' of marine protected areas to allow wildlife to recover in UK seas. 
Bring over all the EU laws that currently provide protection for our environment and enshrine them in UK law to protect the wildlife and wild places that we still have. We welcome Mr Gove's strong statement and commitment to maintain the same standards of environmental protection as we leave the EU.
To create a new and ambitious Environment Act, which will for the first time drive the recovery of wild places, wildlife and our natural environment. The fortunes of the UK's wild plants, wild animals and the wild places that they depend on are at an all-time low. Maintaining the status quo is not enough – we need to have a plan for tangible improvements on land and at sea, for the benefit of people and wildlife.
Joan Edwards, Director, Public Affairs, The Wildlife Trusts, says:
"It's encouraging to hear the Secretary of State speaking so positively about improving the environment. This ambition comes at the right time - our country's wildlife has never been in so much trouble, but there are huge opportunities ahead to improve how we look after our environment. We're very much looking forward to working with Mr Gove and Defra to help strengthen protection and enable recovery for our wildlife, seas and countryside."