England – Marine Conservation Zones
In England, nationally important habitats and species will be protected through Marine Conservation Zones (MCZs). The UK Government are designating the MCZ network through a phased approach and designated the first 27 sites at the end of 2013. A further 23 sites were designated at the start of 2016, bringing us up to 50 MCZs in English and Secretary of State waters. Unfortunately the MCZ network is not complete and significant gaps still remain - we need more Marine Conservation Zones.
Expanding the 'blue belt' of Marine Conservation Zones
Last June, the Government announced it's ambition to create 41 more Marine Conservation Zones in the seas around England, adding to the 50 that have already been designated. A consultation took place, asking for the general public to share their views on these new sites. We launched the Wave of Support campaign to encourage people to have their say, and received over 20,000 responses calling for better protection of our seas! We are broadly supportive of the Government's ambition, but we need to make sure that these sites are managed correctly, to give our ocean wildlife the best possible chance of recovery.
You can stay up to date on the progress of our Marine Conservation Zones and get an exclusive monthly newsletter, packed with marine conservation news from around the world and exciting wildlife sightings, by becoming a Friend of Marine Conservation Zones.
Marine Conservation Zones
The map below shows the locations of all the designated and proposed MCZs in seas around England, as well as those recommended in Welsh Offshore waters.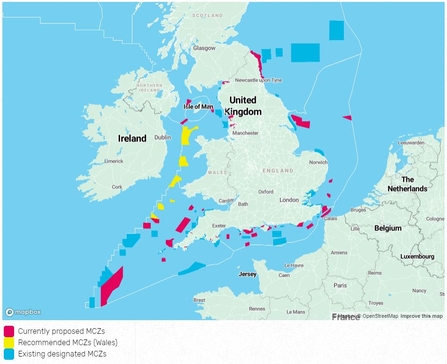 Marine Conservation Zones in the 2018 consultation
These 41 special sites are currently being considered for designation. 
Northern North Sea
Southern North Sea
Holderness Offshore
Kentish Knock East
Markham's Triangle
Orford Inshore
Swanscombe
Eastern Channel
Albert Field
Axe Estuary
Beach Head East
Bembridge
Dart Estuary
East of Start Point
Foreland
Goodwin Sands
Inner Bank
Otter Estuary
Yarmouth to Cowes
Purbeck Coast
Selsey Bill and the Hounds
South of Portland
Southborne Rough
Studland Bay
West of Wight-Barfleur
Western Channel 
Camel Estuary
Cape Bank
Devon Avon Estuary
Erme Estuary
Helford Estuary
Morte Platform
North West of Lundy
North-East of Haig Fras
South of Celtic Deep
South of the Isles of Scilly
South-West Approaches to Bristol Channel
South-West Deeps (East)
Irish Sea
Queenie Corner
Ribble Estuary
Solway Firth
South Rigg
West of Copeland
Wyre-Lune
European Marine Sites
European Marine Sites are areas at sea protected by European law for their special wildlife and natural habitats.
These include Special Areas of Conservation (SACs) and Special Protection Areas (SPAs), which together form part of a Europe-wide network of protected areas on land and at sea (the 'Natura 2000' network) designed to safeguard the wildlife most at risk. In England, Natura 2000 sites include such iconic areas as Flamborough Head in Yorkshire, and Lyme Bay in Devon.
Both SACs and SPAs play a critical conservation role by providing wildlife refuges for nationally threatened species and habitats. They are a key part of a network of Marine Protected Areas in UK waters.
What's a Special Area of Conservation?
Special Areas of Conservation (SACs) are areas which have been given special protection under the European Union's Habitats Directive. They provide increased protection to a variety of wild animals, plants and habitats and are a vital part of global efforts to conserve the world's biodiversity.
Coastal and marine SACs in England include Lyme Bay in Devon and the Humber Estuary between Yorkshire and Lincolnshire. Further information about SACs in England, including a full list of sites, is available on the JNCC website.
What's a Special Protection Area?
SPAs are areas identified as of international importance for the breeding, feeding, wintering or migration of rare and vulnerable species of birds found within European Union countries. They are European designated sites, classified under the Birds Directive which provides enhanced protection.
Coastal SPAs in England include Gibraltar Point (Lincolnshire), Pool Harbour (Dorset) and the kittiwake-covered cliffs of Flamborough Head (Yorkshire). Further information about SPAs in England, including a full list of sites, can be found on the JNCC website.
The wildlife we're protecting