An appetite to learn and change
Lower Smite Farm – Worcestershire Wildlife Trust
Worcestershire Wildlife Trusts' Lower Smite Farm is managed to increase the diversity and abundance of wild pollinators and beneficial insects. No insecticides, slug pellets or livestock wormers are used on the farm. It acts as a demonstration site and, with support from the Defra Facilitation Fund, the Wildlife Trust works with more than 50 farms to share learning.
• 65-hectare mixed arable farm
• 4 hectares of native woodland and 2 km's of species diverse hedge planted
• 500m of beetle banks created, 50 log piles made for nesting insects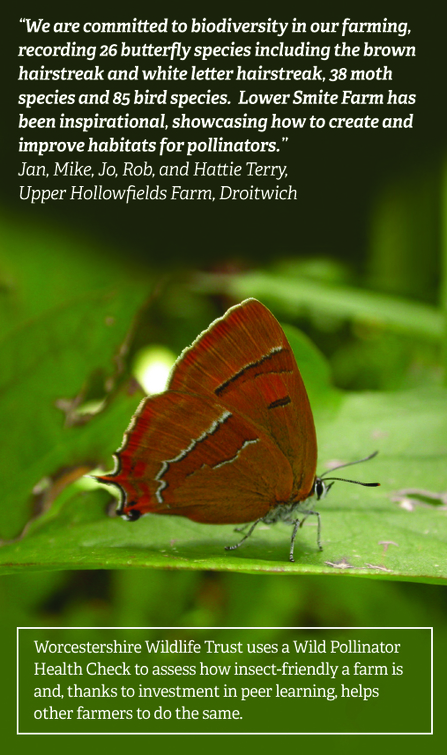 With a variety of wildflowers on site providing nectar, one visitor to the farm said it looked as though it had been 'flower-bombed'! And recent research conducted into solitary bees on the farm suggests the approach is working. We share our experience, and when working with farmers, we focus on our Wild Pollinator Health Check - what we call 'The Big 4'.
This includes:
1) providing year-round food supplies,
2) providing safe breeding and wintering habitat,
3) improving connectivity of habitat and
4) removing potential causes of stress (e.g. pesticides).
Other ways to help