In August 2017, we delivered a 100m long friendship bracelet to No 10. Downing Street, asking the Prime Minister to become a Friend of the Sea.
The sea is amazing, it holds 97% of the water on the planet and is home to the biggest animals that have ever lived! We ask a lot of the sea; it gives us fish to eat, and allows us to use boats for transport and wind turbines for energy. But all this activity can be bad news for the creatures that call the ocean home. 
Just as green belts protect land around cities, we want to see a blue belt that protects parts of the sea. This blue belt will be made up of lots of areas called Marine Conservation Zones. These zones are parts of the seabed that are protected to help look after the wildlife that lives there, kind of like a nature reserve, but underwater!
The Government has already allowed 50 of these to be created around England, which is brilliant! But we need more. If we give our seas time and space to mend, wildlife will return.
1500 children took up the challenge
1500 children and young people from all around the UK took the time to colour in a pair of paper friendship bracelets explaining why they each loved the sea, keeping one to wear with pride and sending the other one to us here at The Wildlife Trusts. We then joined them together to make our "Blue Belt" - creating a chain over 100 metres long!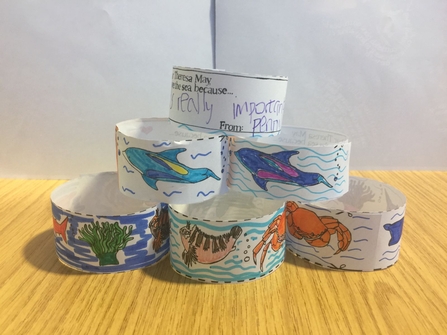 In sending us a friendship bracelet, these future marine conservationists are asking Theresa May to protect the sea for their future; through the designation of an ambitious third tranche of Marine Conservation Zones. You can find out more about our campaign for More MCZs here.