Creating Working Wetlands and Delivering 'Upstream Thinking'
Devon Wildlife Trust
Devon Wildlife Trust has been working with farmers to reduce agricultural pollution, restore rivers, wetlands and threatened insect rich grasslands in northern Devon for twenty years and delivering Upstream Thinking for the last ten. The Trust has worked with farmers to restore and reconnect threatened habitat like Culm grassland.
These insect-rich, wet meadows, lock up carbon and act as natural filters to capture soil particles and other pollutants before they reach rivers and reservoirs. They store water, releasing it slowly to help mitigate flood risk.
Culm and the range of habitats restored by this work are incredibly important for insects, such as the rare marsh fritillary butterfly. Upstream Thinking is now a big part of this work. The programme is a multi-award winning scheme to improve water quality in river catchments in the West Country. It works with farmers 'upstream' of key water supplies, providing grants, equipment, and advice so that they can manage their business better for wildlife and for water. It is funded by South West Water and delivered through partners Cornwall Wildlife Trust, Westcountry Rivers Trust and Devon Wildlife Trust.
Working Wetlands in Devon
• Since 2000, more than 6,000 hectares of habitat restored and reconnected
• Since 2008, £15.94 million of grants secured for farmers
• Since 2015, 282 farm plans produced
• Since 2015, 22,310 hectares land brought under favourable management for wildlife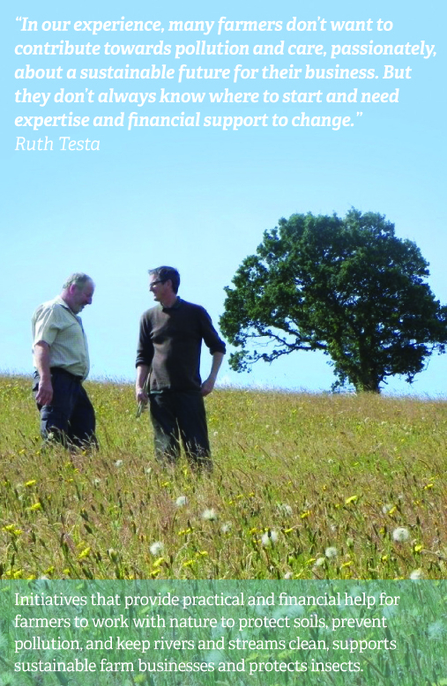 A landscape that works for insects and water
By Ruth Testa, Devon Wildlife Trust
Much of our drinking water is sourced directly from rivers, streams, and reservoirs. To get there, it travels across a farmed landscape, collecting farmyard manure, artificial fertilisers, herbicides, pesticides, and eroding tonnes of valuable soils that pollute and silt up our waterways. Our farm advisors work with local farm businesses to reduce pesticide use, deal with polluting farm infrastructure issues, advise on soil management and deliver habitat restoration to keep our rivers clean. Strategically placed meadows, grassland, wetlands and woodland can help to buffer water courses from diffuse pollutants, whilst providing vital habitat for our threatened insects. The Wildlife Trust offers free advice for farmers and support with applications to the Countryside Stewardship scheme and for capital grants. Other assistance includes use of the Working Wetlands machinery ring; providing equipment such as soil aerators to help alleviate soil compaction which is a common problem on many farms. The project offers expert advice on habitat restoration and creation and undertakes the spreading of green hay, seed harvesting and scrub control. Advisers have helped landowners to undertake farm infrastructure improvements such as pesticide handling areas, biobeds/biofilters, improvements to slurry storage and nutrient management.
Other ways to help