Championing Local Food and a Pesticide Free Community
Incredible Edible Lambeth
Incredible Edible Lambeth wants to create connected communities through the power of food. This Community Interest Company, which is part of the Incredible Edible Network started in Todmorden (in Yorkshire) in 2008, champions local food growing and food businesses in South London and started a 'pesticide-free Lambeth' campaign 18 months ago.
• 800 community members
• 30 streets in Lambeth now opting out of pesticide spraying
• Local Authority has agreed to go pesticide free by 2021
• Network gardeners have agreed to go pesticide free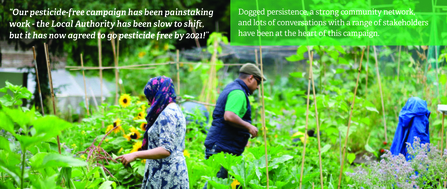 Insect friendly food bringing a community together…
By Janie Bickersteth and Marjorie Landels
Our passion is local food – so insects are really important to us! – and we were appalled to find the Council spraying glyphosate with all the impacts of this pesticide on insect populations and human health. We have been running a 'pesticide-free Lambeth' campaign for the last 18 months and have lobbied the Council to go pesticide-free, meeting with councillors, officers, spraying contractors and tenant management organisations to encourage a reduction or eradication of harmful chemicals. We developed a 3-year strategy to eliminate all pesticides and have successfully influenced the way in which the Local Authority use pesticides. It has now agreed to go pesticide free by 2021 and has already stopped spraying in all its parks.
Our campaign will continue until all harmful chemicals are removed from use by Local Authority land maintenance and our many gardeners have also agree to go pesticide free.
Other ways to help