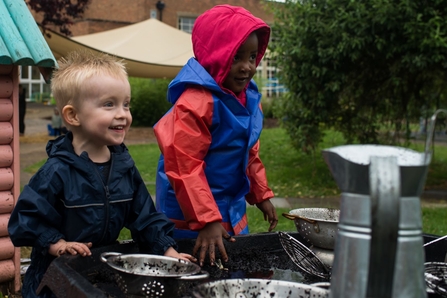 Getting children out in nature from an early age has such a positive impact on their development. Their self-confidence and intrigue develop quickly, as well as their language and physical skills. Leicestershire and Rutland Wildlife Trust have set up a brand new Wild Tots group at Thurnby Lodge Children, Young People and Families Centre, in Leicester, giving more children and families the opportunity to spend time outdoors!
Education officer, Martha Rose, said "In urban areas like Leicester, there aren't many opportunities for children to find some green space and really enjoy the great outdoors. Thanks to generous funding we are pleased to be able to run weekly Wild Tots sessions. The support received allows us to help little ones have fun exploring the world around them and teach them the joys of nature from an early age."
The children get the opportunity to take part in activities they might not be able to do at home such as den building, treasure hunts, messy play and storytelling. Each activity is set out for the families to do at their own pace, giving them the freedom to choose for themselves what they enjoy most. There is also a different theme each week, so the sessions never get dreary!