Recognising work in conservation
The Rothschild Medal is usually given to someone outside The Wildlife Trusts movement who has made an outstanding contribution to the natural environment at a UK or international level. The Christopher Cadbury Medal is is an annual award that is given to a member of a Wildlife Trust who has shown dedication to the advancement of nature conservation within the British Islands.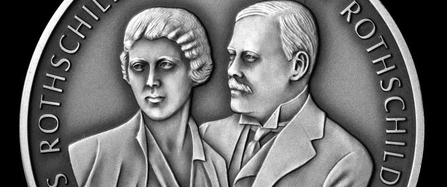 The Christopher Cadbury Medal
The Christopher Cadbury Medal for services to nature conservation was instituted in recognition of the outstanding contribution to this work and to the Royal Society for Wildlife Trusts by the late Mr J Christopher Cadbury CBE MA (President 1962-1968). It is an annual award that is given to a member of a Wildlife Trust who has shown dedication to the advancement of nature conservation within the British Islands.  In addition, every three years, an additional medal is awarded to an employee of a Wildlife Trust who has gone beyond the 'call of duty' in their role to advance nature conservation in the British Islands.
Winners
2020

Ian Armstrong, Volunteer, Northumberland Wildlife Trust

Ian has been a force for nature in his 50 years in conservation. Ian created a large network of volunteers to promote and deliver conservation. He has also identified many nature reserves and sites, which are now protected for nature. Ian has done a lot of this work in his free time as a volunteer with many organisations including Northumberland Wildlife Trust. Wherever Ian goes, he inspires people with his passion and enthusiasm. Ian has been awarded the volunteer medal for his contribution to conservation and Northumberland Wildlife Trust.

Northumberland Wildlife Trust

Gina Gavigan, Marketing and Development Manager, The Wildlife Trust of South and West Wales

The staff medal for 2020 has been awarded to Gina Gavigan. This year has been a challenge for us all across the movement. Fortunately for The Wildlife Trust of South and West Wales they had Gina to inspire them. Her commitment, creativity and energy not only kept everyone at the Trust going but inspired many to join her. She brought well-known faces like Iolo Williams and Lizzie Daly together to create a weekly Facebook show, Skomer Live. The show and fundraising campaign reached a huge audience and even inspired David Gray to write a new song about Skomer.

The Wildlife Trust of South & West Wales
2019

Ray Marsh, Volunteer Warden, Essex Wildlife Trust
This year's Cadbury Award is presented to an individual who is deeply revered amongst his colleagues, both old and new.

Skipper's Island is the hidden gem of the Hamford Water National Nature Reserve, half a kilometre from the Essex mainland. When the tide is in, the island is only accessible by boat and for six decades the aptly named Ray Marsh has been the volunteer warden of this wonderful site. He was working on the island before most of the current Essex Wildlife Trust staff and many of its Trustees were even born, 

Ray has not merely been involved in the management of this 94-hectare Site of Special Scientific Interest - he has lived and breathed it, and has led the entire stewardship of this incredible island. 

It's no exaggeration to say that in conservation terms, Ray is an Essex legend. A more humble man you could not wish to meet, but a lifetime's commitment to one site is nothing short of staggering. Essex Wildlife Trust owes Ray a huge debt of gratitude and he is a shining example for future nature conservationists. He has shown what can be achieved through sheer hard work, dedication, perseverance and a passion for wildlife. 
2018

David Streeter, President of Sussex Wildlife Trust.
David is, without a doubt, one of The Wildlife Trusts' great pioneers. Over the past fifty years he has been an important leader, not only for Sussex Wildlife Trust, but also for the entire Wildlife Trust movement.

In 1961 David acted as a founding member of Sussex Wildlife Trust and has been central to guiding its work through his role as President. He played a pivotal part in securing a brighter future for key wildlife sites, such as Pagham Harbour, Chailey Common, Rye Harbour and Seaford Head. 

Fifty years ago, Davi described conservation as: "the planned long-term management of the countryside and its natural resources for the benefit of the community as a whole, without prejudice to its productivity or potential." That remains as apt now as it was then. 

Sam Roberts / Sussex Wildlife Trust
2017

Dr Nick Tregenza, Vice President of Cornwall Wildlife Trust.
Having been a Trustee of Cornwall Wildlife Trust for nearly 40 years and its Vice-President since 2012, Nick's lifelong commitment to conservation is more than evident. He is best known for his pioneering work in raising both awareness and public involvement in the conservation of cetaceans and other large sea creatures. He played a large part in creating what would be the UK's first ever dedicated bycatch observer programmes as well as going on to establish Seaquest Southwest. Over the last 20 years or so he has become known as the world's leading authority on the development and use of instruments for acoustic monitoring of cetaceans and deterring them from becoming entangled in fishing nets.

Joan Edwards, Director Public Affairs and Living Seas, The Wildlife Trusts.
Joan has made, and continues to make, a truly amazing contribution to marine conservation, and to nature conservation as a whole. Joan has campaigned tirelessly for the increased protection of our seas. Probably her single greatest achievement, which she achieved by transformational leadership of The Wildlife Trusts movement and wider voluntary sector, was the Marine and Coastal Access Act which received Royal assent in 2009.  
2016

Dave Cole, naturalist and volunteer for Leicestershire and Rutland Wildlife Trust.

Dave has been volunteering at Rutland Water Nature Reserve for over 35 years, and in that time has succeeded in inspiring staff, apprentice wardens and volunteers alike. An inspiring all-round naturalist, his personal expertise and tuition has had a huge impact on the nature reserve, especially through the trainee staff.  He has inspired hundreds of members of the public to fall in love with wildlife.
2015

Dr Anne Powell OBE, freshwater ecologist and Chair of Cumbria Wildlife Trust
Anne has almost continuously been a Trustee of a Wildlife Trust over the last 20 years and has made an exceptional contribution to the effective operation of the movement. As Chair she has ensured Cumbria Wildlife Trust deliver top quality nature conservation such as the award winning restoration of Foulshaw Moss, the largest restoration of a lowland raised mire in the UK and the purchase of Eycott Hill. 

 

 

 

 
2014

Frances Cattanach, conservationist and Director of the North Wales Wildlife Trust
Over three decades Frances has seen the number of Welsh Trust reserves rise to 35. Frances took a leading role in helping the Welsh Trusts work more effectively together and has championed the importance of a Welsh perspective to RSWT's outlook. Of particular importance has been her underwriting of the Welsh Beaver Project. 

Stephen Martin, a lifelong member of the Yorkshire Wildlife Trust
Stephen was the driving force behind the creation of the impressive North Cave Wetlands. Stephen spear-headed the campaign to rescue the former quarry from becoming a landfill site, which has now become of one the best new wetlands in the north of England, with forty pairs of avocet, breeding Mediterranean gulls, little ringed plovers and over 220 species of birds recorded so far.
2013

Hugh Mellor CBE, former Chairman of the Berkshire, Buckinghamshire and Oxfordshire Wildlife Trust.
Over three decades Hugh has played leadership roles within three major conservation organisations – Honorary Treasurer of RSPB, Chairman of Wildfowl and Wetlands Trust as well as Chairman of BBOWT. In addition his own personal commitment has included stewardship of his Buckinghamshire farm for the rare black hairstreak butterfly and enabling a re-introduction initiative of Golden Eagle chicks from his Perthshire estate.
2012

Professor Ian Trueman a leading botanist within the West Midlands and the Marches
Ian has served as expert adviser for the Shropshire, Staffordshire and Birmingham and Black Country Wildlife Trusts. For more than thirty years he coordinated monitoring on a significant number of Nature reserves throughout the region and has been a strong supporter of the need for adequate recording of species and habitats there and in Montgomeryshire. His pioneering efforts to bring the Dutch green hay strewing technique to Britain resulted in a number of hay meadows being created around Wolverhampton and Staffordshire. This also led to a considerable body of research work by Ian and his students to advance understanding in this area.
The Charles Rothschild and Miriam Rothschild Medal
The Charles Rothschild and Miriam Rothschild medal has been created in the spirit of this remarkable father and daughter, and honours individuals who have made outstanding contributions to their original vision; individuals without whose work the environment would be a poorer place.
Charles Rothschild was the founder of the Society for the Promotion of Nature Reserves (which would later become The Wildlife Trusts) the most inspirational environmentalist of his day. His daughter, Miriam, was another visionary pioneer who continued her father's groundbreaking work and dedicated her life to protecting the natural environment.
The solid silver medal, which illustrates Charles Rothschild and his daughter, Miriam, as a young woman, above chequered skipper butterflies is awarded every two years. The medal is usually given to someone outside The Wildlife Trusts movement who has made an outstanding contribution to the natural environment at a UK or international level, through either shaping policy, increasing awareness, inspiring people, raising funds or through a groundbreaking study or innovative scheme.