Local Wildlife Sites are special places for wildlife, often small pockets of habitat hidden within our rural and urban places. Local Wildlife Sites function as wildlife corridors and green stepping stones, helping to connect larger areas of habitat together, such as nature reserves.
Andrew Harris, a volunteer with Herts and Middlesex Wildlife Trust, spends his spare time surveying the plants and wildlife that live in these sites in his local area. Charlotte Hussey, the Trust's Communications Officer, went to meet Andrew to find out more about his experience being a Local Wildlife Site surveyor. 
How did you become a volunteer?
I became a Local Wildlife Site surveyor in the summer of 2009 after Brenda Harold, another Trust volunteer and eminent local botanist, encouraged me to join the team of surveyors. It was something I was interested in so I did not need a lot of pushing. I have never looked back since! 
What does your surveying role involve?
The aim of the surveying is to assess the ecological value of the sites according to their plants and other features such as veteran trees. It involves being part of a small group of enthusiastic people who go out, usually once a week, investigating different habitats.
In winter this might be old green lanes with their ancient hedge banks and twisted hornbeams. Early spring is the time for woodland surveys followed by grasslands in late spring and summer. We walk over the site identifying plant species - trees, grasses and wild flowers.
Someone will record the main habitats and features of the site on a map and take photographs of them. Other members of the group help to write up a report.   
What are your favourite types of surveys?
Gosh, that is a difficult one to answer! I really like studying veteran trees with their various amazing shapes, all the nooks and crannies and the texture of their bark. It is great fun surveying them too, crawling through thickets and taking up all kinds of comical poses in an attempt to measure them.  
However, all types of surveys have their rewards and when so many of our species-rich habitats have been lost over recent decades I really enjoy finding something good that still survives in our area whether it is an ancient woodland, old meadow, or the wetlands which border our chalk streams. Variety, or should I say biodiversity, is the spice of life.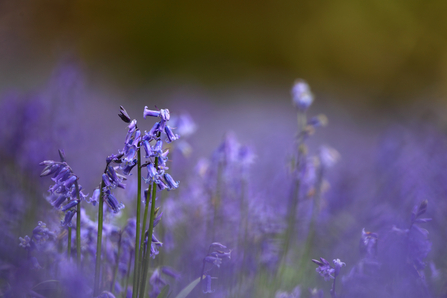 Do you need to be an expert to be a surveyor?
Certainly not, while we very much welcome the participation of those with experience of surveying - some knowledge of plant identification is very useful - being an expert is optional! It is just as important to have an appreciation of wonderful habitats and a desire to protect them.
Even if you consider yourself a novice, so long as you have an appetite for knowledge there will be opportunities to learn about plant identification and ancient trees. As a small group of volunteers, we work together and support each other.
 What advice would you give to people who would like to get involved?
Being a surveyor is a commitment, but it is all the more important for that. Also, never be afraid to ask questions. I have always found everyone with experience in this subject to be very pleased to share their knowledge.
And, as one who has just had to travel halfway across the county to retrieve his rather soggy possessions, don't get so engrossed in a fascinating survey that you forget to take all your things home!
Surveying highlight?
As far as plants are concerned, one moment which comes into mind was finding purple milk vetch, when we visited a beautiful piece of chalk grassland near Royston. Purple milk vetch is classified as 'Endangered' and included as a species "of principal importance for the purpose of conserving biodiversity" under Section 41 (England) of the Natural Environment and Rural Communities Act 2006; so it was a real find!
Something which really makes a survey worthwhile is when the landowner is enthusiastic about their site and really appreciates us being there to survey it. For instance, we once went to a fascinating alder woodland in the north of the county and were treated to tea in the owner's garden and given a pot of homemade jam to take away in gratitude.
And, of course, one of the best things is to be out with a great group of like-minded people - it makes everything worthwhile.
Written by Charlotte Hussey, Communications Officer at Hertfordshire and Middlesex Wildlife Trust.