It began with a brambling
It's the largest grower of birdseed in the UK - and at first glance a typical Lincolnshire fen farm, all flat land and big sky. But Vine House Farm is anything but typical. Owned by pioneering farmer Nicholas Watts, it is a living challenge to the idea that farming and wildlife can't co-exist.
It was spotting a brambling in the garden that first sparked Nicholas' love of birds. By the age of four he was already wandering along hedgerows, searching for nests. So it was natural that after he inherited the farm he should start conducting bird surveys.
His first species counts were in 1982. Ten years later he'd noticed a shocking trend: skylark numbers down by 60%, and corn buntings by 90%.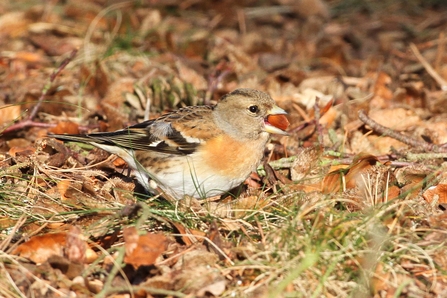 "I could see wildlife was in trouble," Nicholas says. "But I was just lucky that I'm interested in birds and I could do something to help." He began using the annual surveys to inform his farm management choices. His first step? To replicate the pockets of habitat where wildlife was still thriving.
Planting for wildlife
What Nicholas had noticed was the result of crop specialisation: a reduction in the variety of plants and insects the land supports, and therefore a reduction in birds. He cites one example: "In late June there is very little available food for birds in a modern wheat crop. But winter barley matures three weeks before wheat. So by planting two ounces of winter barley per tonne of wheat, the birds on the farm have an uninterrupted food source. It tides them through this difficult period, without affecting the commercial value of the wheat crop."
Another innovation: planting a double line of eight native hedgerow species (Nicholas laughingly calls it, "Instant 500 year-old hedgerow") between fields, separated by a wildflower meadow strip. The hedge provides year-round food and shelter, and in summer the whole area is alive with the flutter of butterflies and the buzz of bees.
The 110 nest boxes between these hedges are perfect for tree sparrows. "This spring, 105 boxes were occupied. Since then over 900 young have fledged. We had about 1000 tree sparrows on site in August. We clean out the boxes in September. By Christmas the birds have already begun filling them with nest material."
I could see wildlife was in trouble, but I was just lucky that I'm interested in birds and I could do something to help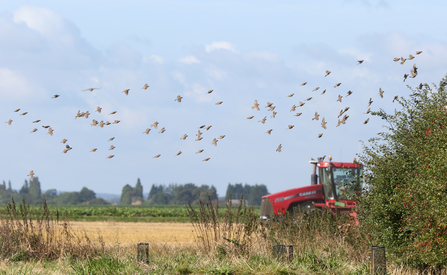 The biggest difference for wildlife was turning a large section of the farm organic. The inspections are a burden, but the benefits outweigh the costs. Not only do the organic crops benefit insects and birds, they are also financially viable. Before the move to organic, herbicides drastically reduced the number and diversity of insects. "Now that we know it's wrong," muses Nicholas, "we should try to put it right."
Water is another key factor: 12 acres are kept as water sources, including six large ponds. These offer breeding space for insects, and nest sites for redshanks, lapwings and terns. "Without water there is no life," says Nicholas.
The fenland landscape is shaped by drainage and irrigation, which led Nicholas to campaign for a seat on the drainage board. He managed to change the way dyke margins are cut, increasing the population of a reed warbler colony from four birds to 70. However, in recent years the birds are again at risk. He relates the decline to the drainage board keeping water levels high in summer and low in winter, the opposite of the natural order: "We've been draining the Fens for 200 years, and we've taken too much. We're sucking the wildlife out of the countryside."
Where there's a will there's a way
Nicholas believes farming's biggest problem is a simple question of motivation. He is sure the steps he has taken on his farm could be replicated elsewhere, but with a proviso: "Where there's a will there's a way. But where there isn't a will, there often isn't a way."
Price pressure from supermarkets and globalised competition make it increasingly difficult to make a living through agriculture. Nicholas is still determined to balance a productive farm business with the evidence provided by his farm wildlife surveys: "People ask me about my plans for the future. I will go where my surveys take me." Nicholas passionately believes in thinking for future generations as well as his own. His butterfly corridors and ponds are still a work in progress. But Vine House Farm proves that supporting wildlife doesn't need to come at the expense of a profitable business. As he puts it: "You just have to be interested."
Once that interest has been sparked Nicholas' advice for fellow farmers is simple: "Dig ponds, plant diverse hedges, feed birds. Ultimately, just leave a few places for wildlife."
Who knows what the impact would be if every farm, garden and workplace followed his example?
20 years of bucking trends
As a result of Nicholas' work, populations of a number of species have increased on the farm, including whitethroat, tree sparrow, barn owl and lapwing. In some cases Nichlas has managed to buck wider trends of species delcine by increasing opoulations at Vine house Farm. This is a fantastic demonstration of what spossible and the difference that farmers can make for wildlife.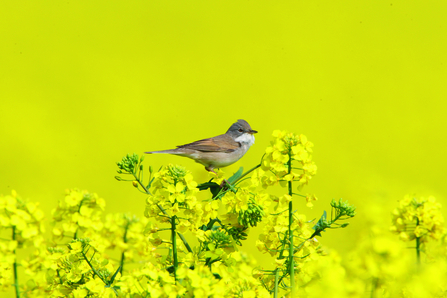 Whitethroat
These warblers feed on the farm's abundant insects.
1997: 3 breeding pairs 

2014: 23 breeding pairs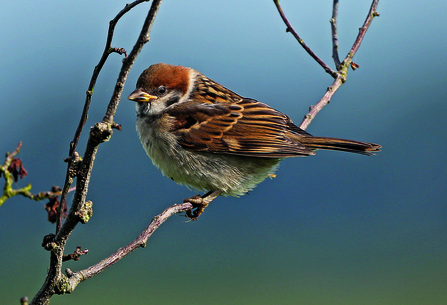 Tree sparrow
Tree sparrows need to nest by insect-rich habitat. Nicholas started putting boxes up in 2009 and numbers increased.
2005: 1 breeding pair

2014: 32 breeding pairs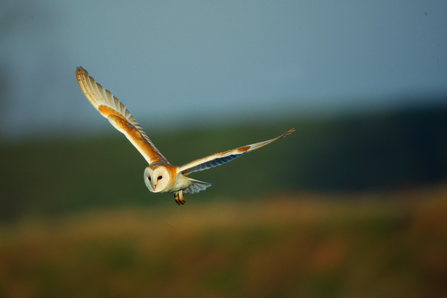 Barn owl
Barn owls depend on voles, and their numbers fluctuate with prey numbers.
1986: 1 breeding pair 

2016: 14 breeding pairs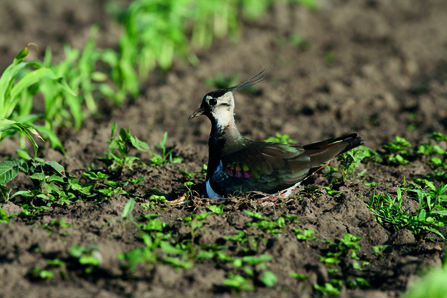 Lapwing
Lapwing at the farm are given time to fledge young before crops are harvested. 
1997: 2 breeding pairs 

2014: 27 breeding pairs
Meet Nicholas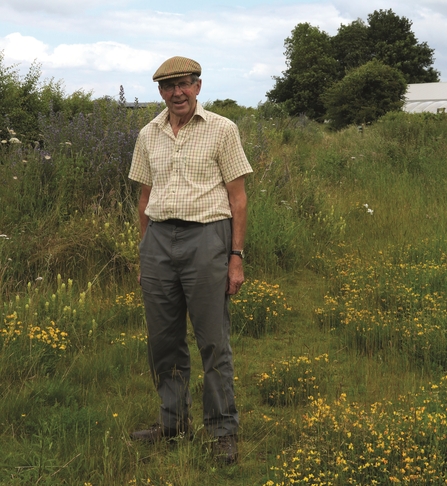 Nicholas is the fourth generation of the Watts family to run Vine House Farm. His tenure started with the rapid intensification of the 1970s and 1980s, but since then his efforts to reduce the impact on wildlife have led him to adopt sustainable farming practices. In 2006 he was recognised with an MBE.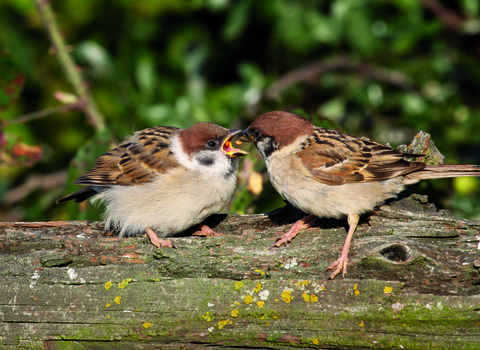 Buy bird food from Vine House Farm and support your Wildlife Trust
When buying your bird food and bird feeding accessories from Vine House Farm Bird Foods, you are not only caring for the wild birds in your garden, but also looking after the wildlife and wild places where you live as every sale generates funding for your Wildlife Trust.
Buy bird food direct from the farm