I'm Sue Timperley and I turned 60 last year. I moved to Anglesey in late 2005 having spent many holidays here visiting family. Until June 2016, I worked in medical sales, averaging a thousand miles a week in my car when working full time. In 2014 I cut down to two days a week. Then in June 2016, I made the decision to quit working all together.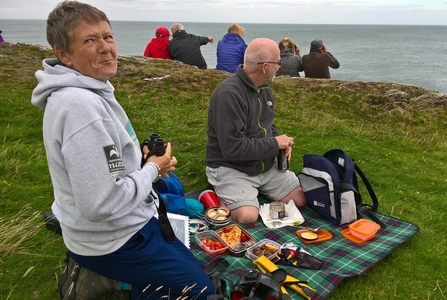 So what to do with all this new-found free time? My dogs are my main priority and since moving here, we have spent many hours on the beaches, so unaware of all that lay at our feet.
I decided I wanted to get involved with some form of volunteering that didn't involve any driving. I contacted the North Wales Wildlife Trust and completed their volunteering form. I thought I'd help on their reserves once or twice a month. But how wrong was I? The Underwater Wales project got to me first. And little did I know then how it would change my life!
I have been so lucky to attend a range of training days with Underwater Wales. I learnt how to identify shells, birds, and seaweed. There was a lot of 'on the job' training too. Volunteering with Underwater Wales has enriched my life, as well as my knowledge and understanding of marine wildlife. I get to excite and enthuse kids and their parents at the pop-up events on our beaches around Anglesey.
Over the last two and a half years I have learned to identify a variety of shells, seaweeds, rock pool dwellers and shark egg cases. Rays are still a work in progress. I now know the difference between a dolphin and a porpoise. I had expert tuition from Dawn and within minutes, I was teaching people who had come along to 'picnic with a porpoise'.
The Holyhead Festival was another lovely afternoon. We saw scallops in the shallows on the beach. This had one young boy squealing with delight when the scallops squirted water to move along.
You can't buy that sort of joy. I was as excited as the kids were.
We also held the Olimpet games, when we joined the Conwy branch of the North Wales Wildlife Trust at Colwyn Bay. It was a great day which included a beach clean with Marine Conservation Society (MCS) and we had fun checking the strandline to see what treasures could be found.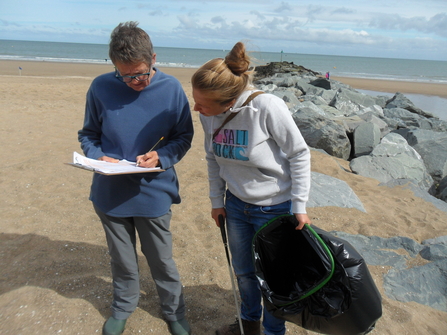 There was night time rock-pooling; a chance to see what is out and about on our shores after dark. We also tried 'snŵdlin', which involves snorkelling and drawing (or doodling) under water. It is a lot of fun, a great annual event that is loved by families and volunteers alike.
Last year led to new opportunities and experiences with the road shows to celebrate the Year of the Sea. We had virtual reality goggles so people could swim with dolphins. Everyone loved this! There was a 7D display where families watched seals, puffins and other wonderful creatures up close and personal.
We also had shells and other goodies from the strandline on the beaches for adults and kids alike to pick up and handle. It enthused them to go and find their own treasures or tell us about their own experiences whilst out on the shore.
Working with Underwater Wales has led me to other new experiences by introducing me to MCS, Surfers Against Sewage, Capturing Our Coast and the Friends of Anglesey Coastal Paths. I volunteer with all of them. But Underwater Wales is still my number one.
I have also learned to paddle board so I could get on the water to be at one with the sea. I snorkel with my underwater camera to photograph jellies, fish and any other wonders I find.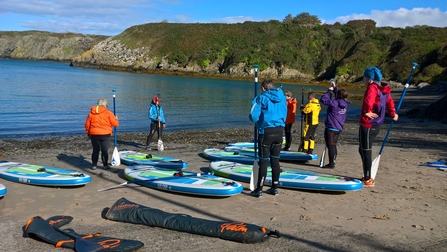 Now I have all this knowledge, between events if time permits, I get out onto the beach on my own. I turn over rocks (making sure to turn them back when done) and find many things, like dog whelk eggs alongside beadlets and periwinkles (my absolute favourite group of shells).
I love volunteering with North Wales Wildlife Trust, all the staff are great people. There is nothing that is too much trouble to explain or teach. Every day is a school day and we always have fun.
And we have new projects taking off. With undertaking shoresearch surveys there will be more wonders to see and learn about such as the sea slugs, squirts and a whole lot more. All while helping with research by providing data. I'm also involved in Memory Pod where we record people's experiences of the coast.
Last October I used my knowledge and a collection of beach treasures to attend a 'Fun Palace' on Anglesey. The aim was to show people what amazing things we have on our doorstep, if we just look. I had kids identifying shark egg cases and pairing up pictures of eggs with the creature who laid them. I have now been asked to become a Marine Champion where I will be leading solo pop-up events on my local beaches.
Thank you, North Wales Wildlife Trust Living Seas, because of you I have gained a huge respect for our shores and the wildlife that lives there. I have come to know some wonderful people who I consider as friends.
I look forward to many more years, projects, surveys and events with North Wales Wildlife Trust.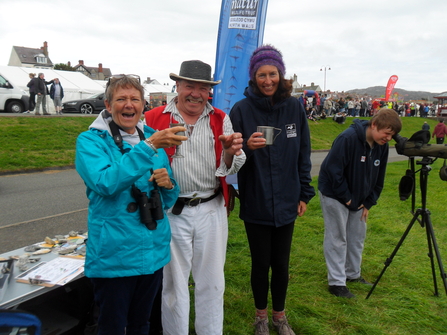 Written by Sue Timperley, Underwater Wales volunteer and Marine Champion at North Wales Wildlife Trust
Volunteering with the Wildlife Trusts makes a difference for people, providing them with opportunities to learn, to connect with nature, meet new people and make new friends. All Wildlife Trust volunteers help us protect and build a future for our wildlife.