The power of nature has given Northumberland Wildlife Trust volunteer Steven Morris the means to cope with years of struggling against anxiety and depression.
Steven was bullied at school and has suffered from anxiety and depression for most of his life.  He has known bouts of depression so intense the sometimes he found it impossible to get out of bed.
Throughout his life, his love of nature has seen him through some difficult times. He sought solace in books and nature. A coping mechanism for school bullying was to go on long walks. He felt safe surrounded by nature and a developed a deep love of wildlife which has stayed with him throughout all his adult life.
Steven took up nature photography and completed a two-year higher national diploma course in the subject.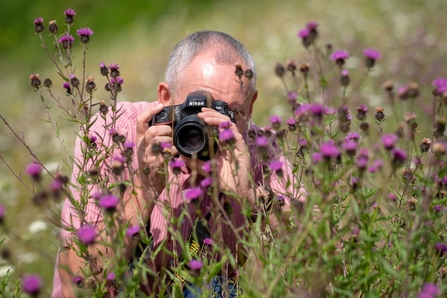 For the last year, he has volunteered with the Trust, photographing the wildlife and animal populations on 30 of its reserves and gifting them all his hundreds of photographs.
He has at least another 30 reserves to visit. Sometimes his volunteering has been a great effort, as at times his depression has meant it has been difficult to get out of bed. But his love for his voluntary work has helped him pull through. He is a testament to the benefits of volunteering.
A firm believer in the healing power of nature, Steven feels it has helped him greatly; as he approaches a reserve, he starts to feel like a different person making him feel peaceful, more relaxed and less anxious.
However, the final words have to come from Steven, who says;
My advice to anyone with problems is to get out and enjoy nature. It takes us away from modern life and what modern life throws at us, and back to somewhere where we can get something we all need - tranquility.