I've suffered with anxiety my entire adult life. It's not often I say that out loud. It's affected my family, which is not something I like to think about too much either.
It's always been there, in one form or another. I was a youngster with dyslexia – struggling through school and just labelled as slow - lazy even. I found it hard to fit in with the hectic pace of life and social interactions were difficult. My confidence was at rock bottom – I felt worthless. I started to struggle with large crowds, panic would overwhelm me. I'd descend into extreme panic attacks and acute anxiety.
And then I lost my father-in-law, someone who showed me the wonders of the great outdoors. He was a countryman with many talents, some of which he passed onto me. Losing him suddenly was too much. At my worst I couldn't leave the house for months, agoraphobia they call it. I relied on prescription medication - something, anything, to ease the depression, insomnia and poor physical health that had become my norm. I couldn't do it anymore, something had to change.
With each new skill I felt more involved, more valued – these are skills any outdoor employer would welcome – that means something to me.
In the years that followed, I became a Dad – now more than ever I wanted to have something to show for myself, I wanted to be a role model and most importantly I wanted to make sure my children didn't struggle in the same way.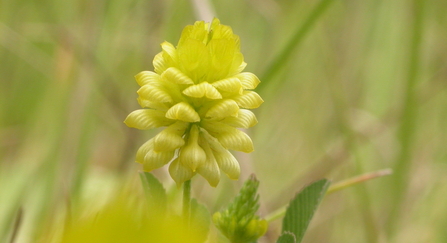 My nurse suggested I get into volunteering, something to focus my mind. I remembered how much I used to love times outdoors with my father-in-law and with the help and support of my wife, I took up conservation volunteering with the Trust. I was not only good at it, but it made me feel good too. Being outside all day working meant my physical fitness improved, I slept better, and I started eating better. In turn, my mental health started to slowly improve. I rediscovered my love for plants and wildlife and started to share the knowledge I'd learnt from my father-in-law with my fellow volunteers.
Apparently, I have a reputation for being able to mend any piece of equipment. It's because I love problem-solving – mending a broken tool is right up my street. I wasn't known as the 'slow, lazy one' anymore, but instead, the person who would work through breaks, just to see a task finished – digging holes being a particular favourite.
The Trust enabled me to get certified training for power tools, brush cutters, chainsaw maintenance and use. With each new skill I felt more involved, more valued – these are skills any outdoor employer would welcome – that means something to me.
Life's not perfect but it's a lot better than it was now. The staff and volunteers are my friends. I look forward to helping and I bring my children along to Trust activities – it's good for them to learn new skills and get away from computer games for a while!
Things do get better. Hang on in there.
'Adam'
Conservation volunteer  
Rediscover yourself: